Fixed deposits account for 57pc of DSE's revenue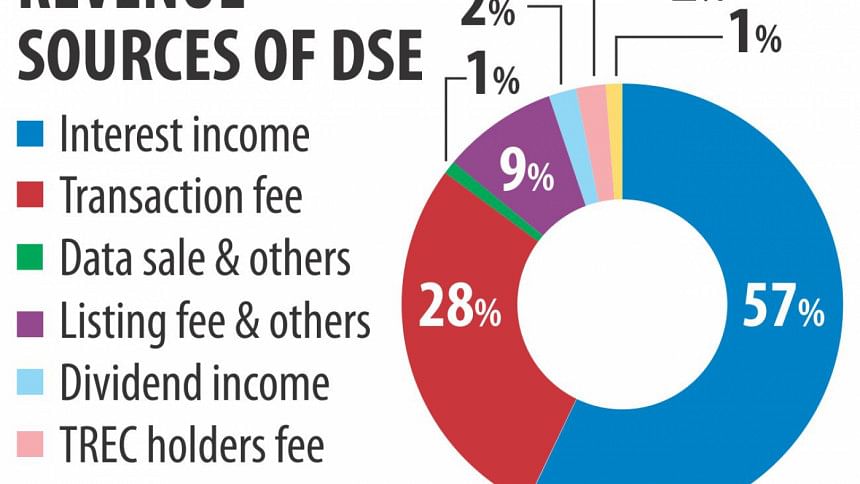 Interests on fixed deposits generated more than half of the total revenue for Dhaka Stock Exchange than the bourse's core business that includes share transactions and listing fees.
The premier bourse received Tk 107.08 crore in interest on fixed deposits in fiscal 2015-16, which accounted for about 57 percent of the total revenue, according to the DSE's annual report that was approved by the shareholders at its 55th annual general meeting on March 23.
The bourse's total fixed deposits with 15 banks stood at Tk 922.50 crore at the end of June last year, according to the annual report.
The DSE's total revenue last fiscal year -- the third year after its demutualisation -- stood at Tk 187.36 crore. From the total revenue, the bourse's net income stood at Tk 119.83 crore, down 11 percent year-on-year.
Although the share transaction and listing fees are the core business areas for a stock exchange, the DSE received only Tk 52.67 crore in transaction fees and Tk 16.36 crore from listing fees and annual charges from listed companies.
The average daily turnover dropped to Tk 434.19 crore from Tk 472.06 crore in fiscal 2014-15, taking a toll on transaction fees.
The secondary market is yet to recover from the losses incurred during the downswing of fiscal 2010-11. The DSEX, the benchmark index of the prime bourse, hovered around the 4,500-point level last fiscal year.
The DSE has taken several initiatives to increase revenue from the stock exchange's businesses rather than depending on interest income.
"With a view to fulfilling the profit-objective of demutualised DSE, diversification of products and line-items of revenue were at the top of DSE's operational agenda," the bourse said in the annual report.
Since increasing the trade volume -- a major means to generate revenue -- is beyond the control of the bourse, it is now focusing on introducing new products and services, said a DSE official.
The products and services include introduction of exchange traded funds and derivatives, and revenue from web advertisement and data sales.
Revenue from data sale would be one of the key earning areas of the exchange in future, the DSE said in the annual report. "The revenue from web-advertising has been increasing day by day and it is hoped that this will be one of the major sources of revenue of the exchange."
The DSE has become a profit-oriented company owned by shareholders after demutualisation in 2013.
Demutualisation is a way to separate the bourses' management from ownership with a view to bringing transparency to the stockmarket. Prior to demutualisation, Bangladesh's stock exchanges were non-profit cooperatives, owned by the exchange members, who were usually stockbrokers.