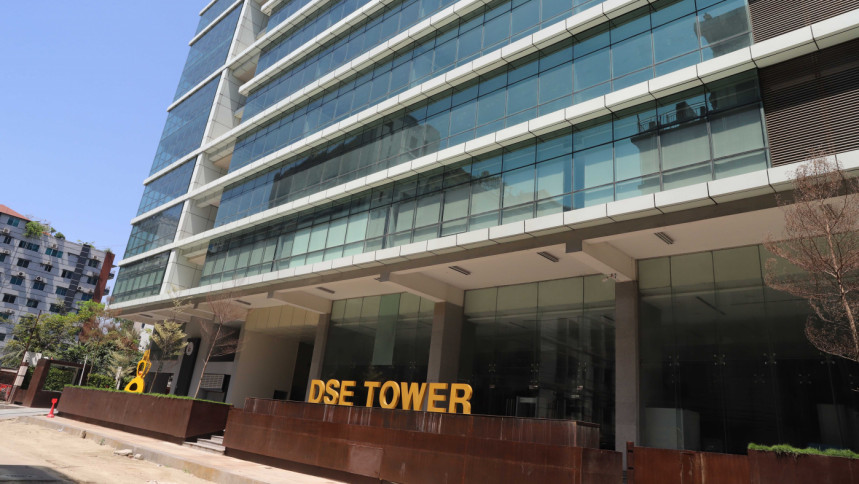 Shares on the Dhaka Stock Exchange snapped a four-day decline today.
The DSEX, the benchmark index of the premier bourse in Bangladesh, rose 13.12 points, or 0.20 per cent, to close at 6,374.
The DSES Index, which comprises the Shariah-based listed companies, was up 0.14 per cent at 1,389.59 and the DS30 Index, which represents the best-performing shares, gained 0.04 per cent to 2,301.92.
Turnover stood at Tk 943 crore, up 7.89 per cent from Tk 874 crore a day ago.
Of the securities, 175 advanced, 161 declined while 46 remained unchanged.
Among the individual companies, Meghna Insurance and RAK Ceramics jointly topped the gainers' list with 10 per cent gain.
Hakkani Pulp and Paper Mills, KDS Accessories, Legacy Footwear, Fu-Wang Ceramic Industries, and Coppertech Industries also posted significant gains.
Bangladesh Industrial Finance Company suffered the highest decline at 5.88 per cent. Bangladesh General Insurance Company lost 5.48 per cent and Purabi General Insurance Company gave up 5.33 per cent.
Beximco Ltd was the most-traded stock on the day with its shares worth Tk 65 crore transacted. RAK Ceramics, Shinepukur Ceramics, MI Hospital Requisite Manufacturing, IPDC Finance, and Bangladesh Shipping Corporation also witnessed heavy trading.
The Chittagong Stock Exchange also rose.
The CASPI, the main index of the bourse in the port city, jumped 61.97 points, or 0.33 per cent, to close the day at 18,772.
Of the issues, 131 advanced, 128 declined and 39 did not see any price movement.
Turnover, however, fell more than 23 per cent to Tk 42.6 crore. It was Tk 55.54 crore on Tuesday.