Stocks recover after two-day fall
Investors dive into depreciated shares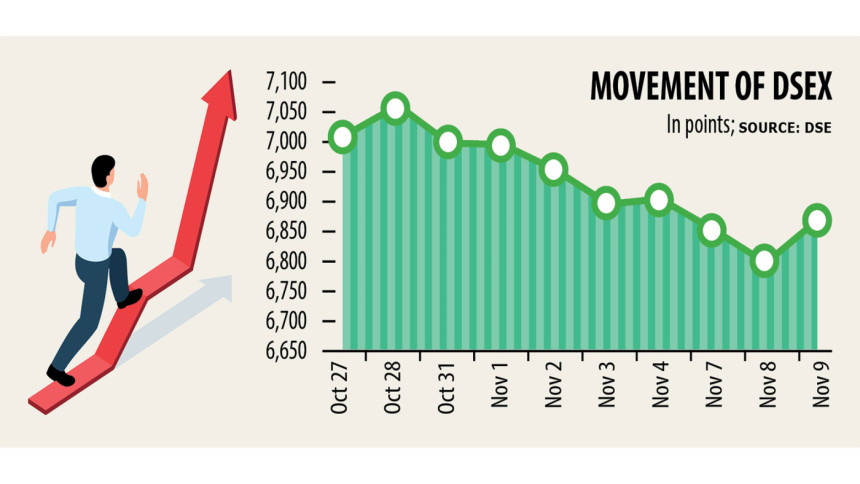 Stocks rebounded yesterday as many investors kept putting their money into shares that lost much of their value after a two-day consistent plunge.
The DSEX, the benchmark index of the Dhaka Stock Exchange (DSE), rose 68 points, or 1 per cent, to 6,868.
Investors are now making purchases as they found that many stocks had reached lucrative prices following the recent fall, according to a stock broker.
"This is a good sign," he said, adding that investor participation is still below an adequate level as many of them remain cautious due to a lack of confidence in the market.
As such, turnover at the DSE fell 6.3 per cent to Tk 1,007 crore yesterday from Tk 1,075 crore the day before.
At the DSE, the stocks of 223 companies rose, 99 declined and 54 remained unchanged.
The Dhaka bourse ended the day on a positive note as bargain hunters were seen in a buying spree in sector-specific stocks with lucrative prices, said International Leasing Securities in its daily market review.
The interest to buy among buoyant investors was remarkable in sector-specific stocks as most of these shares fell by more than 5 to 10 per cent in the previous session's price correction.
Some risk-averse investors remained on the sidelines in the first hour of trade but buoyancy was observed in the closing hours.
The top ten traded stocks made up around 45.5 per cent of the total trade, where Beximco alone accounted for 10.4 per cent, it added. National Housing Finance topped the gainers' list, rising 9.92 per cent, followed by Sena Kalyan Insurance, AFC Agro Biotech, Golden Son, and Taufika Foods and Lovello Ice-cream.
Stocks of Beximco Limited traded the most, worth Tk 97 crore, followed by Orion Pharmaceuticals, LafargeHolcim Bangladesh, Beximco Pharmaceuticals and Square Pharmaceuticals.
LafargeHolcim Bangladesh and Square Pharmaceuticals jointly contributed 15 points to the DSEX, according to data from amarstock.com, a stock market related data provider. The other share market of the country, the Chittagong Stock Exchange (CSE), also rose yesterday.
The CASPI, the main index of the CSE, increased 229 points, or 1.15 per cent, to 20,097.