Soaring Tamijuddin Textile shares belie performance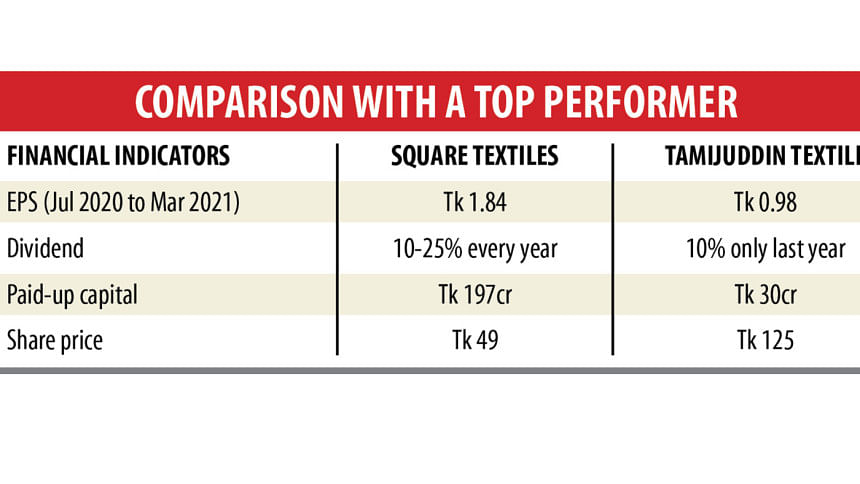 Stocks of Tamijuddin Textile Mills have skyrocketed tenfold in a span of less than three months since it was relisted at the Dhaka bourse last June.
The price of the stock stood at Tk 125.6 yesterday whereas it was Tk 13.2 on June 13, shows Dhaka Stock Exchange (DSE) data.
The company had remained in the over-the-counter (OTC) market since 2009.
The Bangladesh Securities and Exchange Commission (BSEC) formally launched the OTC market on September 6, 2009 for companies not in operation or which failed to hold annual general meetings, to declare dividends or to convert paper shares into electronic ones.
Currently, 61 companies are traded on the OTC market. United Airways was the most recent company to be sent to the OTC platform following its poor performance.
Right after being relisted, the textile maker's stock price started soaring to reach Tk 87 on August 25, despite a show of poor performance for many years.
With the index meanwhile rising, the company informed of a development, literally pouring fuel on the fire.
The mills' board of directors announced their decision to invest around Tk 50 crore for balancing, modernisation, rehabilitation and expansion.
The fund was set to come from the company's own sources and bank loans.
Most of the machinery will be gradually replaced with ones from China, Japan and Europe to set up a state-of-the-art spinning production facility, the company said in a disclosure.
Since the news was made public, the stock price has been rising every day.
The company's earnings do not justify its stock price rise, said a stock market analyst of an asset management company, preferring anonymity.
The textile maker provided 10 per cent cash dividend for last year and its earnings per share (EPS) was Tk 0.98 in nine months of the last financial year (July 2020 to March 2021), which was Tk 0.81 in the corresponding period of the preceding year, according to the DSE data.
"If we compare the company with another listed, high dividend-paying company, it will be even more clear," said the analyst.
There are many listed textile makers who are paying higher dividends and their earnings are also very high, but their share prices are much lower than that of Tamijuddin, he said.
"It clearly shows that the stock is being gambled with," he added.
Square Textiles and Envoy Textiles are two renowned, top performing textile companies.
Square Textiles' EPS in the two periods in question were Tk 1.84 and Tk 2.06 respectively. It has been giving 10 per cent to 25 per cent cash dividends for at least the last five years along with stock dividends. Its share price closed at Tk 49 yesterday.
Meanwhile, for Envoy Textiles, the EPS were Tk 0.58 and Tk 2.06 respectively. It has also been giving cash dividends of 5 per cent to 17 per cent in the past five years along with stock dividends. Its share price stood at Tk 34 yesterday.
In a conversation with The Daily Star, BSEC Spokesperson Mohammad Rezaul Karim said the company was under watch while data involving buyers of the shares were being analysed.
"Suddenly the company's share price skyrocketed, so we have kept it on our watch list," he said.
"Though the company made a disclosure, we are investigating whether it will implement it properly or not, because we have seen many times disclosures coming from many companies but not being implemented in the end," he said.
"But it pushed up the price of the stock, so we are aware of it," added Karim, also an executive director of the BSEC.