Prime Islami Life Ins' profits, assets overstated by Tk 218cr
Auditor says in a report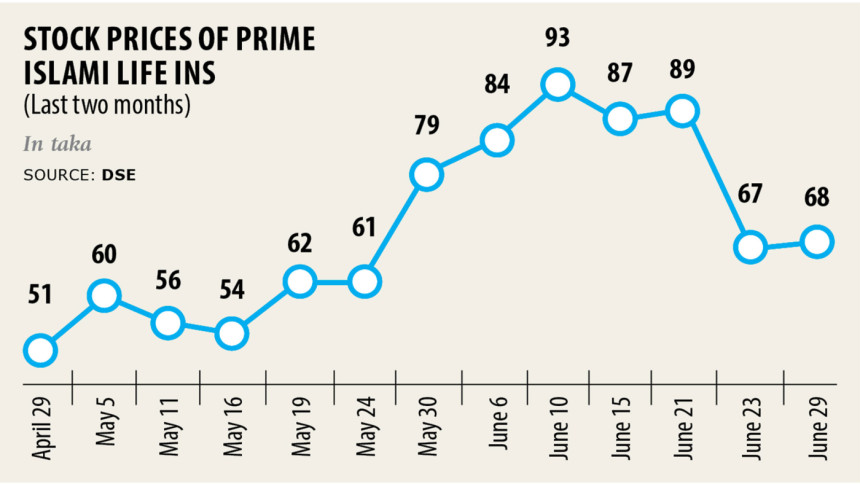 Stocks of Prime Islami Life Insurance fluctuated abnormally in the last two months despite the firm's auditor having said that its profits and assets for 2020 were overstated by Tk 218 crore.
The insurer's stock price rose 83 per cent to Tk 93 on June 10 within a one month span and then eventually fell by 26 per cent to Tk 68 as of yesterday.
Prime Islami's assets for 2020 were worth Tk 967 crore while it was Tk 1,060 crore a year earlier, according to the company's audited financial report.
It has short-term investment with PFI Securities Limited and with sundry debtors of PFI Securities amounting to Tk 167.80 crore and Tk 15.37 crore respectively, the auditor, Syful Shamsul Alam & Co Chartered Accountants, said in its report.
Since these investments have been outstanding for a long time and the financial condition of PFI Securities is deficient, there is significant doubt over the recoverability of the total amount of these investments.
But the company has not made any provision against the said amount and as a result, its total assets and profits were overstated by Tk 183.17 crore, it added.
The Dhaka Stock Exchange (DSE) disclosed the qualified opinion of the auditor on its website.
Prime Islami Life Insurance also has investments with four concerns of Sterling Group amounting to Tk 15 crore and Banglalion Zero Coupon Bond amounting to Tk 4.99 crore.
But the recovery of these investments is also in doubt since they have long been outstanding while there are no provisions against the amounts either.
The company has filed cases with the High Court against PFI Securities Limited and other non-paying entities. All the cases are currently in the hearing process.
The company has a recognised provision of about Tk 3.37 crore against the gratuity fund for the financial year that ended on December 31, 2020. However, the required provision against gratuity is Tk 19.02 crore.
So, the required provision is not adequate and remains short by Tk 15.65 for the year under audit, the auditor said in its report.
"Therefore, liability against gratuity is understated and the profit has been overstated to that extent," it added.
M Nurul Alam, company secretary of the shariah-based life insurer, said its previous management invested the funds which are not producing any return.But now that the management has changed, they are trying to regain the money.
"We are requesting the regulators to take steps to return the fund and have filed cases against the non-paying entities in this regard," he told The Daily Star yesterday.
"These are peoples' money so how can we just write it off," Alam added.