MFS transactions on the rise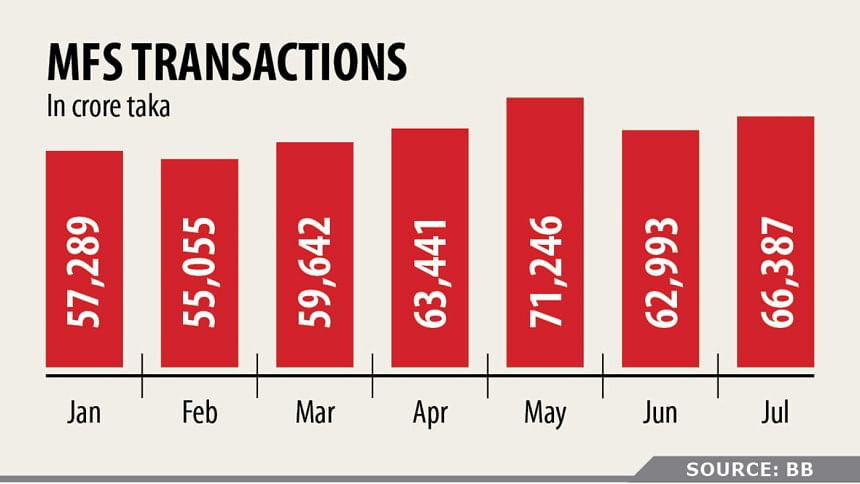 Transactions through mobile financial services in Bangladesh rose 5.4 per cent year-on-year to Tk 66,387 crore in July as people's habit to use the cashless mode of payments persists despite the reopening of the economy and easing of coronavirus restrictions.
Transactions amounted to Tk 63,000 crore in the same month a year ago and Tk 62,993 crore in June this year, data from the Bangladesh Bank showed.
On average, Tk 2,141 crore was transacted every day in July.
There are 15 banks that operate MFS services in Bangladesh. Besides, Nagad Ltd, the digital financial service of the Bangladesh Postal Office, also provides mobile banking service.
Inward remittance channelled through MFS providers increased 67 per cent year-on-year to Tk 282 crore in July, BB data showed. 
Salary disbursement stood at Tk 3,403 crore, down from Tk 4,586 crore a year ago, while users paid utility bills worth Tk 992 crore, against Tk 878 crore in July last year.
The bills paid through the system for shopping trebled to Tk 3,096 crore from Tk 1,134 crore.
However, the government payment through the channel declined to Tk 541 crore in July compared to Tk 1,076 crore in the same month in 2020.
The number of registered mobile banking accounts stood at 10.27 crore at the end of July, while active accounts numbered 4.12 crore.
There are 11.42 lakh agents across the country.