Hailstorms wreak havoc on watermelon farms
Poor market price also leading to losses, farmers and traders say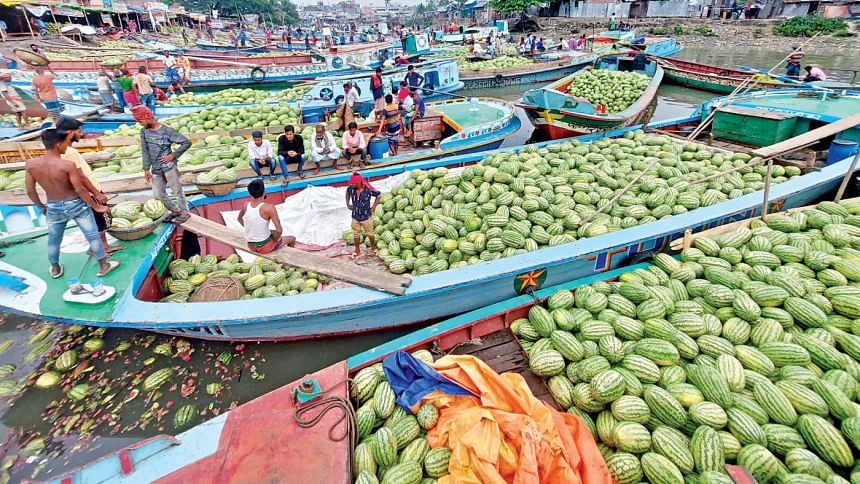 Although watermelon yields have been good this year, a section of farmers in Barishal and Khulna are facing heavy losses due to heavy hailstorms and poor market price amid the final stage of harvesting.
Watermelons grown on some 3,124 hectares of land across the two regions have been damaged so far, leading to collective losses of more than Tk 250 crore, according to the Department of Agricultural Extension (DAE).
About 35,000 hectares of land in Barishal were brought under watermelon cultivation this year and considering an average yield of roughly 30 tonnes per hectare, the region should bear about 10 lakh tonnes of the fruit worth over Tk 3,000 crore at the current market price.
However, farmers would have received almost double the price just one month back.
At present, watermelons are being sold for Tk 20-25 per kilogramme (kg) from the field level while it was Tk 50-60 per kg as recently as 10 days back.
Rainstorms have already damaged the watermelons on some 28.24 lakh hectares of land in Barishal, amounting to over Tk 200 crore in losses. The most affected district is Bhola, where about 1,800 hectares, or 10 per cent of the area's total acreage, have been affected.
In Patuakhali, around 1,000 hectares of the fruit worth about Tk 40 crore have been damaged.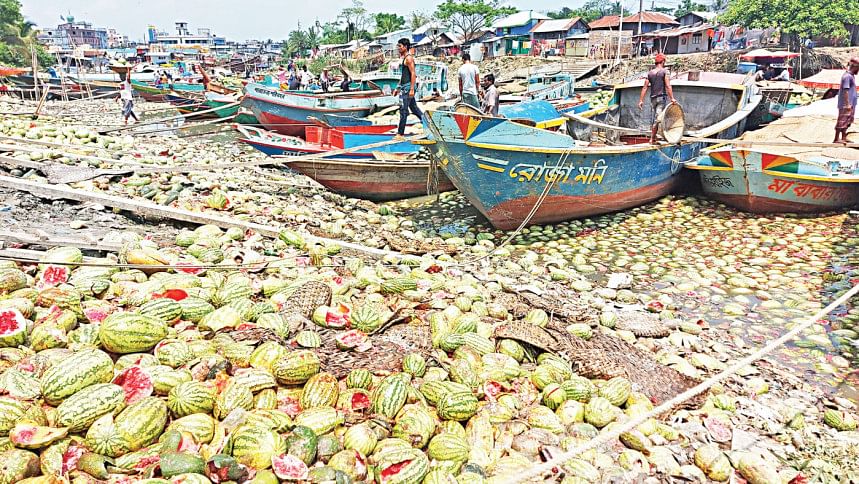 In addition, 24 hectares of watermelon worth Tk 3 crore have been damaged in Barguna, as per sources at the local DAE office.
Karthik Dutta, secretary of the Barishal District Fruit Traders Association, said around 40,000 watermelons arrive at the Kirtankhola river port through 20 trawlers each day.
"But at least 20 per cent of these fruits are too damaged for sale," he added.
Mosharraf Sikder, a farmer from Char Fasson upazila in Bhola, said he had brought 4,000 watermelons to a wholesale market near the port in Barishal city.
But after it was found that just 2,400 of these watermelons were of good quality, Sikder was forced to throw the rest into the nearby Kirtankhola river.
As such, he earned just Tk 1 lakh after having spent upwards of Tk 10 lakh to grow the fruit on eight acres of land.
Ibrahim Titu, a fruit trader at the wholesale market, said at least one-third of the watermelons brought by each trawler are rotten.
Hasan Waridul Kabir, deputy director of the Bhola DAE, said 8 to 10 per cent of the watermelons grown across 18,000 hectares of land in the region are either damaged or fully rotten.
Around 10 per cent, or Tk 200 crore worth of watermelon, has gone to waste with only those who planted the fruit early having benefited by harvesting them before the rains came.
Patuakhali accounts for a majority of the watermelon produced in Barishal as some 28,750 hectares of land in the district were brought under cultivation.
Of the total acreage, 1,000 hectares worth Tk 40 crore have been damaged, informed Nazrul Islam, deputy director of the Patuakhali DAE.
"Due to heavy hailstorms for the past week, watermelon grown in the Char Kajal, Boalia, Char Biswas and Kalapara areas have been damaged," he added.
Badrul Alam, additional deputy director of the Barguna DAE, said 24 hectares of the 15,838 hectares of land brought under watermelon cultivation in the district have been damaged, amounting to Tk 3 crore losses.
 In Khulna, heavy rainfall has destroyed more than 300 hectares of watermelon worth Tk 10 crore, as per sources at the Khulna DAE.
Utpal, a farmer of Banishanta union under Dacope upazila, said he cultivated three bighas of land to cover last year's losses. 
"But now I am worried about the rain and price," he added.
Utpal went on to say that two bighas of his land are now submerged.
"The irony is that I spent Tk 3,200 for irrigation 20 days ago but am now having to pay Tk 780 for draining water from the field," he said.
Ismail Hossain, a farmer of Pankhali union under the same upazila, said he grew watermelon on 10 bighas of land last year but reduced cultivation to six bighas of land this year.
"Still, untimely rain has ruined my fate as four bighas of land were affected by hailstorms," he added.
KM Maksudunnabi, agriculture officer of Dacope upazila, said that rain has damaged some fields but it would not affect overall production as yields are better than last time.
On March 21, a daylong torrential downpour destroyed 203 hectares of watermelon worth about Tk 10 crore at Koyra upazila, where farmers cultivated 1,200 hectares of the fruit.
Asim Kumar Das, in-charge of the agriculture department in Koyra Upazila, said farmers had started cultivation earlier to reduce losses.
Nevertheless, watermelons grown on 203 hectares of land were completely destroyed by one day's heavy rain, leading to losses of about Tk 10 crore.
Md Mosaddek Hossain, additional deputy director of the Khulna DAE, said he expected farmers to overcome last year's losses through good yields this year, but hailstorms have dashed such hopes.