FY23: A year of price shocks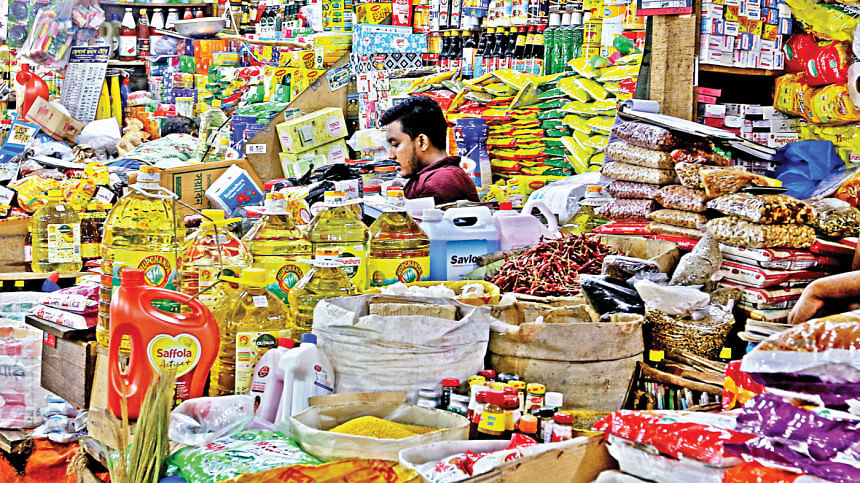 Just a year ago, Aminur Rahman, a private sector employee living in Dhaka, could buy a moderate amount of essential goods, including rice, soybean oil, onions, salt and eggs, at Tk 553 from stores in Dhaka city.
Yesterday, the breadwinner of a five-member family could get the same quantity of these items by paying Tk 643, up by some 16 per cent.
These are not the only items for which Rahman has to bear additional cost.
The middle-aged man, who lives in a two-room house with his family in Dhaka's Mirpur, saw his landlord hike the rent while at the same time, transportation has become costlier.
Rahman's says his overall monthly expenditure shot up by around Tk 6,500 in the last one year, which was more than double of the Tk 3,000 hike in his salary. To bear the increased expenses, his family has to cut non-essential purchases.
Rahman represents many fixed-income families in the country who are seeing their living standards erode in face of elevated prices for food and non-food items despite government efforts to control runaway inflation.
Inflation, a measure of the spike in prices of a basket of goods and services consumed by a typical consumer, fell slightly to 9.24 per cent in April driven by a decline in food prices.
However, it still remains at an elevated level compared to historic trends.
Consumer prices averaged at a 12-month-high of 8.64 per cent in April, which was higher than the 5.6 per cent targeted by the government for fiscal year 2022-23.
The government revised upwards its target to 7 per cent later this fiscal but the current price levels are above that, deepening the sufferings of low, fixed and even middle-income families.
"My sons are now one and six years old. When my baby was only 10 months old, my wife was forced to start working in a private school as costs were going wild and my income was not enough to bear expenses," said Minhaj Uddin Jitu, the main earner for his five-member family, who live in the capital's Kalyanpur.
Like Rahman, Jitu has been forced to tighten his belt since his salary did not increase.
He has cut his budget for traveling and clothing to deal with high inflation.
Price hikes have trumped their monthly salaries following the increase in fuel prices, pushing up commodity prices, transport cost, medical expenses, and education expenditures.
Over the past year, the prices of various import based essential commodities, such as edible oil, have declined but neither Jitu nor any other consumer in Bangladesh could see its impact in the local market.
This is because importers did not cut their prices on account of the higher import cost amid the US dollar shortage, and higher production costs for the hike in petroleum and gas prices by government agencies.
However, market stakeholders blamed anomalies in the supply chain.
In its latest analysis, the Centre for Policy Dialogue said high prices are not a fully external phenomenon.
The lack of a competitive environment, market syndication, absence of necessary monitoring and lax enforcement of existing laws by concerned institutions are key factors in this connection, it said.
Over the last year, the prices of several essential commodities have declined marginally but the list of items registering higher prices is longer.
Data from the Trading Corporation of Bangladesh show that the prices of only rice, edible oil and lentils dropped in the last one year while the prices of most other essentials, such as onions, potato and eggs, soared in Dhaka.
The prices of fish, meat and vegetables fluctuate in kitchen markets. However, the price of chicken has been high throughout fiscal 2022-2023.
Besides, soap, toothpaste, cosmetics, tissues and other essential products have become costlier.
Mostafa Kamal, who works at a private company and lives in the Diabari area of ​​the capital, said he has to reduce consumption of all daily essentials by 30 per cent.
"I even stopped participating in various social events. So, there is dissatisfaction in the family," he said.
"I already let go of my children's tutors to decrease my burden," Kamal added.
Altaf Hossain, a private company employee who lives in Khilgaon, said the prices situation gives him anxiety.
"How will I manage the monthly cost? This fear keeps me awake at night," he added.
Sohan Hossain, a salesperson at a mobile handset selling firm, said his mother has been suffering from osteoarthritis for more than four years.
"The concern of how to manage the cost of her treatment haunts me consistently. When I am struggling to buy daily necessities, how can I bear the medical cost?" he added.
Selim Raihan, executive director of the South Asian Network on Economic Modeling, said as a result of inflation, people have cut back on spending on education, medical care and entertainment.
"This will cause negative complications in their lives in the future," he added.
Raihan went on to say the rising cost of living has worsened the standard of living of people on fixed incomes.
"The middle-income and fixed-income people are struggling owing to higher inflation," he said.