Establish diplomatic mission to boost trade, investment
Speakers urge Romania at DCCI discussion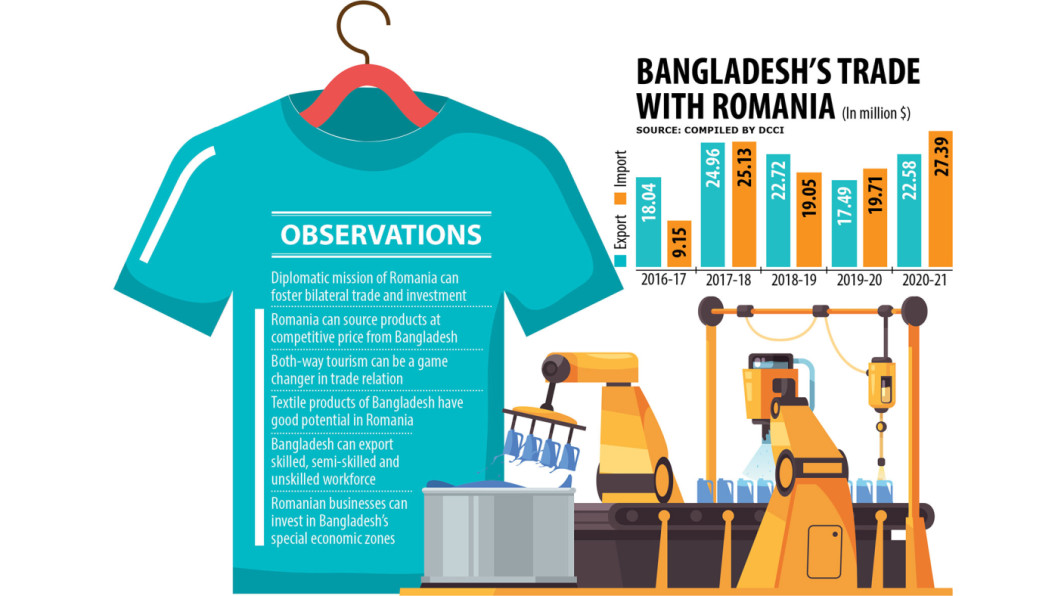 The establishment of the diplomatic mission of Romania in Dhaka will foster trade and investment between the two countries and pave the way for exporting skilled workforce to the European nation, speakers said yesterday.
"If the government of Romania establishes its diplomatic mission in Dhaka, it will elevate the bilateral trade relations to a new height," said Sheikh Fazle Noor Taposh, mayor of the Dhaka South City Corporation, while addressing a discussion on trade and investment opportunities.
The Dhaka Chamber of Commerce & Industry (DCCI) organised the event at its office, according to a press release.
Taposh said there might be a close trade relationship between Bangladesh and Romania, but in order to make that happen, the exchange of visits of the business community is more important.
"Two-way tourism can be a game-changer in terms of bilateral trade relationship."
Bangladesh has extended the capital or profit repatriation facility to foreign investors. So, the mayor invited Romanian investors to invest in the economic zones in the country to avail the facility.
He said that a help desk will be established in DCCI's office soon to help business entities get renewal of trade licence easily.
Robert Negoiță, mayor of the Bucharest-3rd District of Romania, called for a reciprocal relationship among the business community of both countries.
"In that case, the exchange of business delegation will enhance the communication."
According to him, Romania can be the gateway to Europe for Bangladesh. "So, investing in Romania will boost Bangladesh's export to Europe."
Romania can export agricultural products and technologies to Bangladesh.
"Textiles products of Bangladesh have a good opportunity in Romania. The Romanian textile sector needs a skilled workforce that Bangladesh has an opportunity to export," Negoiță said.
Rizwan Rahman, president of the DCCI, said the government of Bangladesh is now emphasising intensifying economic diplomacy prioritising global integration.
"The cross-border trade link of Bangladesh is in good shape with Europe, the US, Africa and the Middle East."
Bilateral trade between Bangladesh and Romania stood at $49.97 million in the last fiscal year. Bangladesh's import was $27.39 million in the year.
"Trade needs to grow in a win-win situation to make the most of new opportunities with a view to expanding economic cooperation."
Rahman requested Romanian businessmen to source furniture, plastic, pharmaceutical, ship, jute, leather products and garments from Bangladesh.
The Bilateral Investment Treaties, signed in 1987, can be implemented to allow Romanian investors to invest in Bangladesh's rewarding and competitive economic zones.
"The Romanian private sector can play a pivotal role to harness mutual potentials."
Benjir Ahmed, a former president of the Bangladesh Association of International Recruiting Agencies, said Bangladesh is ready to export skilled, semi-skilled and unskilled workforce to Romania.
He also called for setting up the diplomatic mission, said the DCCI in the press release. Mansoor Ahmed, senior vice president of the Bangladesh Knitwear Manufacturers and Exporters Association, said there was a great opportunity for Bangladesh's RMG exporters to increase exports to Romania.
"More emphasis should be placed on trade, investment and knowledge cooperation to strengthen bilateral trade."
He recommended Romania encourage its private sector to invest more in Bangladesh's economic zones.