Consumers bracing for further belt-tightening
Costlier Ramadan groceries to leave them in a tight spot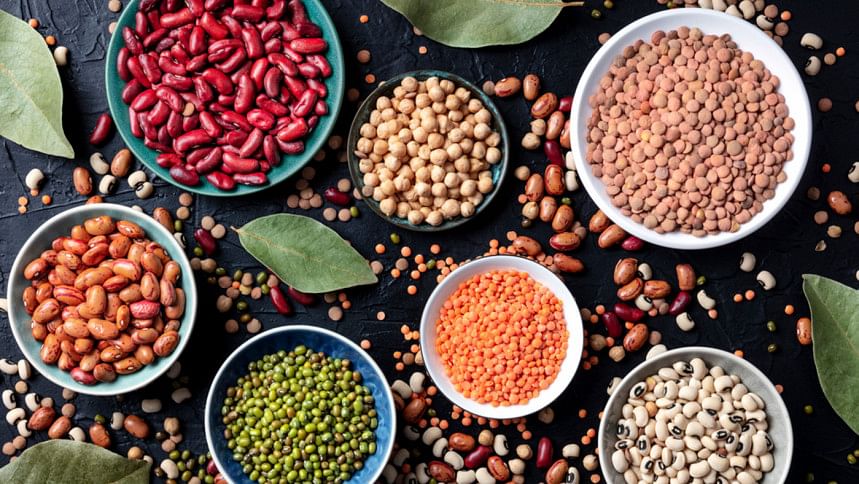 Prices of groceries which witness peak demand during Ramadan, the holy month of fasting for Muslims, have swelled significantly year-on-year owing to hikes in import and transportation costs alongside the value of dollar.
Prices of daily necessities and the cost of living have also increased, resulting in a decrease in the sale of all those products, including chickpeas, dates, lentils, edible oil and sugar.
According to the Trading Corporation of Bangladesh (TCB) and the country's retail traders, the market price of chickpeas was Tk 70 to Tk 75 per kilogramme (kg) a week before Ramadan last year.
Now it is selling for Tk 85 to Tk 95 per kg.
Sugar was sold at Tk 78 to Tk 80 per kg and right now is selling at Tk 115 to Tk 120. Consumers previously spent Tk 158 to Tk 165 to buy one litre of edible oil and now it is being sold at Tk 180 to Tk 185.
Importers say that although prices of some products have decreased in the world market, local customers are not getting the benefits due to the increase in import costs
In case of one kilogramme of red lentil, it was Tk 95 to Tk 100 but now is Tk 130 to Tk 135. Quality dates, which were Tk 500 to Tk 600 per kg last year, are being sold at Tk 700 to Tk 800 this time around.
According to Bangladesh Bank, the price of one dollar was Tk 86 in May last year, which has now increased to Tk 106.
Importers say that although prices of some products have decreased in the world market, local customers are not getting the benefits due to the increase in import costs.
Jihad Hossain, a resident of Tejkunipara of the capital, had bought about Tk 9,000 worth of spices, chickpeas, lentils, edible oil, sugar, broiler chicken, fish and some fruits for Ramadan last year.
An employee of a private company, Hossain said he lives in a two-room rented flat with his son, daughter and wife.
"There is a matter of Eid shopping. I can't go for a sublet or a one-room flat to save some money. So, this time I bought a lesser amount of goods spending Tk 5,000 due to the increase in prices," he said.
Laizur Rahman Masud, also a private company employee living in the Eastern Housing area of Mirpur, said household expenses were rising quite fast due to the "abnormal" increase in the prices of daily essentials and the cost of living.
"We have decided not to buy iftar (fast-breaking evening meal) items this Ramadan. Rather we will eat homemade food along with dates," he said.
Abdullah Al Mamun works as a salesman in a mobile phone shop in Bogura for a salary of Tk 8,000.
Mamun said he and his father were the breadwinners of their six-member family and this year they had bought 40 per cent less groceries for the month due to the increase in prices.
He said he admitted his son in first grade in January this year and that cost created additional pressure for him.
"In such as a situation, it becomes difficult for me to run the family with the salaries I currently get. And so, I bought less to manage everything," he said.
Arif Bin Saidul Haque of Chattogram said every year he used to purchase the groceries one week ahead of Ramadan but this time he has not done so although only a couple of days remain before Ramadan arrives on March 24this year.
This time he had decided against purchasing all the groceries for the whole month in one go for the rising cost of living and high medical expenses of his ill mother.
"This time I will market on a weekly basis, and all will be homemade. I'll not buy any item from food shops," added Haque.
Sales down 30%-40%
Traders said sale of Ramadan groceries used to begin in full swing after Shab-e-Barat, which is observed 15 days ahead of the month of fasting.
This time, however, the scenario in the markets was different.
Retail traders of the two big cities of Dhaka and Chattogram claimed that their sales this year have decreased by 30 per cent to 40 per cent compared to that ahead of last Ramadan due to the increase in prices.
Monwar Hossain, a retail trader at Yasin General Store in Kawran Bazar, one of the largest kitchen markets in the capital, said the sale of Ramadan groceries has come down by half this year compared to that last year.
Mohammad Kashem Mollah, a retailer in Mirpur-11, echoed them. He said the hike in prices of goods had prompted customers to limit their purchases to only what was essential for their families.
Mohammad Morshed, owner of Nihad Store in Hamzarbagh area of Chattogram, also made similar comments.
Volatile chicken market
In the retail market, broiler chickens were being sold at Tk 260 to Tk 280 per kg yesterday. The price has doubled in a span of one and a half months.
Moreover, the price was double the production cost, according to the Directorate of National Consumer Rights Protection.
The government entity said anything in excess of Tk 200 ws unreasonable because the production cost of one kg of broiler chicken was Tk 135 to Tk 140 for large-scale farms, despite the increase in other expenses, including feed.
And the cost should be Tk 150 to Tk 160 per kilogramme for small-scale farms.
The demand for essential commodities may fall 20 per cent year-on-year in the upcoming month of Ramadan because of the high prices of the items in the market, says a paper of the commerce ministry.