Chars in Bhola a hub for dried fish makers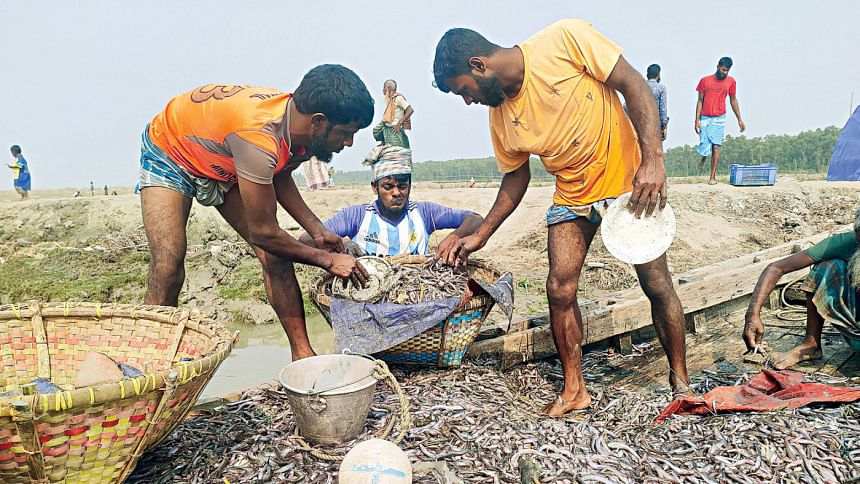 Huge quantities of dried fish are produced each year in Charfesson and Manpura upazilas of Bhola, where at least 10,000 marginalised people are involved in this business worth around Tk 100 crore annually.
Dried fish, known as shutki, is a popular food item across the country. And at least 12 chars across the two upazilas, such as Dhalchar union, Kukri-Mukri Char and Ashar Char, produce dried fish from shrimp, rupchanda and other breeds between October and March each year.
About 95 per cent of the dried fish produced is used in fish feed at different aquaculture farms in the country.
At least three to four hundred people are engaged in this work in Dhalchar union of Charfesson upazila, which is situated on the banks of the Meghna river.
Other than locals, a considerable number of labourers migrate from different parts of Bhola to live and work on the chars during the six-month season for drying fish.
At least 12 chars in the two upazilas, such as Dhalchar union, Kukri-Mukri Char and Ashar Char, produce dried fish from shrimp, rupchanda and other breeds between October and March each year
Ayub Ali, a dried fish trader in the area, said he ships at least one tonne of dried fish to various parts of Bangladesh each season.
"We buy raw fish from local fishers and sell the dried fish at an average price of Tk 1,800 per maund [37 kilogrammes]," he added.
Ali went on to say that it usually takes three days to dry the fish.
Md Abbas, a wholesaler of dried fish in Char Patila union of the same upazila, said there are at least four local wholesale traders that send 1,000 maunds of dried fish to different parts of the country, including Dhaka.
A worker who helps produce dried fish said he gets Tk 400 per day for laying the fish out in the sun before delivering the finished product to wholesalers.
Maruf Hossain Minar, fisheries officer of Charfesson upazila, said 8,772 tonnes of dried fish were sent to various places in Bangladesh last year.
He said the dried fish business is propelling the growth of the local economy as up to 6,000 locals are involved with the profession.
Kukri-Mukri Char, Char Patila and Dhalchar are well-known for dried fish as the high protein content of their products makes them highly favoured.
The situation is similar in Manpura union and Dakshin Sakuchia union of Manpura upazila, where about 2,000 depend on the dried fish business for their livelihood.
Md Saifulla, a resident of Dakshin Sakuchia union, said the amount of hilsa in the river is low at present, so most fishermen are busy with the dried fish business.
Najim Uddin, a local dried trader, said even though profit was low in some years, he never actually had to count losses in this business.
"Profit is good most of the time anyway."
According to sources at the local fisheries department, 1,200 to 1,300 tonnes of dried fish were produced in the region last year.
Md Emdadullah, district fisheries officer of Bhola, said about 10,000 tonnes of dried fish are produced in the two upazilas each year and that the business is growing gradually.
"Every year, new areas are producing dried fish. Apart from the availability of sufficient fish, this is made possible by the availability of cheap labour in the area."
Saidur Rahman Rintu, president of the Barishal Chamber of Commerce and Industries, said the agriculture and fisheries sectors in Barishal have received a boost after the completion of the Padma bridge.
"Besides, tourism, food and agriculture businesses in the region have become very attractive."