Businesses forge ahead despite poor infrastructure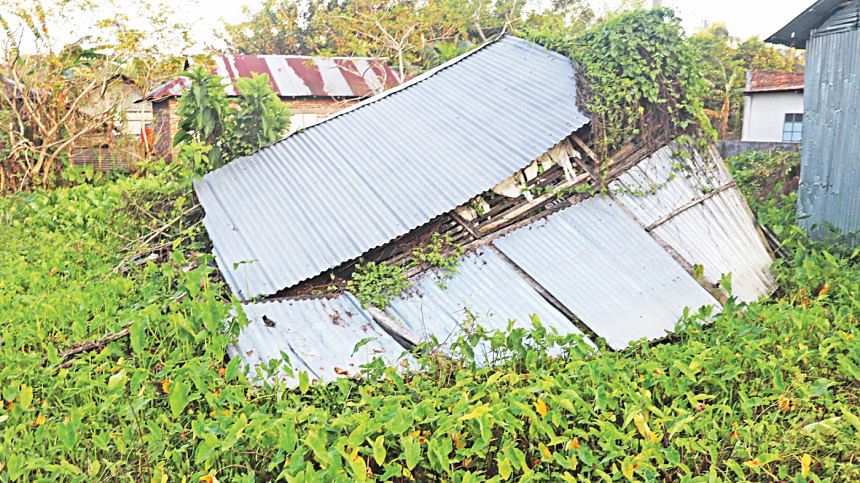 There once was a time when carpenters at an industrial estate of the Bangladesh Small and Cottage Industries Corporation (BSCIC) in Pirojpur's Nesarabad upazila would use handmade equipment to produce various types of furniture.
Now though, they use high-quality modern techniques that involve apparatus such as computer numerical control (CNC) routers for cutting wood.
However, the BSCIC industrial area on 24.74 acres of land in Kourikhara village has failed to see similar advancements in infrastructure, which has remained the same since its establishment in fiscal 1960-61.
The estate has yet to even come under direct road communication, which hampers the smooth transportation of raw materials and produced products.
There are 110 factories on 167 plots in the industrial area that mostly produce furniture while a few units make rope or recycle damaged plastic goods.
Factory owners say the condition of internal roads in the BSCIC area has remained the same for decades as hardly any development work has taken place over the years.
The BSCIC industrial area on 24.74 acres of land in Kourikhara village has failed to see advancements in infrastructure, which has remained the same since establishment in 1961
"It becomes impossible to use the roads during the rainy season as most of them are subject to waterlogging due to the poor drainage system," said Mohammad Touhid, who owns a carpentry unit at the estate.
He then informed that plot owners have to pay an annual charge of Tk 1.5 per square feet of their plots for the development of the BSCIC area.
Despite these troubles, factory owners are ready to spend on their businesses as evinced by their purchase of eight CNC routers for making furniture.
"A CNC router can do seven times more work than a man," said Mohammad Jasim, who operates another carpentry unit.
"But for the lack of proper opportunities and facilities, we cannot flourish our business properly," he said, citing the absence of direct road communication and adequate water supply.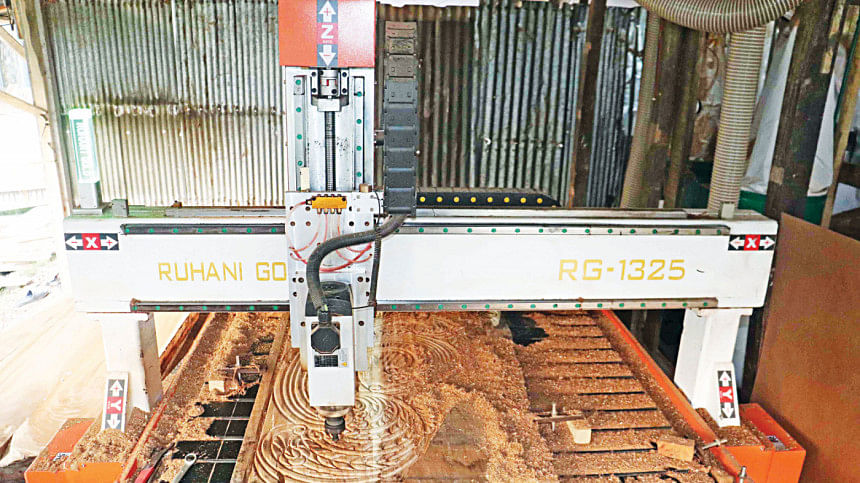 There are only two ways to enter the BSCIC area, both of which involve crossing bridges. One is made of wood while the other is very narrow and old.
"So, they cannot be used and all the goods are carried through the waterway," Jasim added.
The entrepreneurs alleged that some 90 per cent of the plot owners are not using their allotments and instead rent them out to other people while many spaces remain abandoned.
"If the real entrepreneurs would use their allotments, more products would be produced at the BSCIC site," said Mohammad Imran, who also makes furniture at his unit.
Md Habibur Rahman Malek, president of the Pirojpur Chamber of Commerce and Industries, said the BSCIC estate is located in a very remote area of the upazila that is disconnected from other parts of the district.
"So, we have long been demanding an industrial estate in Pirojpur upazila so that entrepreneurs can easily and comfortably invest there," he said, adding that their demand remains unfulfilled.  
Regarding the issues of the industrial estate in Nesarabad, Milton Chandra Bairagi, deputy manager of the BSCIC office in Pirojpur, said as the plot owners rent their plots without maintaining any documents and represent them as the owner of the factory, they cannot take any steps against them.
He has also said there is no rule against renting out plots.
"The rule is to establish a factory within six months of getting an allotment and then go into production within two years," Milton said.
"Otherwise the allotment will be cancelled," he added.
Regarding the water supply issue, Milton said supply lines are available all over the BSCIC area and entrepreneurs need only apply to get a connection.
However, four plots that had their allotments cancelled cannot be given connections as there are pending court cases against them, he added.
The deputy manager went on to say that the BSCIC is spending Tk 76 lakh to develop three acres of land in the area while another Tk 70 is lined up for developing roads. In addition, a jetty has been constructed for Tk 20 lakh.
The Pirojpur BSCIC has also gotten an allotment of Tk 80 lakh for making a new bridge over the canal in the industrial estate.
However, Milton believes it would be better to fill the canal instead of making a bridge as the reclaimed area could be used for more plots.
Lastly, he said the government has plans to establish a BSCIC industrial park on 310 acres of land in Pirojpur sadar upazila, and a development project proposal in this regard is at the primary level.