World Tourism Day: Bandarban celebrates with marathon and procession
People of Bandarban celebrated World Tourism Day today by participating in a mini marathon and bringing out a colourful procession in the district town.
Fifty-four people including those from indigenous communities took part in the 12-kilometre race arranged by the Bandarban Hill District Council, our local correspondent reports.
The race started from Bandarban University around 6:45am and ended in the Rajar Math ground.
Kyhlaching Marma won the marathon, Abdullah Noman secured the second position while Ushainung Marma finished third.
Special awards were given to the first 13 male and six female runners in the competition.
Abdul Al Noman, chief executive officer of the hill district council, and its member Siong Mro were present at the event.
Apart from the competition, indigenous people brought out a colourful procession under the banner of "Tourism & Green Investments" from Bangabandhu Square in the town around 9:30am.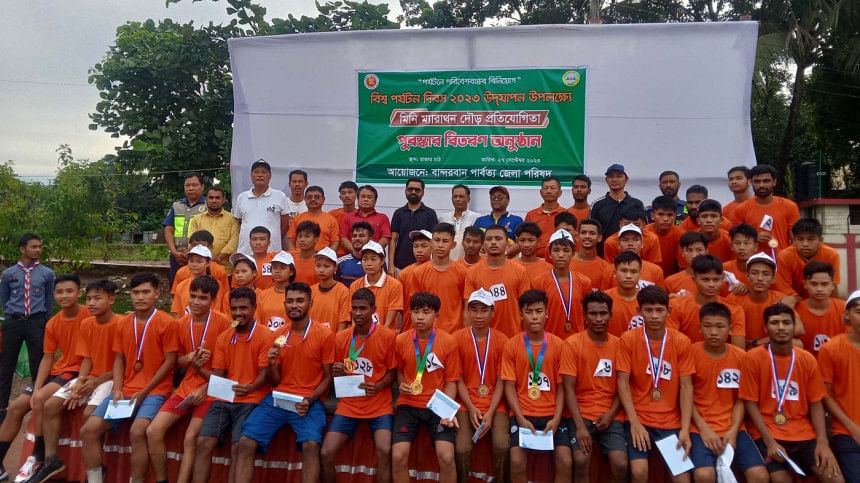 Aminul Islam Bachchu, member of Tourism Day Celebration Committee team and president of the Bandarban Press Club, said they celebrated the World Tourism Day 2023 with the slogan of "Environmentally-friendly Investment in Tourism".
In addition, Bangabandhu Mukta Mancha will celebrate the tourism day exhibiting different food items from different indigenous communities of the hill areas. A discussion programme will also be held to build awareness about the tourism in the locality.