No VAT cut for beauty parlours: NBR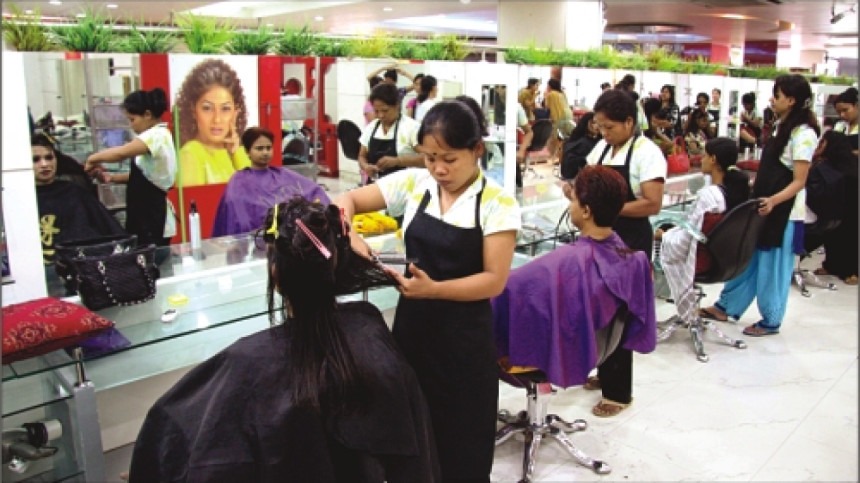 CCCI President Mahbubul Alam proposed enabling special allocations in the next budget for the timely implementation of different ongoing mega projects in Chattogram
The value added tax (VAT) on beauty parlour services will not be reduced in the upcoming national budget, announced National Board of Revenue (NBR) Chairman Abu Hena Md Rahmatul Muneem yesterday.
"Who pays VAT? Consumers pay VAT and you (businesses) collect VAT from the consumers and deposit it to the government," he said in response to a reduction proposal by businesses.
Muneem reminded that VAT rates were fixed considering the practicality of how much a consumer can pay.
"What is the VAT-paying capacity of a person who goes to beauty parlours? Can VAT be a pressure on a person who can spend Tk 250 for a haircut?"
"That is why I am announcing today that VAT on beauty parlours will not be reduced. There is no reason to reduce VAT," he said.
Muneem was addressing a pre-budget meeting organised by the Chittagong Chamber of Commerce and Industry (CCCI) at World Trade Centre in Chattogram city.
Regarding a proposal to help local producers of electric switches, he said there were allegations that the locals manufacture goods of poor quality to reduce production costs.
Consumers cannot be deprived of good quality products by cooperating profusely with the domestic industry that lacks capacity, he opined.
"We will monitor the potentials of the domestic industry and how much support is require at what stage will be assessed," said Muneem. The domestic industry needs to acquire required capacity gradually and thus they will continue to get support, he opined.
Mentioning that if prices of goods increase in the global market, the same will happen in domestic markets, Munim said it was not a normal practice to reduce prices of goods through a reduction in taxes.
He said the NBR was working with the aim of protecting the domestic industry, to bring ease to the tax system and reduce the pressure of tax.
Chairing the meeting, CCCI President Mahbubul Alam proposed enabling special allocations in the next budget for the timely implementation of different ongoing mega projects in Chattogram.
Referring to the current global situation and inflation amidst rising commodity prices, he also proposed raising the tax-free income limit for individual taxpayers from Tk 3 lakh to Tk 4 lakh.
For women and elderly taxpayers above 65 years of age, he suggested from Tk 3.5 lakh to Tk 4.5 lakh, for the physically challenged from Tk 4.5 lakh to Tk 5.5 lakh and for wounded freedom fighters from Tk 4.75 lakh to Tk 5.75 lakh.
Alam said they already sent over 200 proposals to the NBR, including 84 related to duty, 22 on VAT and 102 on income tax.