Bogura glass vial SME cluster almost extinct
Lack of assistance, automation among causes
Just three or four years ago, Shihari and Dumori villages in Bogura's Adamdighi upazila were buzzing with activity as some 400 small glass vial factories operated in the area.
At the time, these factories collectively employed more than 3,000 locals to produce glass tubes of all shapes and sizes, which were mainly used to preserve homeopathic medicine or rectified spirits.
But due to high production costs alongside the arrival of numerous plastic industries and automated manufacturing, the small-scale glass vial factories in the two villages are now nearly extinct.
Another major reason for their disappearance is that the owners of these factories do not receive any financial or technical support from government organisations.
According to locals, the glass tube industry in Shihari village was established about 50 years ago, when an unnamed man set up a production unit called the "Cumilla Glass Pipe Factory".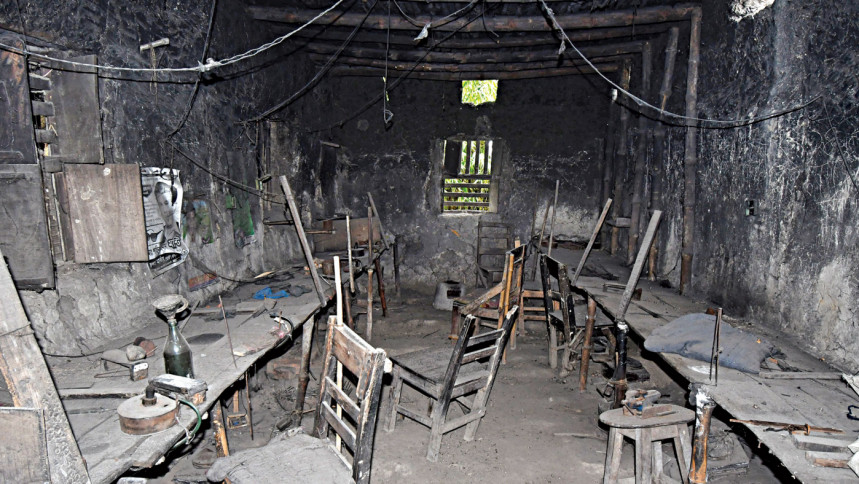 Soon after, about 200 small-scale factories were set up in the area before it eventually spread to the neighboring Dumori village, where another 200 entrepreneurs joined the industry.
Eventually, the two villages began shipping glass tubes all over Bangladesh, including Dhaka, Chattogram, Jhenaidah, Khulna and Panchagarh, registering a collective annual turnover of more than Tk 100 crore.
Unfortunately though, this is now just a distant memory for locals. During a recent visit to the region, it was found that around 100 glass pipe factories had been shut.
In 2013, the Bangladesh Small and Medium Enterprises Foundation (SMEF) conducted a cluster mapping study across the country that identified 177 clusters of small and medium enterprises, including Bogura's glass bottle industry.
The study also states that the Shihari glass bottle cluster was first established privately in 1972, when some 400 skilled and semi-skilled workers were employed by 100 factories.
Their products catered to about 80 per cent of the domestic demand at the time, when the annual turnover of Shihari village was around Tk 50 lakh.
The study further warned that the Shihari glass bottles industry would go extinct someday due to increasing production costs and a lack of financial or technical support.
However, the study was only done in the Shihari village cluster, where locals said that many traders were able to make good profits even up till 2017-18.
As production costs kept rising over the years, the entrepreneurs of these two villages later hired only female workers for nearly half the wages paid to their male counterparts.
However, even this could not save the industry from extinction, locals said.
Abdul Jalil, a resident of Dumri village, said the industry has gone out of business since it continuously incurred losses.
"Only two or three houses in Shihari village are still engaged in making glass toys and tubes while the rest have taken up other professions," he added.
Zahid Hasan, another local, said he and his father had set up three glass bottle factories in 2002 with about 150 workers.
Each worker could earn up to Tk 4,000 each week.
"I made good profits until 2017, before which we could make a profit of up to Tk 70,000 every month," Hasan added.
However, business has since taken a turn for the worse as they are unable to compete with cheap plastic alternatives in the face of rising production costs.
"We cannot collect even Tk six to seven lakh from the markets anymore as many factories lost their capital," he said.
Shamsul Haque, chairman of Noshratpur union, told The Daily Star that there were many people that once produced glass pipes to earn a living but that era has since ended as they could not adapt to modern markets.
"The entrepreneurs could not get any assistance from the government either, forcing many of them to take loans from non-government organisations at high interest," he said.
When contacted, Dr Mofizur Rahman, managing director of SME Foundation, said ever since the cluster mapping took place in 2013, many of them recently went extinct.
"Now, we are preparing another cluster mapping study for the next financial year," Rahman said.
Regarding the Bogura glass bottle cluster, he said it was a non-booster cluster.
The cluster may be on the verge of extinction due to a lack of modernisation and support.
"Besides, we could not cooperate because SME Foundation did not have the financial capacity at that time," he said, adding that hopefully things will be different now as they have since gained that capacity.
When asked, AKM Mahfuzur Rahman, deputy general manager of the Bogura BSCIC, said he would visit the cluster soon to meet local entrepreneurs.
"If they want, we can help them and if possible, facilitate their shift to any other small industry," Rahman added.