Banks cut back on loan write-off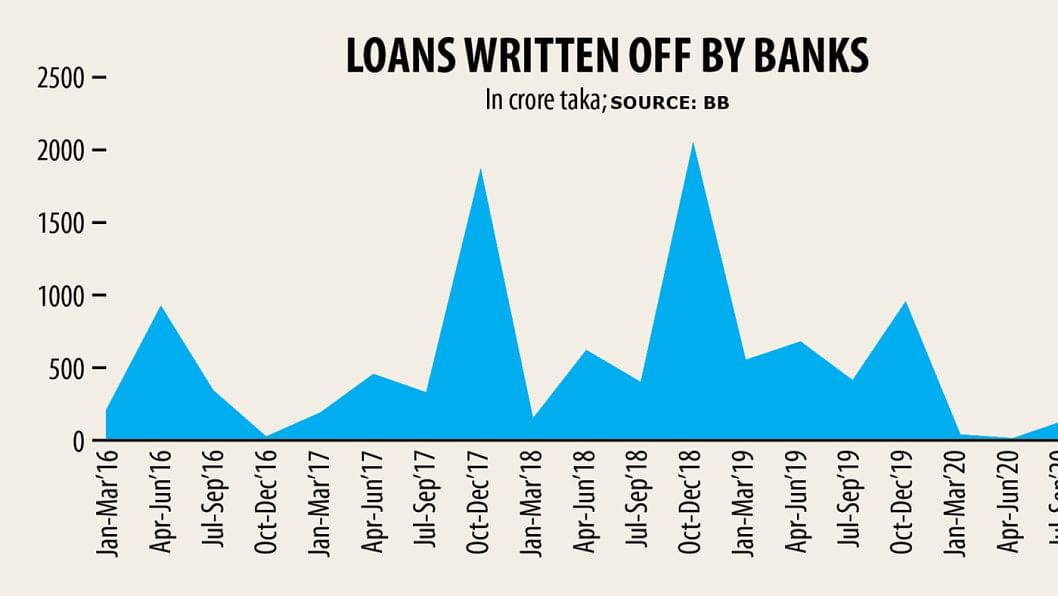 Loans written off by banks declined sharply in the first quarter of this year as the lenders' capacity to keep 100 per cent provisioning against their delinquent assets has decreased because of the slowdown in their business.
Usually, loans are written off when they are entirely provisioned and there is no realistic prospect of recovering them. These loans are shifted to off-balance sheet records.
Between January and March, loans amounting to Tk 101 crore were written off, down 87.35 per cent from a quarter earlier, according to data from Bangladesh Bank.
Banks, however, wrote off only Tk 33 crore in the first three months of last year.
The downward trend of the written-off loans is not a good indicator for the financial sector as it gives lenders the leeway of not having to set aside funds against the defaulted loans.
The trend of loans written off was feeble in the first nine months of last year, but it jumped in the final quarter.
Banks usually write off a substantial amount of default loans in the final quarter of every year in order to avoid taxation by the National Board of Revenue, said Sohail RK Hussain, managing director of Meghna Bank.
Banks have to provide corporate tax from the operating profit before calculating the required provisioning against default and unclassified loans.
This means lenders have to set aside provisioning after providing tax to the government exchequer.
As per Bangladesh Bank regulations, banks have to keep a provisioning of 0.25 per cent to 5 per cent for unclassified loans.
They have to maintain 20 per cent for default loans of substandard category, 50 per cent for the doubtful category and 100 per cent for the bad or loss category.
The central bank has long followed a practice that permits lenders not to preserve the required provisioning against both unclassified and default loans.
For instance, 11 banks suffered a provision shortfall of Tk 12,650 crore as of March and all of them had taken permission from the central bank to keep provisioning in phases.
But such forbearance is not applicable for the written-off loans.
Md Arfan Ali, managing director of Bank Asia, said the practice of writing off loans declined when banks were faced with managing their required operating profit.
The capital of banks will erode substantially if they continue to write off their loans despite making low profits, he said.
Loans to have been written off have declined in recent months due to the business slowdown brought on by the pandemic.
"Loan write-offs are considered one of the global best practices to augment the image of banks as a high amount of default loans faced by a lender usually gives a negative signal to the global community," he added.
Non-performing loans (NPLs) in the country's banking sector stood at Tk 95,085 crore in March, up 7.1 per cent from three months earlier and 2.8 per cent year-on-year.
Although net profit in banks is usually reduced to some extent due to loans being written off, the practice will help lenders fortify their financial health in the long run, Ali said.
Hussain said the majority of well-reputed foreign lenders wrote off their loans promptly.
Default loans amounting to Tk 970 crore were removed from the balance sheets last year, down 63 per cent year-on-year.
A total of Tk 57,122 crore has been written off since the facility was introduced in January 2003.
Of the amount, 77 per cent remains outstanding till date.