DSE income declines 11pc
The bourse blames it on falling interest rates on deposits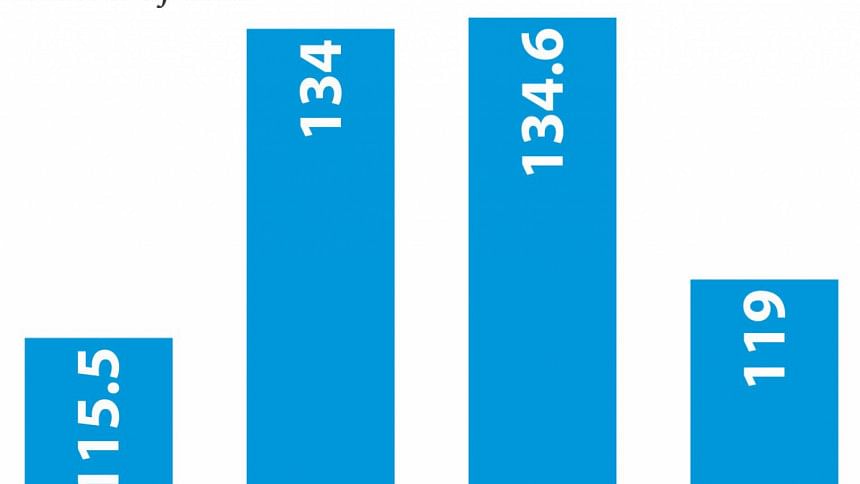 Dhaka Stock Exchange's net income dropped more than 11 percent year-on-year to Tk 119 crore in fiscal 2015-16 -- its third year of demutualisation.
As its net income declined, the earnings-per share also slid to Tk 0.66 last fiscal year from Tk 0.75 a year ago, according to DSE statistics. The bourse will place the financial statement at its annual general meeting on March 23.
A DSE official said one of the main reasons for the fall in net income was the declining interest rate on deposits in the money market.
Most of the bourse's income is generated from interest on fixed deposits, but the average deposit rate declined to 5.54 percent at the end of June last year, from 6.8 percent a year ago.
The DSE has around Tk 1,000 crore in fixed deposits with several banks.
"As interest income declined, the bourse's annual earnings also went down," said the DSE official, adding that low turnover on the trading platform was another major reason.
The DSE generated Tk 107,246 crore in turnover in fiscal 2015-16 with a daily average turnover of Tk 434.19 crore. Total turnover was Tk 112,351 crore with a daily average turnover of Tk 472.06 crore in the previous fiscal year.
The DSE has become a profit-oriented company owned by shareholders after demutualisation in 2013. The demutualisation scheme was approved by Bangladesh Securities and Exchange Commission in 2013, and the law on the issue was passed in 2012, to bring transparency to the stockmarket.
Demutualisation is a way to separate the bourses' management from ownership.
Prior to demutualisation, Bangladesh's stock exchanges were non-profit cooperatives, owned by the exchange members, who were usually stockbrokers.