Deal signed with Chinese firm for 1,320MW plant
The power plant in Maheshkhali could cost $2b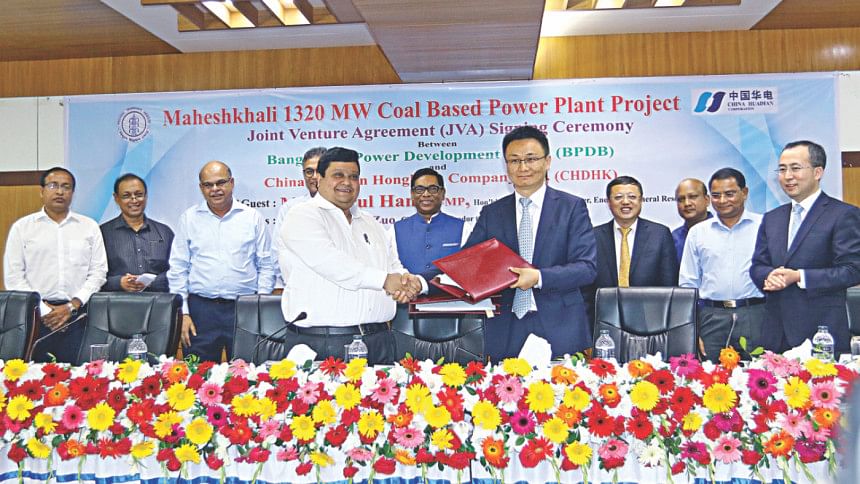 Bangladesh Power Development Board (BPDB) signed a joint venture agreement with China Huadian Hong Kong Company Ltd (CHDHK) yesterday to construct a 1,320-megawatt (MW) coal-fired power plant in Maheshkhali, Cox's Bazar at a potential cost of $2 billion.
Under the deal, a joint venture will be set up within a month to start the construction, said BPDB Chairman Khaled Mahmood.
Each party holds equal share and the joint venture will get 48 months to complete the project, says a handout distributed at the signing ceremony at Bidyut Bhaban in Dhaka.
Nasrul Hamid, state minister for power, energy and mineral resources, said Maheshkhali would be transformed into an energy hub by the next three to four years.
He also said the power division was no longer focusing on short-term and mid-term projects. It is putting emphasis on baseload projects.
Baseload plants are the production facilities used to meet some or all of a given region's continuous energy demand and produce energy at a constant rate, usually at a low cost relative to other production facilities available to the system.
Hamid said the government would add 1,000MW of electricity to the network in May. 
CHDHK President Fang Zheng said this was an important project for them as it was the company's first investment in Bangladesh.
CHDHK is a wholly owned subsidiary of China Huadian Corporation, a state-run power generation company of China, and has investment in energy generation, coal resources development, and power grid construction sectors. After the programme, Hamid talked about his ministry's move to extend the Quick Enhancement of Electricity and Energy Supply (Special Provisions) Act, 2010 up to 2021.
This is needed for quicker implementation of power and energy projects as they face delays for various reasons, he said, adding that it was also needed to meet the rising demand for electricity.
The ministry is seeking a three-year extension of the special law which allows awarding of contracts without competitive bidding. The law gives officials indemnity from being prosecuted for awarding contracts without tender.
An inter-ministerial meeting on the extension proposal took place on Thursday, according to a ministry official.
The government enacted the act in October 2010 for two years amid criticism from different sectors.
In 2012, the act was extended for two years and in 2015 for four years. The current extension expires on October 11 this year. The Maheshkhali project witnessed a six-year delay as the two sides signed its memorandum of understanding six years ago. The act will be helpful in getting rid of the delay, according to Hamid.
BPDB Secretary Mina Masud Uzzaman and CHDHK Vice President Wang Zhihao signed the agreement. Zhang Zuo, Chinese ambassador to Bangladesh, and Ahmad Kaikaus, power secretary, were also present.