DCCI stresses tax cuts,low bank interest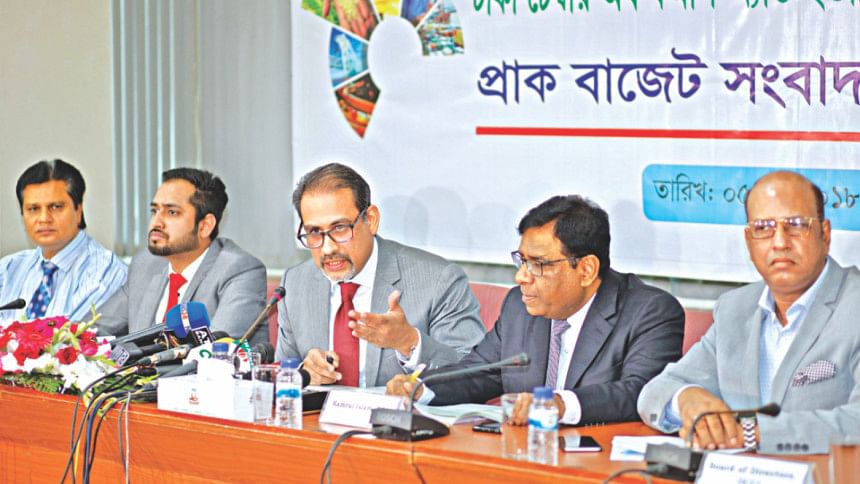 A leading chamber yesterday demanded cuts in tax and bank interest rates and easy access to finance for small and medium enterprises to raise the private investment-GDP ratio to 28 percent by 2021.
The contribution is estimated to reach 23.25 percent by the end of June this year, said Abul Kasem Khan, president of Dhaka Chamber of Commerce and Industry (DCCI).
The ratio is insufficient to meet expectations for the economy to grow at 8 percent per annum and boost employment generation, he said.
"We need more private investment for higher economic growth. The private sector's contribution to the national economy is more than 77.5 percent."
The government should act quickly so that the country could earn a place on the list of top 100 countries in the ease of doing business index as soon as possible, he said at a press meet at the chamber building in Dhaka.
Bangladesh now ranks 177 among 190 nations in the index.
The event was organised to discuss the chamber's proposals for the upcoming national budget for 2018-19 before those are forwarded to the government.
In the existing business climate, an additional Tk 50,000 crore is required every year to bump up private investment-GDP ratio by 1 percent, Khan said.
The investment is taking place in Bangladesh, but the pace is slow due to poor infrastructure, inadequate energy supply, inefficient port operation and high price and scarcity of industrial lands, he said. "If you consider the overall economy and investment scenario in terms of value, it is healthy as every year $5 billion is augmenting our economy. But it is not good in percentage. The businesspersons are expanding their current capacity," he said. New small and medium entrepreneurs are struggling to get access to bank loans, he said.
Khan proposed raising the tax-free individual income ceiling to Tk 3 lakh from the existing Tk 2.5 lakh and reducing the tax rate on annual individual incomes of Tk 5 lakh to 5 percent from the existing 10 percent.
He also proposed gradually decreasing the annual corporate tax rate by 5 percent, 7 percent and 10 percent respectively in the next three fiscal years.
The corporate tax is currently 25 percent for listed companies and 35 percent for the non-listed ones.
For banks and insurance and financial institutions, the rates are 40 percent and 42.5 percent while for mobile companies they are 40 percent and 45 percent respectively. Merchant banks pay 37.5 percent.
The DCCI suggested forming a "National infrastructure development and monitoring advisory authority" to maintain expensive infrastructure as report sometimes emerged of some requiring the government to dole out repair costs within a few years of their construction.
Better infrastructure ultimately brightens the country's image, he said, citing the example of Hazrat Shahjalal International Airport, the poor condition and services at which was a turn off for prospective foreign investors.
Khan said the chamber does not support legalising ill-gotten gains but backs imposition of "very high" tax on legal earnings. Only borrowers with good track records should be allowed to take more loans so as to encourage more investment in employment generation, he said.
"We are not in favour of government recapitalisation in the banking sector. If any bank fails, let it go. It is a lesson for it," he said. Khan also advocated for the price of liquefied natural gas to be rational and for increases to be adopted gradually so as to not hamper business, for it was a new concept in Bangladesh.