BOOK REVIEW: HISTORY & POLITICS
Of the peasants' quest for a state and Bangabandhu Sheikh Mujibur Rahman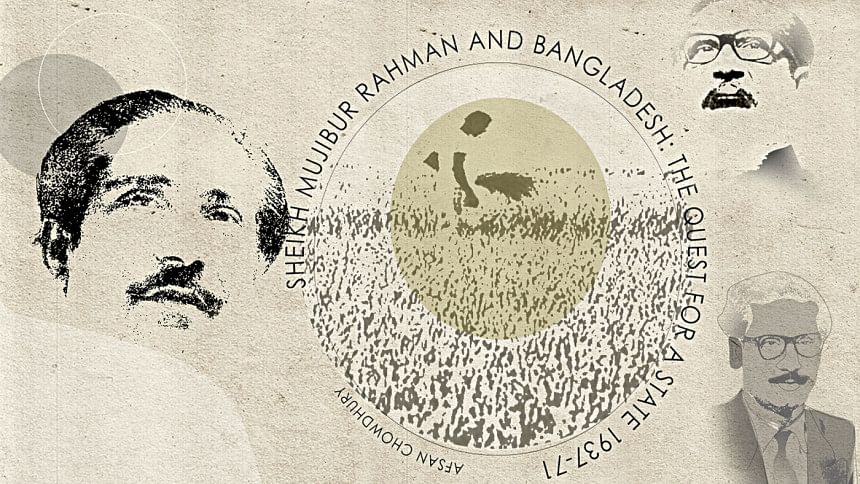 Afsan Chowdhury's Sheikh Mujibur Rahman and Bangladesh: The Quest for a State (1937-71), published in 2020 by Shrabon Prokashani, studies Bangabandhu in the context of the peasants' resistance against colonialism and their quest for a state in South Asia.
Chowdhury suggests that a village is an important power-base where peasants fought to liberate themselves from economic oppression that was hundreds of years old. At one stage of their long struggle, a common identity had appeared—"the Margin"—which subsumed all other identities, including those based on religion. The Margin is, therefore, a historical identity of people who had shared similar socio-economic and political experiences. The opposite of the Margin is the Centre, an urban-based powerhouse such as Kolkata, Karachi, or Dhaka. For Afsan Chowdhury, the process of forming a historical Margin had started roughly in 1905 or earlier, and Sheikh Mujib had helped peasants establish contact with the urban-based middle class before he accomplished the task. Being the carrier of the peasant's state-making project, which was in utero until 1971, Sheikh Mujib appeared as the leader of the greater alliance of the Margin, Chowdhury suggests. His finding overlaps with that of Professor Abdur Razzaq, while differing from those of Ahmed Sofa.
Chowdhury insists that Centre-Margin power politics are key to understanding the birth of Bangladesh. Consequently, in the first part of the book, he explores the development of the historical identity of the Margin, which had at its heart, the peasants. He takes four chapters to show the uprising of peasants against colonialism, their formation of alliance with other classes, and the appearance of a new historical identity which abolished other language- or faith-based identities. It was none but Sheikh Mujib, Chowdhury emphasises, who could understand the nature of the peasant's state and lead them to it in 1971.
In the second part of the book, Afsan Chowdhury focuses on the importance of Centre-Margin power politics before and after the 1947 partition and its impact on the peasants' quest for a state. He reiterates that it was the Centre-Margin (Karachi-Dhaka) power relationships that contributed to the birth of Bangladesh, and then follows Mujib's political career—including his encounters with Fazlul Huq and Huseyn Shaheed Suhrawardy and his sojourn to Baker Hostel in Kolkata—to show him as an agent of the Margin for the Centre (Kolkata). Chowdhury insists that Mujib's desire for Pakistan, a new state for Muslims of India/Bengal, was fundamentally different from that of his mentor Suhrawardy. While Suhrawardy saw Pakistan as an opportunity for Muslims of India/Bengal, Sheikh Mujib saw in it the peasants' liberation from exploitation. Mujib's politics "as a militant margin never changed under any history", the writer emphasises.
To my knowledge, Zillur Rahman Khan's The Third World Charismat (UPL, 1996) has been the best political biography of Bangabandhu Sheikh Mujibur Rahman. One may also find piecemeal analysis of Sheikh Mujib's contributions to establishing an independent state in the lectures and interviews in Professor Abdur Razzaq's Bangladesh: State of the Nation (University of Dacca, 1981) and Sardar Fazlul Karim's Dhaka Bishyabidyaloy ebong Purbobongiyo Shomaj: Oddhyapok Abdur Razzaker Alapcharita (Shahitya Prokash). His disciple, Ahmed Sofa, has also published two excellent essays about the father of the nation in Sheikh Mujibur Rahman O Onyanno Probondho (Hawladar Prokashani, 2014), and Abul Fazal has published a memoir of his encounters with Bangabandhu in Sheikh Mujib: Taake Jemon Dekhechi (Baatighar, 2016).
Bangabandhu's own memoirs and autobiography, too, are good sources for understanding his political ideals. They are useful sources to write a history of his time, as Salimullah Khan has recently emphasised in an article for the Daily Jagaran. These writings, no doubt, generate academic interest in Bangabandhu's political ideals, leadership, socio-legal thoughts and, above all, his quest for an independent state. But how do we study Bangabandhu Sheikh Mujibur Rahman, the person? The absence of an appropriate method, approach, and framework has made this task hard to accomplish. Consequently, although hundreds of titles about him have come out over the past few years, only a few are worth recommending to academia.
This new book by Afsan Chowdhuy does not, however, do justice to its ambitious project. The study is indeed full of observations, but the arguments are not carefully constructed with the support of evidence. As a result, they leave a host of questions unanswered, including at what point of time the peasants of East Pakistan left their religious identity behind, and whether we can consider peasants to be an independent political being. Why is 1937 important for understanding the birth of Bangladesh? As the central theme of the book is the peasants' quest for a state, the research could have shown exactly when peasants started to think of a state, since most of their anti-colonial movements were issue-based.
The title, also, does not do justice to the content of the book as Sheikh Mujib is hardly the centre of it. The book deserves better organisation as absence of logical connections between chapters, sections of a chapter, and paragraphs in a section are rampant across the book. Above all, the study seems predetermined and is not guided by sources.
However, this new approach of examining the birth of Bangladesh and Bangabandhu's contributions in it, in connection with the history of state formation in South Asia, are what make this book worth reading. It is an excellent attempt to rescue South Asian history from the history of India. 
Anisur Rahman is a legal historian at the Department of Law, Independent University, Bangladesh (IUB). He may be reached at: [email protected].