Train services halted for an hour due to protest programme in Gazipur
Three local organisations staged a sit-in programme at Joydevpur Railway Station in Gazipur yesterday morning with their 10-point demand, halting train communication in both directions for one hour..Gazipur Heritage and Development Organisation (Gazipur Oitijjo O Unnayan Sangathan) organis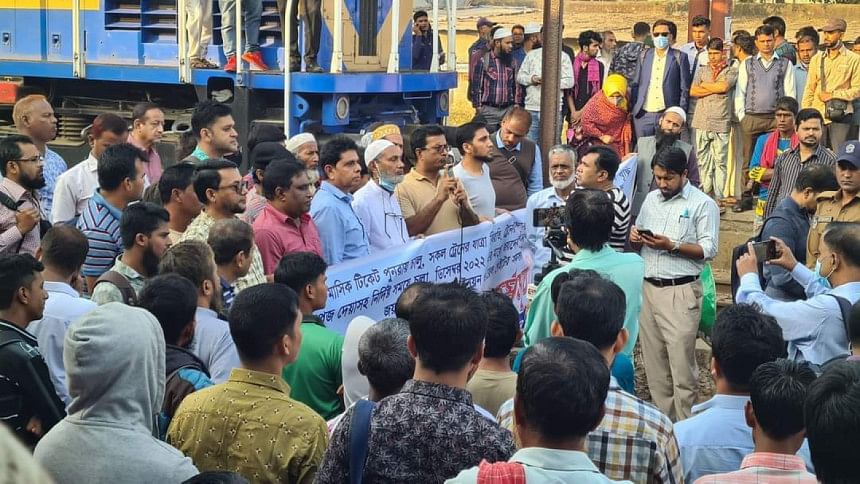 Three local organisations staged a sit-in programme at Joydevpur Railway Station in Gazipur yesterday morning with their 10-point demand, halting train communication in both directions for one hour.
Gazipur Heritage and Development Organisation (Gazipur Oitijjo O Unnayan Sangathan) organised the sit-in programme at the railway station from 7:00am to 8:00am, reports our local correspondent.
The demands include: resumption of monthly tickets, increasing the number of bogies of Turag and Tangail commuter trains, increasing the number of train seats, the launch of Joydevpur-Tongi double line and Gazipur-Dhaka-Narayanganj train by December 2022.
Engineer Shamsul Haque Khan, president of the organisation, said they would go for tougher movement if their demands are not met within the next 15 days.
Two other organisations -- North Bengal Kalyan Samity and Purvanchal Oikya Parishad -- also took part in the protest programme.
Rezaul Islam, station master of Joydevpur Railway Station, said a demonstration was held at the station in the morning.
The Rajshahi-bound Dhumketu Express and Dhaka-bound Ekta Express trains were stuck at the outer signal of the station for an hour. On top of that, several trains were stranded on both sides of the station, he added.