Passenger train services resume at full capacity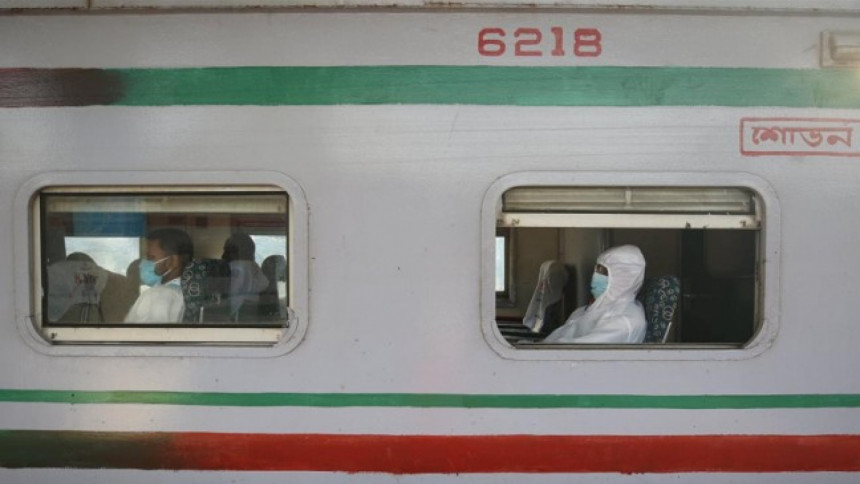 Bangladesh Railway (BR) resumed passenger train operations at full capacity this morning, three and a half months after it began services on a limited scale.
Shawakat Zamil Moshi, divisional commercial officer (Dhaka) of Bangladesh Railway, confirmed it to The Daily Star.
BR has been selling intercity train tickets online and through a mobile app since beginning limited operations on May 31.
However, half the total tickets of intercity trains will now be sold at stations while the rest through online and the mobile app. All local, mail and commuter train tickets will be sold at the stations.
All health safety guidelines will be followed, said Shariful Alam, senior information officer of the railways ministry, while the ministry took the decision at a meeting yesterday.
BR is gradually increasing the number of trains in its fleet in bids to normalise services. A total of 218 trains will come into operation by September 16. The remaining 144 mail and local trains will resume operations gradually.
Meanwhile, our Lalmonirhat correspondent reported that local, mail and commuter trains began services to all routes from Lalmonirhat Railway Station, the Western Division Railway Headquarters of BR.
The trains have been diverted from Lalmonirhat station to Burimari, Kurigram, Santahar and Biral-Dinajpur routes this morning after a five-month suspension due to the coronavirus situation.
The presence of passengers was low today, the correspondent reports.
Abdus Samad, a passenger on the Lalmonirhat-Burimari route, said, "We are happy that the trains began operations at full capacity as our business came to a standstill."
Lalmonirhat Divisional Railway Manager Tapash Kumar Das said, "Local, mail and commuter trains resumed on all routes from Lalmonirhat station today as per the government decision."
Health guidelines will be followed during the operation of these trains, he added.
Although the number of passengers is low at present, it will increase gradually, he hoped.