Despite army deployment, election violence and attacks on opposition candidates show no sign of abating.
In Dhaka's Keraniganj, BNP candidate Goyeshwar Chandra Roy and 30 others were injured in an attack by alleged Awami League men yesterday, while a ruling party candidate's procession was attacked by alleged BNP supporters with petrol bombs in Chattogram. Four people suffered minor burns in that incident.
BNP candidates in Savar, Manikganj, Tangail, Cumilla, Bagerhat, Mymensingh and Chattogram also came under attacks, report our district correspondents.
With them, motorcades and campaigns of at least 51 BNP and Jatiya Oikyafront candidates have been attacked allegedly by AL men since election campaign officially began on December 10. Two AL aspirants have also come under attack allegedly by their opponents.
More than 1,100 people, mostly BNP men, have been injured in these attacks.
While both the AL and the BNP deny their involvement in these attacks, police have yet to identify or arrest any of the attackers.
Meanwhile, alleged BNP men yesterday attacked an executive magistrate in Sylhet's Golapganj around 6:30pm when he asked them to clear a road they were blocking for campaign. In Chattogram, at least two policemen were hurt after being attacked allegedly by BNP activists. 
In another development, police detained more than 250 BNP and Jamaat men on criminal charges in different districts since Monday night. With them, around 1,000 BNP and Jamaat leaders and activists have been arrested since December 10.
In Dhaka, senior BNP leader Goyeshwar and his supporters came under attack by AL men during campaign at Chunkutia in the evening, witnesses and BNP sources said.
Goyeshwar suffered injuries in his head and was undergoing treatment at Islami Bank Central Hospital at Kakrail, Aminul Islam, personal assistant of the BNP leader, told The Daily Star.
But Sha Migan Shafiur Rahman, superintendent of police in Dhaka, said Goyeshwar was heading towards Kadamtoli in a procession when the AL candidate was holding a meeting there.
At one stage, activists of both parties started pelting brick chips at each other, he said. "I heard that Goyeshwar sustained injuries during the incident. Police brought the situation under control."
In the port city, supporters of BNP candidate for Chattogram-4 hurled several petrol bombs and crude bombs on supporters of Didarul Alam, the AL candidate from the same constituency, at one stage of a clash between the two sides, said witnesses.
The clash began around 11:00am when both camps were campaigning in Jahanabad area of Sitakunda.
Police and local AL leaders claimed that BNP men swooped on the AL procession with sharp weapons and hurled two to three petrol bombs and some crude bombs without provocation.
Four AL men -- Abu Saleh Shamsuddin, Saddam Hossain, Mohammad Raihan and Tayeb Uddin -- were injured in the blast. Three of them with minor burns were being treated at Chittagong Medical College Hospital, said police.
Didarul Alam blamed BNP and Jamaat-Shibir men for the attack.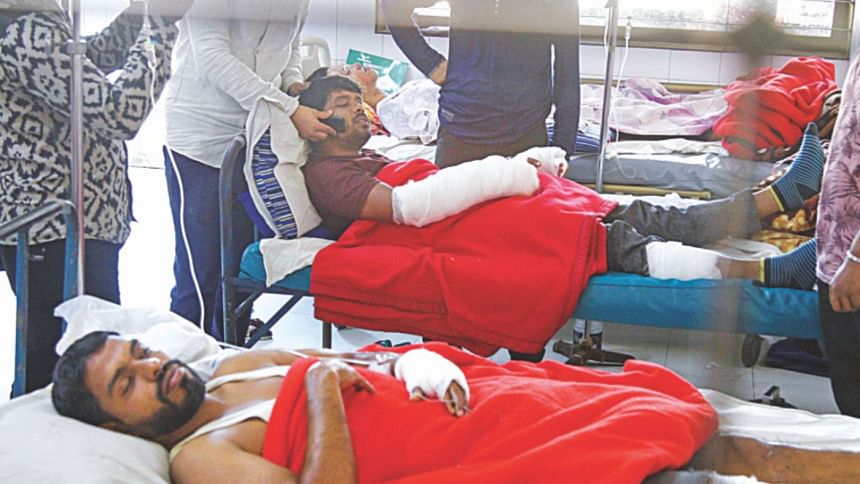 BNP candidate for the same constituency Ishaque Quader Chowdhury denied the claim.
He alleged that AL men obstructed them and asked them to stop their campaign in the area. "At one point, they attacked us."
In Savar, BNP candidate for Dhaka-19 Dewan Mohammad Salauddin alleged that AL men attacked his Savar residence early hours of yesterday, vandalised two CCTV cameras and threw brick chips.
But Ali Haider, Savar upazila unit general secretary of the AL, said his party men had nothing to do with the attack.
In Mymensingh, around 50 people, including two journalists, were injured when alleged AL men attacked the campaign of BNP candidate from Mymensingh-11 Fakhruddin Ahmed Bachhu at Bhaluka Bazar in the evening. Bacchu escaped the attack unhurt.
AL candidate for the same constituency Kazim Uddin Ahmed Dhanu declined to comment about the incident and hung up the phone.
Firoz Talukder, OC of Bhaluka Police Station, said they rushed to the spot hearing the news and dispersed the clashing groups by firing blank shots.
In Fatikchhari of Chattogram, Islami Front candidate Sayed Saifuddin Maijbhandari came under attack twice at Bibirhat and Monir Community Centre yesterday.
Saifuddin blamed grand alliance candidate for the same constituency Najibul Bashar Maijbhandari for the attacks, which Najibul denied.
In Cox's Bazar, at least three people, including two policemen, were hurt when BNP men allegedly attacked police in Bharuakhali area yesterday.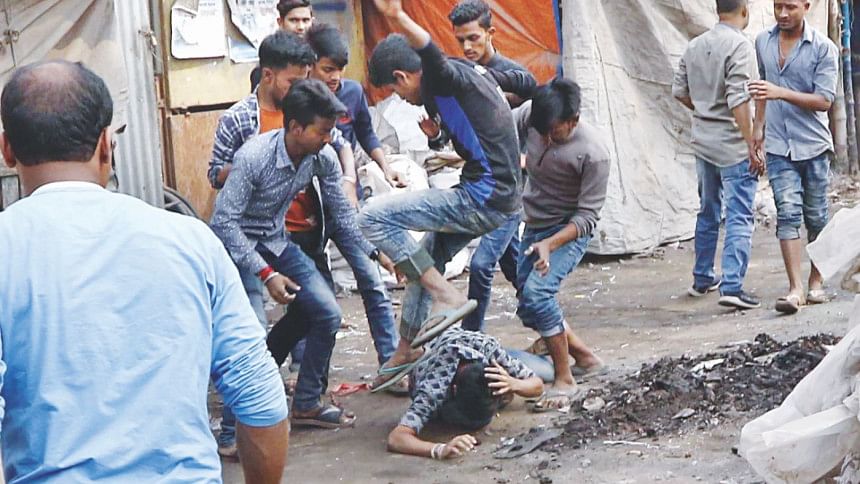 The attack followed the arrest of a man named Mostafa from a tea stall at Bharuakhali Bazar in the afternoon. In response, a large number of BNP men led by Bharuakhali union parishad chairman Shafiqur Rahman came to the spot and attacked the police, said Iqbal Hossain, additional superintendent of police of Cox's Bazar.
Police arrested two people in this connection, he said.
In Shyampur of Dhaka, supporters of AL-led grand alliance candidate attacked some supporters of Jatiya Oikyafront candidate from Dhaka-4 Salahuddin Ahmed.
Police and Border Guard Bangladesh (BGB) personnel standing nearby were silent spectators during the attack that left several people injured, witnesses said.
Witnesses said some youths, who took position near Salahuddin's house with police and BGB men since morning, swooped on a group of Salahuddin's supporters soon after they came out of his Shyampur house around 1:00pm.
The attackers beat and kicked the supporters of Salahuddin. They even trampled the victims who fell to the ground until journalists arrived at the scene to take photos, they added.
Around half an hour later, Salahuddin, along with 50 to 60 supporters, tried to came out of his house, but was barred.