Covid-19 Fallout: Double blow for boutique houses
Almost no sales ahead of Baishakh, Eid; thousands left jobless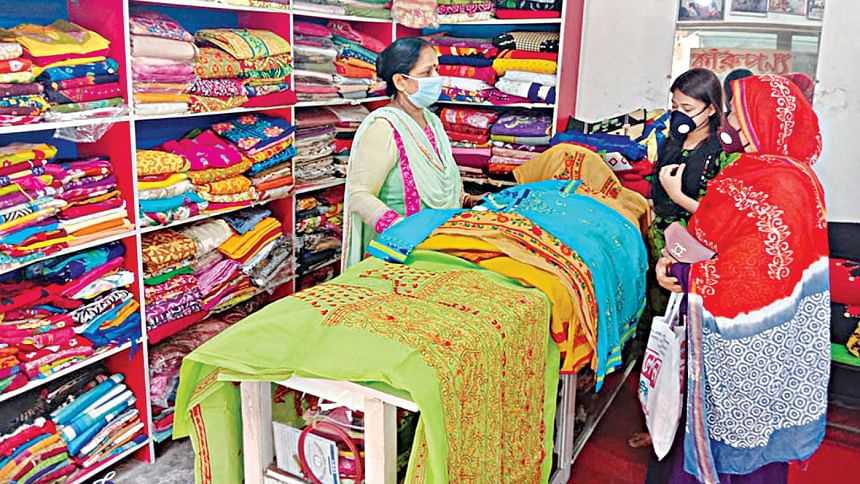 Female small entrepreneurs running boutiques in eight northern districts are counting heavy losses after missing out on the year's two most lucrative selling periods due to the Covid-19 shutdown.
Many are worried about recovering the capital they invested, which forms a bulk of their year's investment, as they were unable to sell the clothes they had made targeting customers on Pahela Baishakh in April and Eid-ul-Fitr last month.
Apart from the entrepreneurs, around 10,000 female artisans who hand-stitch clothes for these boutiques are without work. They also have not received payment for the work they delivered before the shops closed in March.
Talking to The Daily Star, several boutique owners in Thakurgaon said they were struggling to pay rent, utility bills, and staffers' salaries as they could not capitalise on Pahela Baishakh and Eid-ul-Fitr sales.
"We made 1,000 pieces of Baishakhi and Eid dresses including saris, salwar-kameezes, fatuas and baby clothes -- at a cost of around Tk 6 lakh -- aiming to sell these ahead of the Pahela Baishakh and Eid-ul-Fitr," said Chondona Ghosh, owner of boutique named Karupanya.
The main yearly income of these boutiques come from selling products centring around these two festivals, said Chondona, also Thakurgaon's district representative of the Bangladesh Women Chamber of Commerce and Industry (BWCCI).
The female entrepreneur invested a bulk of the year's planning and capital into this time of the year with orders already placed before the unprecedented Covid-19 outbreak-driven shutdown announced across the country in the last week of March.
Though the government permitted shops to reopen from May 10, in time for pre-Eid sales, shops in these districts were closed again, said Chondona.
As social distancing could not be maintained, the local administrations ordered shopping malls and markets to be shutteredagain from May 18 in Thakurgaon.
Though shops have since reopened, since the end of the countrywide shutdown starting June 1, this gives little hope to boutique owners who cannot, for example, sell the distinctive red-and-white Pahela Baishakh outfits during the rest of the year.
Mokseda Begum, owner of Ananya Hasta Shilpa in Thakurgaon, said she had made three-pieces, panjabis, fatuas and baby clothes worth over Tk 4 lakh. But all these products lie unsold as her shop remained shut during the two festivals.
"The possibility of selling those products is uncertain as customers will not like to buy these now."   
"I built up my business slowly and after the efforts of half my life," said Mokseda, adding that she cannot get her boutique up and running again without financial support.
Around 50 boutiques in the two northern districts of Thakurgaon and Panchagarh are run from the entrepreneurs' homes and at least 2,000 artisans are involved in the industry, said BWCCI's Chondona.
ARTISANS WITHOUT WORK, PAY
Bilkis Begum, 30, an artisan from Gilabari village in Thakurgaon Sadar upazila, said she is one of 30 women in her village who sew for a living. They have gone unpaid by boutique owners for the work they delivered before shops were closed.
The artisans are usually paid for their work with some advance and the major amount is given after the clothes are sold.
The artisans' hopes are dimming as they are also not getting new orders from boutiques due to financial constraints, Bilkis said, meaning they could be without work and pay for months to come.
Halima Khatun, 35, of Islamnagar village in the upazila, said a total of 80 women working under her supervision were in hardship.
All the artisans are without work since the owners of boutiques have not been giving work orders for two months now. They too are yet to get wages for their work for Pahela Baishakh and Eid-ul-Fitr, she added.
Around 400-500 female entrepreneurs who sell boutique clothing and handicrafts in the eight northern districts in Rangpur division are concerned about how to sustain operations and around 10,000 artisans -- mostly women -- are without work, said Fatema Yasmin Era, BWCCI's Rangpur divisional president.
The government should bring these entrepreneurs and artisans under the coverage of special incentives so that the industry can survive, she added.
Deputy commissioner of Thakurgaon, KM Kamruzzman Selim, told The Daily Star that the government has a plan to provide support to small entrepreneurs and once the local administration receives instructions on this, it will start working on the issue.