Maldives model found dead in Rajshahi hostel
A Maldivian medical student, who was featured as a model on the cover of Vouge India magazine last year, was found dead in her room at a dormitory of a private medical college in Rajshahi city yesterday.
Police recovered the body of Raudha Athif, 21, a second-year student of Islami Bank Medical College in Nawdapara area, around 12noon, an hour after some of her classmates living in the same building discovered it.
Her classmates saw the body hanging from the ceiling fan with a scarf tied to the neck, said Zillur Rahman, officer-in-charge (OC) of Shah Makhdum Police Station.
One of them cut the scarf with a knife and took the body down, believing she was alive, he added.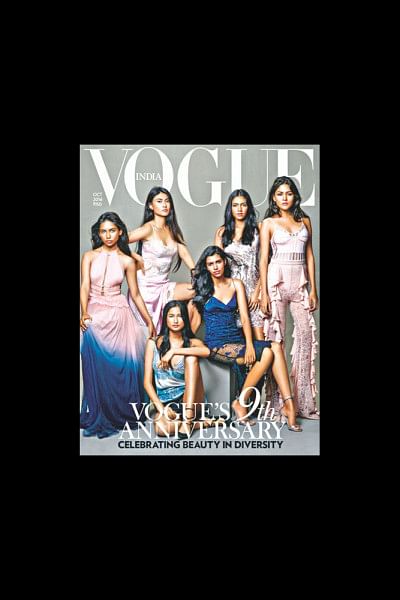 "We primarily suspect it is a suicide case. However, we can't come to any conclusion until we get the autopsy report," said the OC, after police examined Athif's dorm.
Apart from the neck, there was no other injury marks on the body, which was sent to Rajshahi Medical College Hospital morgue for autopsy, he added.
Asked, Mahmuda Begum, superintendent of the female hostel, however, said Athif "always looked happy" and "it is hard to believe she would commit suicide".
"I was in my chamber. Suddenly, I heard screams of my students. Rushing to the second floor of this six-storey building, I saw some of the students trying to break the door of Athif's room."
Some of the students, including foreign students, told Mahmuda that Athif's room was locked from the inside. Sensing trouble, the students broke into the room.
Daughter of Mohamed Athif and Aminath Muharrimath of M. Layender in the Maldives, Athif had been living in the hostel, designated mainly for foreign students, near the college campus since last year, Mahmuda said, adding that she last saw Athif on Tuesday afternoon and they exchanged smile.
This correspondent tried to talk to Athif's classmates but could not.
With her aqua blue eyes, Athif became an internet sensation in her country in 2014.
After experimenting with her pictures on social media sites two years ago, Athif hit gold with her "Maldivian Girl With Aqua Blue Eyes" shoot. Shot by Maldivian photographer Sotti for a project, the stunning image of her emerging from a gorgeous blue sea went viral, eventually helping her land on the cover of Vogue India in October last year.
"Modelling is a hobby rather than a career for me, since I'm studying to become a doctor," she told Vogue.
Bangladesh's Jannatul Ferdoush Peya was also featured on the cover in that magazine edition titled "Celebrating beauty in diversity".
Athif scored GPA-5 in her secondary school certificate examination from Hiriya School in the Maldives under the UK's Pearson Edexcel and achieved her higher secondary certificate from Villa International High School, Maldives under UK's Cambridge.
In her early age, she wanted to be an environmentalist. Her first campaign was at age 14. "It was a small environmental campaign for our national television network, encouraging people to ban plastic bags in favour of eco-friendly alternatives," she had told the Vogue.