Malaysia cops detain 8 foreigners with Salafi Jihadi links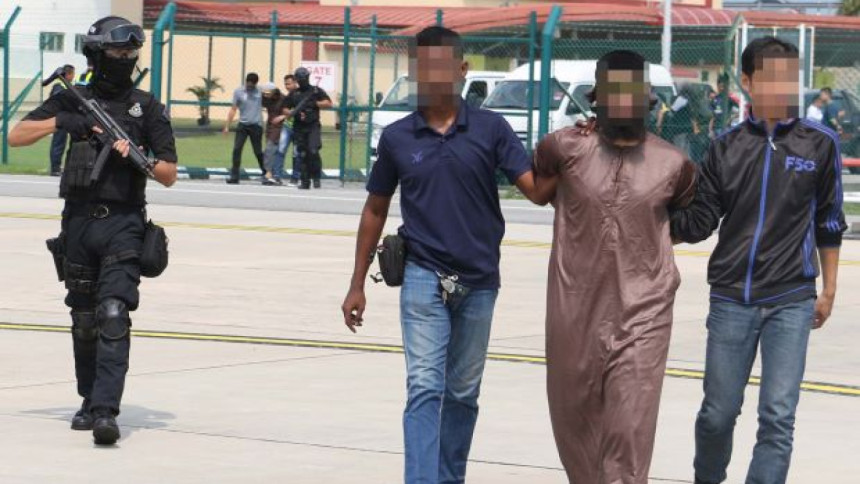 Eight men with suspected terrorist links have been rounded up in Malaysia for suspected activities that threatened national security.
The suspects – seven foreigners and a Malaysian – were detained by the Bukit Aman Special Branch Counter Terrorism Division in Perlis, Kuala Lumpur and Johor on September 24.
Inspector-General of Police Tan Sri Mohamad Fuzi Harun said today all of the suspects were involved with an Islamic learning centre in Perlis, believed to be promoting extremist teachings.
"They are either students or former teaching staff of the centre.
"We made the arrests after receiving actionable intelligence that a Yemen-based terrorist group is planning to set up a learning centre in South-East Asia to promote the Salafi Jihadi extremist teachings.
"Initial investigations based on intelligence shared by foreign intelligence agencies showed that the suspects had connections with a madrasah in Dammaj, Yemen, set up by Sheikh Muqbil Hadi Al Wadi, a Salafi Jihadi scholar.
"The madrasah follows the Salafi Jihadi teachings that permits the killings of non-Muslims and even Muslims who don't follow their ways," he said in a statement on Saturday.
The teachings also labelled the democratic system as "toghut"(un-Islamic), he added.
The IGP said the first series of arrests were made in Perlis on five Europeans and another from the American continent aged between 24 and 38.
"We believe all six have connections with the Islamic State terrorist group, as well as other terror cells in the region.
"They are all students of the learning centre in Perlis," he said.
The seventh suspect arrested was a 33-year-old Middle-Eastern man in Kuala Lumpur, who was a teacher of the learning centre, said Mohamad Fuzi.
"We believe he has been spreading Salafi Jihadi teachings in the guise of conducting Islamic classes in the Klang Valley," he said.
The last arrest was on a 32-year-old Malaysian man in Muar, Johor.
"He was a student at the centre in 2014," he said.
The arrests were made to curb the spread of Salafi Jihadi teachings in Malaysia, added the IGP.
"These teachings are the basis of most terrorist groups, including the IS, Al-Qaeda, Jemaah Islamiah (JI), Boko Haram and Abu Sayyaf Group, as well as others.
"This is not the first time terror elements have tried to spread Salafi Jihadi teachings in the country. JI leaders Abdullah Sungkar and Abu Bakar Basyir set up schools in Negri Sembilan and Johor in 1985, but we managed to put a stop to it," he said.
Copyright: The Star Online/ Asia News Network