BIG-MONEY ANTHEM SHOT
Unless you had your head buried in the Arabian Desert, you already knew who the big draws in the Asia Cup were. India bring in the big money with their advertisers and broadcast deals, and the Asian Cricket Council seemed to have designed the Asia Cup around the top-ranked ODI side's schedule and needs.
The organisers would also have been wishing for the eyeballs that an India-Pakistan final would bring, but Bangladesh had spoiled the party.
Yesterday, even before a ball was bowled, that preferential treatment manifested itself through a cameraman. During the national anthem, it is customary for a broadcast cameraman to walk across the team whose anthem is playing, focusing on each player singing along and getting pumped up for the battle to follow.
However, less than halfway through the instrumental rendition of 'Amar Shonar Bangla', the cameraman -- who normally slow-walks across the players -- was seen jogging towards the Indian team and took up position at the far end of the players, waiting for the Indian anthem to begin. The Bangladeshis had to be content with zoomed footage from the cameras in the stands. After all, you can't miss the big-money shot.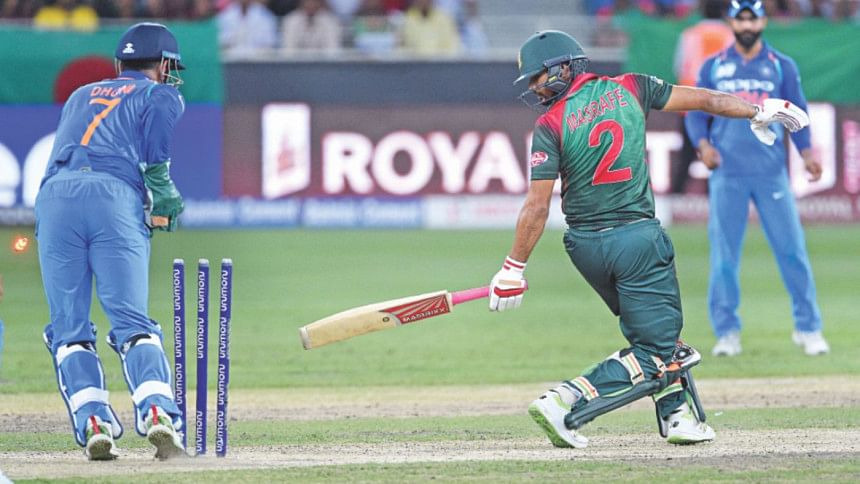 MASHRAFE'S BRAIN FADE
Mashrafe Bin Mortaza is one of the most responsible cricketers going around, but with bat in hand he does have his odd moments of madness.
When he walked in with the score on 188 for six in the 41st over, having just lost centurion Liton Das, there was still hope that Bangladesh could mount a 250-plus score. After all, a specialist batsman in Soumya Sarkar was at the other end and Mashrafe just needed to stay there and let Soumya do the scoring.
He hit a six off his seventh ball off Kuldeep Yadav, and that should have been enough for the over given the circumstances. However, he decided to repeat the shot and missed the ball, which thankfully for Bangladesh also missed the stumps. But Mashrafe came down the wicket in the next ball, and this time the ball did not have to hit timber because Mahendra Singh Dhoni did the job.
NELSON STRIKES
Multiples of 111 are known as Unlucky Nelson in cricket. With Bangladesh on 222 for eight in the 49th over, perhaps Soumya Sarkar tried to avoid the inauspicious score and so hared back for a second run after hitting Bhuvneshwar Kumar to wide long on.
But it is best not to try and outsmart fate, because Soumya became the third batsman to be run out and two balls later Rubel Hossain was bowled. The score? 222.