Even when Bangladesh seemed to be doing everything right, circumstances have conspired against them. They take on Afghanistan today in their last Asia Cup Group B match in Abu Dhabi AT 5:30pm Bangladesh time, having already qualified for the next stage. Their match is set to end about 15 hours before their next match, a Super Four encounter against mighty India in Dubai, where the Sri Lankans and Afghans reached at around 1:30am after their match on Monday. Their highest run-scorer is now in Dhaka trying to heal a fractured left hand suffered in the 137-run win over Sri Lanka on Saturday.
With the Asian Cricket Council's shenanigans with the fixtures, today's match is meaningless as it will not even determine which team will play which in the next round. But it will have consequences just by being held as it will severely tire out each team for their respective second-round matches -- Afghanistan's against Pakistan and Bangladesh's against India.
"The most important matches are on the 21st, 23rd and 25th [26th], and we will start it having played back-to-back matches," said Bangladesh skipper Mashrafe Bin Mortaza. "It's not like we have 24 players and can rest 11 for one match. If we field second tomorrow [Thursday] and field first on the 21st, there won't even be 10 hours to recover."
In that are a few clues – there may well be quite a few changes to the team for today's match. Mushfiqur Rahim, who scored 144 in the first game, is nursing a rib injury. Mominul Haque may come in for Mushfiqur, while the uncapped Nazmul Hossain Shanto will likely take Tamim's place. Mashrafe's words also strongly imply that, abandoning consequences for the match itself, both teams are likely to field first if they win the toss.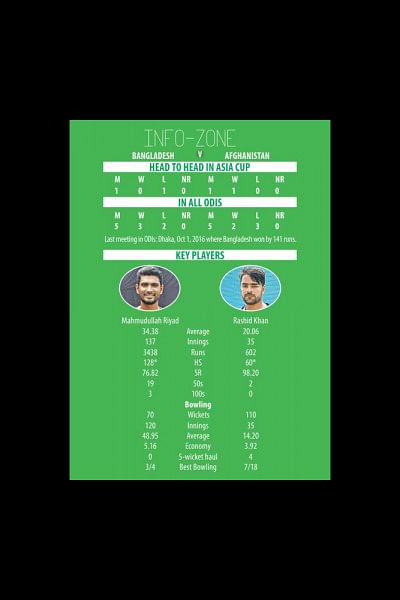 There is also a good chance that they will rest one of the pacers, meaning Abu Hider gets a game. 
The biggest threats from Afghanistan are leg-spinner Rashid Khan and off-spinner Mujeeb Ur Rahman, who rode roughshod over Bangladesh in the 3-0 T20I series win in June.
"I don't think that we can come up with effective solutions thinking about it for one or two days," Mashrafe said. "But we have to play with a positive mindset and according to the situation.There will be risk when trying to attack world-class bowlers like them. But batsmen get in trouble thinking about the risk; they have to play positively."
Mashrafe was intent on giving a free rein to whoever comes in.
"Instead of putting pressure on them, let them play their game, the way they play in the Dhaka League. If they play with that mentality, feel the situation and play accordingly and are able to challenge themselves, of course they will do well."