Sharing the happiness with the less fortunate
Ayub Bachchu's Eid thoughts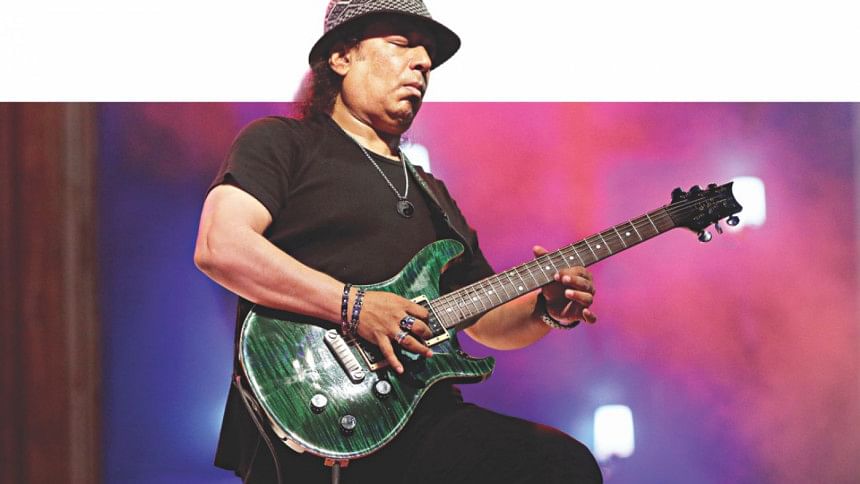 Ayub Bachchu, one of the most prominent guitarists of the country, is invariably a major figure in Bangladesh's music. Be it with his band LRB or as a solo singer-guitarist, he has produced many hits throughout his career. The veteran shared thoughts and plans on celebrating Eid, in conversation with The Daily Star. 
How do you celebrate Eid?

Bachchu: Just like every other child, during my childhood my father used to buy me gifts and every gift used to be better than the last one. However, as I am a father now, I get to buy gifts for my kids and the feeling is as amazing, just with the roles reversed. For me, Eid means buying gifts for my loved ones and helping the underprivileged.  Other than that, on the day of Eid I stay very relaxed as my friends and relatives come over and we try to celebrate it to the fullest. 
You mentioned sharing your Eid happiness with underprivileged people. How do you do that? 

Bachchu: I am affiliated with JAAGO Foundation and there various activities. I sponsor two kids of the foundation, and I try my level best to stand by their side through thick and thin. Moreover, this year on April 5, we celebrated my band LRB's 26th anniversary, and to mark the occasion we organised a feast for the kids of JAAGO Foundation. Honestly, as a member of the society it is our responsibility help the underprivileged because I believe our world is incomplete without them. This is why we as in LRB always urge to keep them by its side in every celebration. 
Where do you go for your own Eid shopping?

Bachchu: I usually don't go for Eid shopping myself. Before I was married, my parents used to do the shopping and now my wife does it for me. Plus, for Eid I get gifts from my siblings and that's why going for shopping is pointless for me (laughs).
Musically, what's cooking from you and LRB in coming days?

Bachchu: We hope to do some live shows on TV this Eid, and planning and discussion on that is still going on. As per other work, there is big surprise waiting for listeners. We are working on our upcoming projects; you will get to know when the time comes.