A SA RE GA MA PA STORY
Tete-e-tete with Tanjina Karim Sharalipi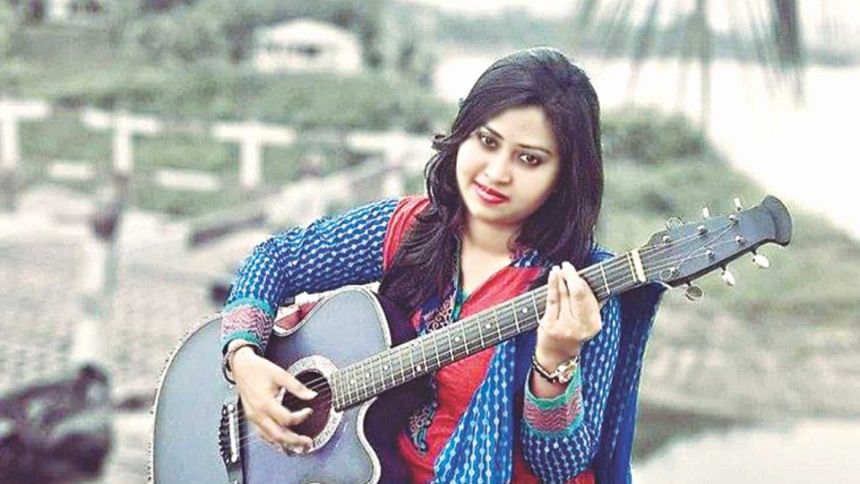 Promising vocalist Tanjina Karim Sharalipi was a textile student in 2012 before she found her calling in music. As the daughter of renowned singer Karim Shahabuddin, she was born into music and received training at an early age. However, her induction to music as a profession happened by chance, when she was selected as one of the contestants for Zee Bangla's popular musical talent hunt show "Sa Re Ga Ma Pa". In a recent conversation with The Daily Star, the singer shares her experiences on the show, and the challenges surrounding it. Excerpts:
"Initially Zee TV came to Bangladesh and arranged a competition to select the contestants. I applied through their media partner, Lambert, and went to FDC for an interview. The place was teeming with participants, and there were over 50,000 hopeful people at the venue. After being selected for the second round, Lambert got in touch with me a month later to let me know there would be an audition the very next day. Once there, I saw that the audition was not for the Hindi channel, but for Zee Bangla. I already had an Indian visa, so after winning those rounds of auditions, I took off straight for Kolkata, where I spent the next year of my life between 2012 and 2013."
"The show that year went through a change in leadership, and the entire format had been changed. We started with 125 participants, but the show did not go on air until they had whittled it down to 53 members. I made it to the top 15, and was recognised as Best Performer thrice during the course of my time on the show. It was truly a great experience, one that I have been able to draw many lessons from. To perform in front of such renowned guests such as Kumar Sanu, Alka Yagnik, Joy Shaha, Shaan, Asha Bhosle, Shreya Ghosal, and many more, was an eye opening experience."
"Despite the glamour the show presented, it was truly nerve-wracking. Off stage, we were confined to a rigorous schedule. All 53 contestants divided into groups were to train under a groomer, but there would be some reshuffling as eliminations had participants leave the show. We stayed at Lakeland Country Club in Howra, and our day began at 6am with yoga, followed by breakfast. Then it was off to the classrooms where our groomers went over basic classical exercises of the vocals. From 12pm-6pm we had band rehearsals. After that we had a short refreshment break, before going back to the classrooms. Our lessons went on till dinner time, after which we went to bed. My trainer was Parthasarathi Desikan, and the creators of the show or our sponsors at Vivel would select the songs and reveal them to us before the show. Episodes were filmed at DRR Studio in Rajarhat, which was quite far away. Visiting hours were only on Sundays, within a very short window of time, but since my family was in Bangladesh I did not have frequent guests. It was quite lonely for me. My parents were unable to attend any of my shows, but my father came once. When the hosts realised my father was Karim Shahabuddin, they invited him out on stage and asked him to perform. "
"We were given a 10- day break during Ramadan and Eid. Unfortunately I was not able to return to Bangladesh during this time; the time frame allowed would have made traveling very cumbersome. As upsetting as that may sound, it really wasn't quite bad! The people I was surrounded by did their best to make sure I wasn't too miserable. We ate out, went to the cinema, and had a lot of fun."
"Even though it is a competitive programme, one must understand that the biggest adversary they have to overcome is their own self. The most challenging aspect of the show was to keep trying to outdo your previous performances and show significant improvement. I went there to represent Bangladesh, and I did my best to show them the talent and musical prowess of our land," concluded Sharalipi.