DEATH ANNIVERSARY OF NAZRUL
A ROUSING CALL TO ACTION
Gems of Nazrul release "Nobin Asha" on Nazrul death anniversary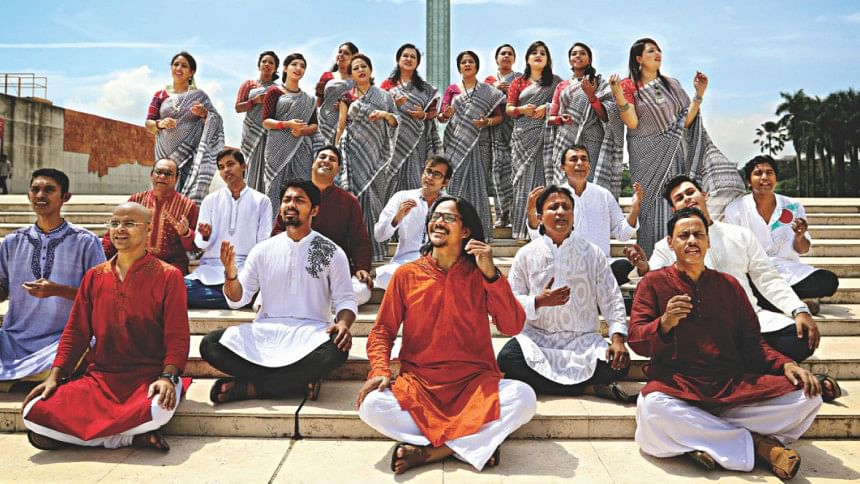 Gems of Nazrul, an initiative to portray National Poet Kazi Nazrul Islam's musical genius in new light and popularise his spirited songs, released a music video of "Nobin Asha Jaglo Je Re Aj" yesterday, marking the 41st death anniversary of Nazrul. This is the fifth production of Gems of Nazrul.
The song, a quintessential Nazrul anthem, speaks of the spirit of youth, and the hopes pinned on their leadership and energy. Sung in a chorus by a mix of eminent and upcoming singers, along with students of Nazrul Institute, Chhayanaut and Sunnydale School, this rendition wholeheartedly embodies that spirit. Veteran artistes like Fatema Tuz Zohra, Rebeka Sultana, Shelu Barua joined forces with their successors like Nasima Shaheen, Jannet e Ferdous, Rumi Ajnabi, Karim Hassan, Shahid Kabir Palash, Waqeel Ahad, Muhin, Nowreen, Ismat Ara Eva, led by Sadya Afreen Mallick, the noted Nazrul exponent who is the mastermind of the project. 
Emon Shaha's musical arrangement brings grandeur to the sound, with the use of Indian classical elements like Veena and mridangam combined with Western elements like a strings section and Gregorian choir.
The music video, produced by Pinhole Films, also brings together visuals of activism, exuberance and celebratory spirit of the youth, gorgeous drone shots of Dhaka and time-lapses interjected with the performance of the artistes. The video of the performance was also shot at a very appropriate location – the Suhrawardy Udyan. The two monuments – the ever-flaming Shikha Chirantan (The Eternal Flame) and the Swadhinota Stombho (Independence Monument) glass tower provide fitting backgrounds to the spirit of the song. Brief dance pieces by classical dancer Md. Shahadat Hossain Nipu and the students of Sunnydale also add a nice touch to the video.
The lyrics, like many of Nazrul's songs, are ever-relevant even in the vastly different societal context of three-quarters of a century later. The song is a call to action to the youth, and in a contemporary arrangement and trained, impassioned voices becomes a rousing anthem that could stir the heart of any attentive listener.
The song premiered on TV on Channel i in the first minutes of today (the 12th of the Bangla month of Bhadra, the death anniversary of Kazi Nazrul Islam), and will also be available on the YouTube channel of The Daily Star.