Curtain rises for the 2nd Dhaka Int'l Folk Fest today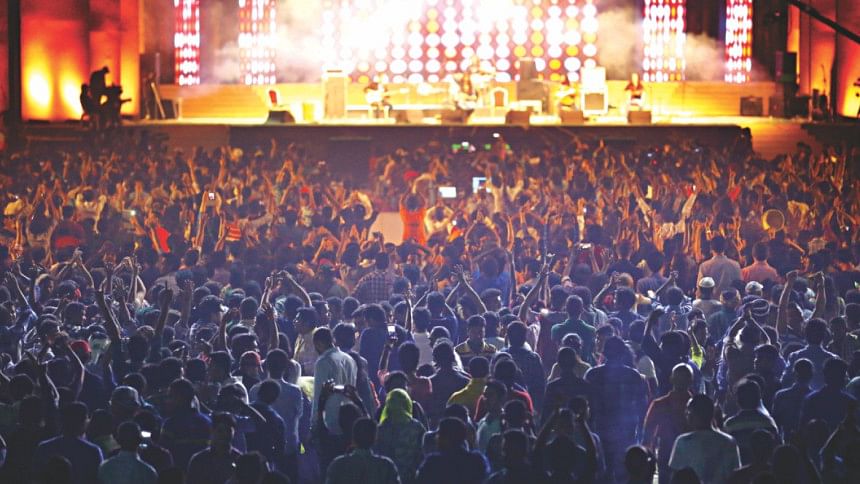 Curtain for 2nd Dhaka International Folk Festival rises today. Following the grand success of last year's maiden festival, Dhaka International Folk Festival 2016 – organised by Sun Events – will feature music performances by folk artistes and troupes from six countries: Bangladesh, India, Pakistan, Spain, UK and Canada. The three-day event, with an aim to introduce the world to the opulent folk music heritage of Bangladesh, will be held from November 10 to 12 at Bangladesh Army Stadium in Dhaka. The festival will run daily from 6pm to 12am.
Bangladeshi artistes – Abdur Rahman Baul, Tuntun Baul and Momtaz Begum will perform on the opening day along with Pakistani artiste Javed Bashir. The inaugural day will also feature performances by Simon Thacker's Svara-Kanti (UK), Raju Das Baul (India) and Farida Yasmin (Bangladesh).
The second day (November 11) of the festival will feature solo performances by flautist Jalal (Bangladesh), Latif Sarkar (Bangladesh) and Prosad (Canada). November 11 will also feature duet performances by Bangladeshi artistes Baul Shafi Mondal and Labik Kamal Gaurob; Spanish artistes Karen Lugo and Ricardo Moro. The line-up also includes Indian Ocean; Kailash Kher (India) will perform a solo as the showstopper.
Bangladeshi artistes – Sunil Karmakar, Islamuddin Kissakar and Bari Siddiqui – will perform solos while the Nooran Sisters (India), Taposh and Friends (Bangladesh) will present their numbers on the concluding day. The day's proceedings will have Sam Mills (UK) featuring Susheela Raman (UK) and renowned Indo-Franco artiste Paban Das Baul perform as the showstopper at the festival.
Audiences willing to attend cannot enter the venue with any type of bags. Moreover, there will be no parking facilities for private cars at the festival venue.
The Dhaka International Folk Fest is presented by Meril, in association with GP Music, powered by Dhaka Bank and supported by Microsoft. Maasranga Television is the broadcast partner, with The Westin Dhaka as hospitality partner and Square Hospital as medical partner.