Bengal Classical Music Fest '17 from December 26-30
Organisers announce details, Abahani Field new venue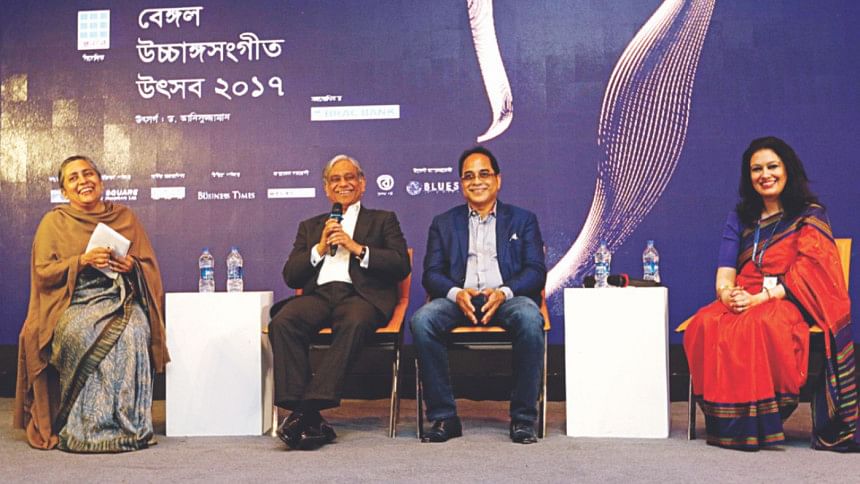 The sixth edition of the Bengal Classical Music Festival is finally happening, from December 26-30 at the capital's Abahani Field, organisers Bengal Foundation announced at a press conference yesterday. 
The 2017 Bengal Classical Music Festival, which had grown to be known as the "biggest classical music festival in the world" in the past five years, was called off earlier on October 22, when Bengal Foundation announced that they had not received the venue, Army Stadium, for the grand event this year. The following month, the organisers informed that they had received the Abahani Field in Dhanmondi as an alternate venue, and were working towards holding the festival at the end of December. 
Director General of Bengal Foundation Luva Nahid Choudhury said the festival went ahead after active interest of Prime Minister Sheikh Hasina, and through the support of the cultural affairs ministry. Almost all of the artistes originally scheduled to perform at this year's festival (which was slated for November 23-27) have responded to the call despite their busy schedules, and the festival is going ahead without curtailing its stature and arrangement, she added. "An inter-ministerial meeting was held on December 4 in presence of all concerned government ministries and bodies to plan and provide support to the festival," Choudhury said, adding that the event management company Blues Communications has successfully demonstrated that they can control the sound levels through specialized software so it does not cause disturbance to the residential area. 
This year's festival has been dedicated to eminent educationist, researched and scholar Professor Emeritus Anisuzzaman. "We want to break the trend of honouring our luminaries only posthumously, and that is why we have decided to dedicate it to him," Luva Nahid Choudhury added. 
This year's festival will open with a never-before seen performance at the festival's stage: a combination of Eastern and Western Classical music: violin virtuoso Dr. L Subramaniam will perform together with Kazakhstan's 58-member Astana Symphony Philharmonic Orchestra. Other artistes coming for the first time to the festival include Mewati gharana legend Pandit Jasraj (khyal), Grammy-winning musician Vishwa Mohan Bhatt (Mohan Veena), Vidushi Kala Ramnath (violin), South Asia's first Grammy winner Vidwan Vikku Vinayakram (ghatam), Pandit Budhhaditya Mukherjee (sitar), Pandit Debojyoti Bose (sitar), Pandit Kaivalya Kumar Gurav (khyal), Dr. Mysore Manjunath (violin) Dutch-born Saskia Rao-de Haas (cello) and for the first time, a dance company titled Aditi Mangaldas Dance Company. Apart from them, Sujata Mohapatra (Odissi dance), Vidushi Padma Talwalkar (khyal), Pandit Tejendra Narayan Majumdar (sarod), Pandit Ronu Mazumdar (flute), Pandit Kushal Das (sitar), Rakesh Chaurasia (flute), Purbayan Chatterjee (sitar), Rajrupa Chowdhury (sarod) and Abir Hossain (sarod) will also be returning to the grand stage. The spotlight, however, will be on the icons of Indian classical music – Pandit Shiv Kumar Sharma (santoor), Pandit Hariprasad Chaurasia (flute), Pandit Ajoy Chakravarty (khyal), Ustad Rashid Khan (khyal), Pandit Ulhas Kashalkar (dhrupad) and Ustad Shahid Parvez Khan (sitar). They will be joined by noted accompanists – among who are Pandit Abhijit Banerjee, Pandit Shubhankar Banerjee and Pandit Yogesh Samsi on tabla, and Sabir Khan on sarangi. 
The Bangladeshi performers at the festival will include five promising young dancers – Sweety Das, Amit Chowdhury, Snata Shahrin, Sudeshna Swayamprabha and Mehraz Haque Tushar, students of the government music college, students of Bengal Parampara Sangeetalay (in group recitals of tabla, sitar and sarod), Supriya Das (khyal), Abhijit Kundu (dhrupad) and noted Bangladeshi classical music exponents Firoz Khan (sitar) and Gazi Abdul Hakim (flute). 
Entry to the festival, like previous years, is free but subject to registration. Online registration will begin later this month (tentatively December 18) and will continue for a short period of time. Offline registration will also be possible at the booth set up at the Gyantapas Abdur Razzaque Bidyapeeth in Dhanmondi. There will be no registration facilities on-site during the festival. 
Speaking at the press conference, Bengal Foundation chairman Abul Khair said "I was heartbroken when I had to call the festival off, but I had a sliver of hope. Our Prime Minister is a culturally-aware person. If this festival cannot happen under her government it won't happen at any other time." He thanked the government, and the Army for providing the venue for the festival in the last five years. "I want to say on record that without their support, this festival could not have achieved the status it has, and I am thankful to them. Maybe this year they could not allocate the venue for us but I hope in the future they can again." He also assured journalists that the venue will not be too small. "At the Army Stadium, we had 2,60,000 square feet to work with, here we have 3,60,000 square feet, so it is in fact bigger." 
Anjan Chowdhury, Chairman of Square Group who have been a sponsor of the festival since its second edition, said "There was never any doubt that we would be part of this festival. As long as this festival will be there, our support will continue." 
The festival is being presented by Square and supported by Brac Bank. Channel i is the broadcast partner, medical partner Square Hospitals, event management by Blues Communications, associate partner Index Group, Bengal Digital, Bengal Boi and Bengal Parampara Sangeetalay. Perfect Harmony, Singapore is giving overall support to the festival.