Art exhibition draws many visitors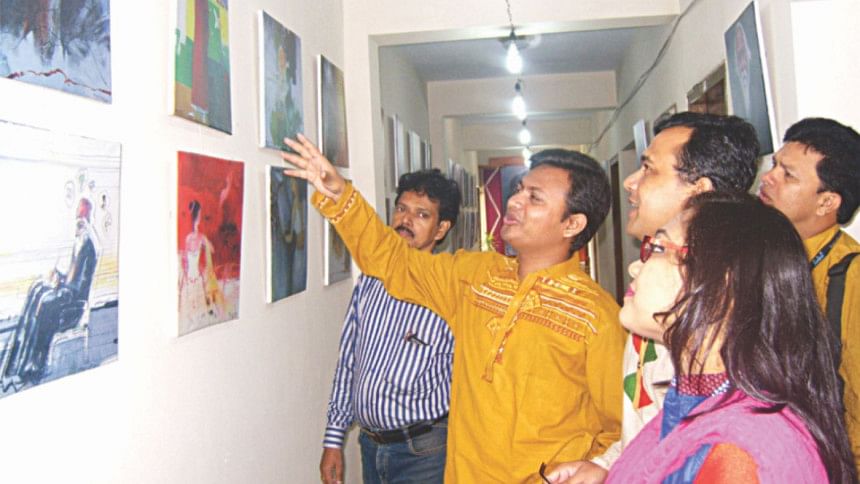 A three-day painting exhibition titled "Tagore", held at the corridor of Mymensingh Zila Shilpakala Academy marking the 154th birth celebration of  Tagore, will conclude May 10.
The district administration and the Shilpakala Academy authority organised the event, the first of its kind outside Dhaka.
A total of 64 paintings by eminent artistes of the country drew a large number of visitors to the venue.
The artistes include Rafiqun Nabi, Qayyum Chowdhury, Hashem Khan, Syed Jahangir, Monirul Islam, Mustafa Monwar,  Alokesh Ghosh, Moniruzzaman, Boren Som and Kanak Chanpa Chakma.
The paintings were the outcome of art camps organised in Shilaidah of Kushtia and Dhaka in 2011-2012, said Badal Chakraborty, fine art teacher of Mymensingh Shilpakala Academy.
Marking the celebrations, the Shilpakala Academy also organised a cultural show, painting competition and a Tagore dance drama. Different cultural groups including Sandipon Sangskritik Sangstha and eminent Tagore artistes Prof. Sumita Naha performed on the occasion.
The artistes of Shilpakala academy staged "Shyama", directed by Manash Talukder.
Children from different educational institutions took part in the painting competition on "Tagore".
A three-day handicrafts fair was also held at the academy premises.
Earlier, Additional Deputy Commissioner of Mymensingh Abdul Ahad inaugurated the day's programme as chief guest.