11-year-old Toky Yasar Ayman's earnest tribute to Sheikh Russel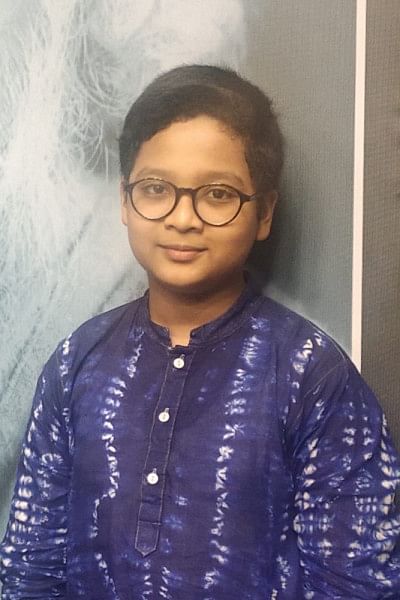 Eleven-year-old Toky Yasar Ayman has impressed one and all with his melodious voice.  He recently partnered up with renowned singer and lyricist Shafiq Tuhin for the duet song, "Sheikh Russeler Kanna".
Born to Md Shafquat Hussain, Advocate, Bangladesh Supreme Court and Shamima Haque Shimu, Assistant Modeler, Department of Archeology, Ministry of Cultural Affairs, Toky was motivated to pick up an interest in music by his parents from a young age.
"Toky is learning music from Shurer Dhara, a school established by Rezwana Choudhury Bannya," says Shamima Haque Shimu. "I also hold a keen interest in our cultural music. Seeing Toky sing fills me with joy."
Toky is a fifth grader currently studying at Bangladesh International School and College. The talented young singer has over 50 medals, including national awards, under his belt. Last year, also won an award in an online painting competition organised by The Daily Star.
"I have earned a lot of medals for my art, singing and recitations," says Toky. "The most memorable one was securing the second place in Bangladesh Shishu Academy's Humnad (songs of worship) competition."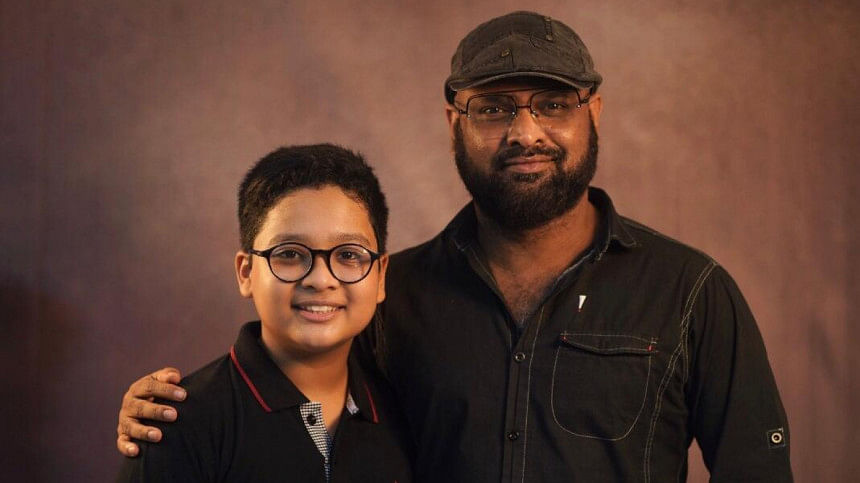 Toky's musical performances and recitations are regularly featured on BTV, Channel i, Duronto TV, NTV, Bangladesh Betar, and Jamuna TV.
His song, "Sheikh Russeler Kanna" is a tribute to the youngest child of Bangabandhu Sheikh Mujibur Rahman, Sheikh Russel, who was mercilessly assassinated along with most of his family members on the night of August 15, 1975.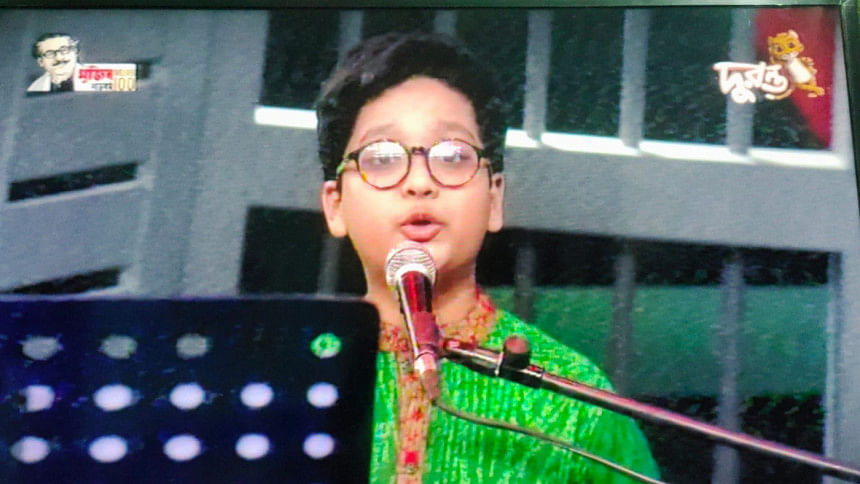 "This is my first song to be published on YouTube and am really excited about it," says Toky. "This song debuted on October 18 at Bangladesh Shilpakala Academy's Sheikh Russel Day 2021 event," he adds.
"I really enjoyed my time with Tuhin uncle while recording the song, which is themed around stopping child related crimes and reminding everyone about the tragic sacrifice of Sheikh Russel. It gives an important massage to society, and I really hope that people like it."
"Sheikh Russeler Kanna" is produced by Anupam Recording Media. The lyrics are written by Abu Sayem Chowdhury with Manam Ahmed on music arrangement. The song, featuring Toky's wonderful voice alongside Shafiq Tuhin's masterful vocals truly portrays the tragic story of Sheikh Russel.
The author is a freelance journalist. Email: [email protected].