Inauguration of Int'l Conference on ETCCE held at UIU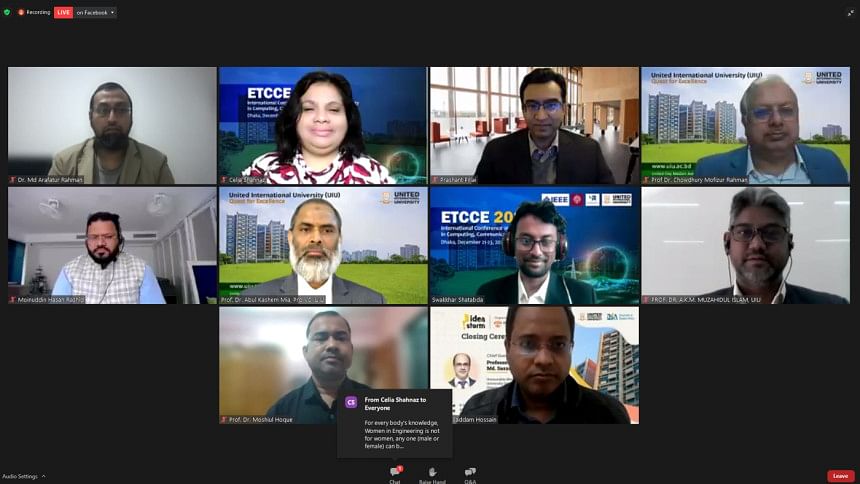 The International Conference on Emerging Technology in Computing, Communication and Electronics (ETCCE), kicked off virtually recently. The conference was technically co-sponsored by IEEE Bangladesh Section, and is jointly organised by the Department of CSE of United International University (UIU), Bangladesh and University of Wolverhampton, UK, and Fordham University, USA.
Prof. Dr. Saifur Rahman, 2022 IEEE President Elect and Professor, Virginia Tech, USA was present as the chief guest while Mr Moinuddin Hasan Rashid, Chairman and Managing Director, United Group, Prof. Prashant Pillai, University of Wolverhampton, UK, Prof. Dr. Celia Shahnaz, IEEE WIE Chair-Elect 2022, and Prof. Dr. M. Moshiul Hoque, Chair IEEE Bangladesh Section were present as special guests.
The inauguration ceremony was chaired by Prof. Dr. Chowdhury Mofizur Rahman, Vice-Chancellor of UIU. The welcome address was delivered by Dr. Md Arafatur Rahman, General Chair of the event and Senior Lecturer, University of Wolverhampton, UK and Technical details were presented by TPC Chair, Prof. Dr. A.K.M. Muzahidul Islam.
Prof. Dr. Salekul Islam, Head, Dept. of CSE, UIU is another General Chair of this conference. At the end of this ceremony vote of thanks was delivered by Prof. Dr. Abul Kashem Mia, Pro-VC, UIU. The programme was anchored by Dr. ‪Swakkhar Shatabda, Associate Professor, Dept. of CSE, UIU.
In his speech, Prof. Dr. Saifur Rahman, 2022 IEEE President Elect, mentioned that research and technological development can ensure sustainable development of a nation. To achieve Bangabandhu's Sonar Bangla and to transform Digital Bangladesh to Innovative Bangladesh it is important that the country prioritises technology.
The conference received 95 research papers from 11 countries, including Bangladesh, USA, UK, KSA, Thailand, Malaysia, Japan, Oman, Iran, India, and China. Other than technical sessions, there were also keynote sessions and talks.
Each paper was reviewed by expert reviewers to ensure the quality of the papers. Finally, only 21 Papers were selected for regular oral presentation at the conference. The rate of acceptance is only 22 percent. All submissions went through a careful anonymous review process (3 or more reviews per submission). This year's conference includes 03 keynote speeches and 02 invited sessions. In these two days, the conference continues with 05 technical sessions on scientific research of various topics.
Faculty members, officials, academicians, researchers and other distinguished guests from various universities and institutions in the home and abroad were present in the inaugural ceremony.