Moner School Co-founder Faizah wins Global Changemaker Award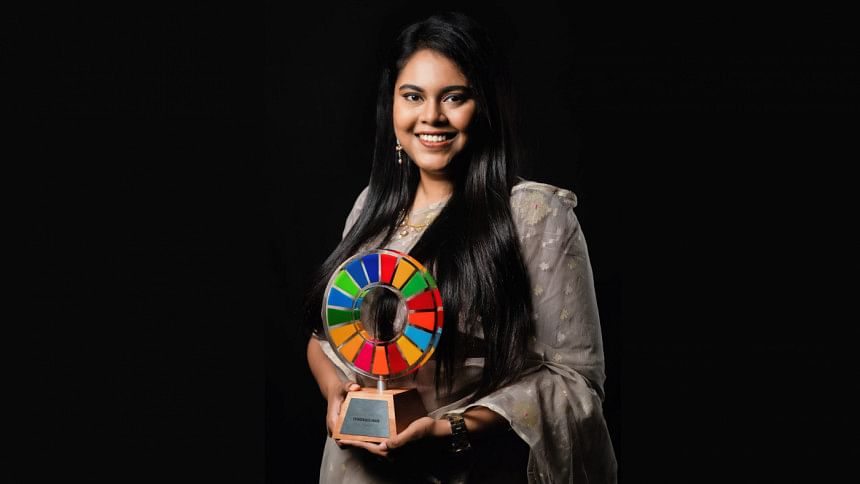 Fairooz Faizah Beether, a co-founder of Moner School, was announced a winner of the 2021 Goalkeepers Global Goals Changemaker Award by the Bill & Melinda Gates Foundation on Tuesday.
The 2021 Changemaker Award, which celebrates individuals who inspired change using personal experience or from a position of leadership, recognized Beether of Bangladesh for her work promoting good health and well-being under the Sustainable Development Goal- 3 (SDG-3), said a press release.
Beether has co-founded Moner School, an online platform that aims to raise awareness in mental health and ensure equal access to mental healthcare across the country.
As part of its annual goalkeepers campaign, the foundation also announced the winners of three additional Goalkeepers Global Goals Awards.
Phumzile Mlambo-Ngcuka, former United Nations Under-Secretary-General, has been announced as one of the three winners of the 2021 Goalkeeper Global Award.
The 2021 Global Goalkeeper Award recognises a leader who has driven progress on a global scale toward achieving the Sustainable Development Goals (SDGs).
 "These award winners show how women are leading the way in coming up with innovative solutions needed to rebuild our communities and nations," said Mark Suzman, CEO of the Bill & Melinda Gates Foundation. "This year's winners continue to inspire us as they work tirelessly to create a more equal, resilient, and compassionate world."