Festive atmosphere as students return to classrooms after 543 days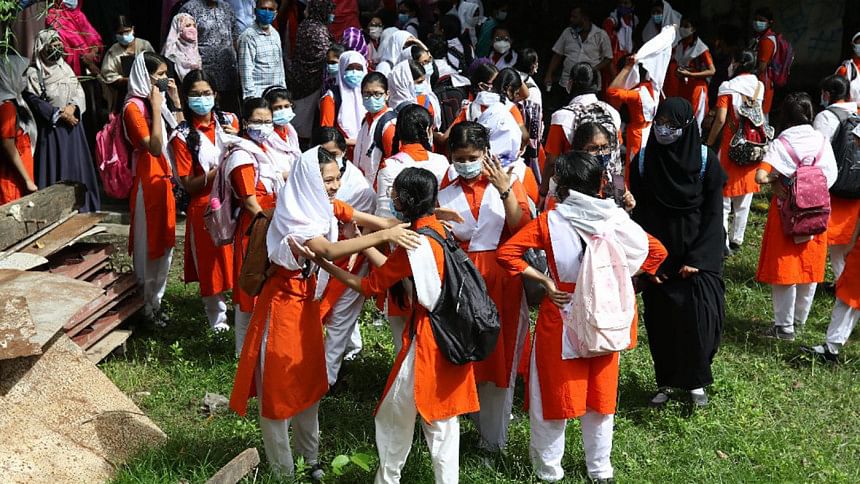 After 543 days of closure due to Covid-19 pandemic, schools and colleges across the country reopened today.
Students were seen going to their educational institutions for attending in-person classes, around 7:30am, our staff correspondent reports.
Students and teachers were wearing masks, using hand sanitizer and maintaining all the safety rules as they went into classrooms this morning.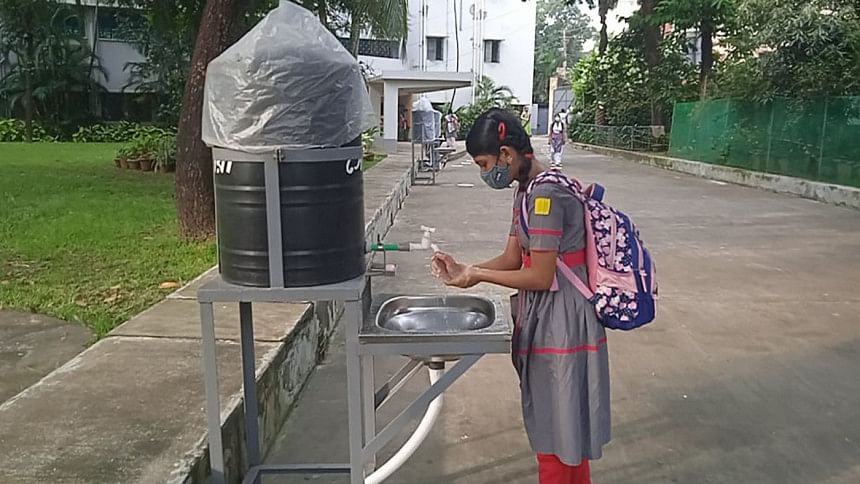 The authorities of Holy Cross Girls School and College and Mirpur Government High School in Dhaka were seen checking each student's temperature before allowing them in.
At Mirpur Government High School, all the female teachers and employees were dressed in red and green to greet the students.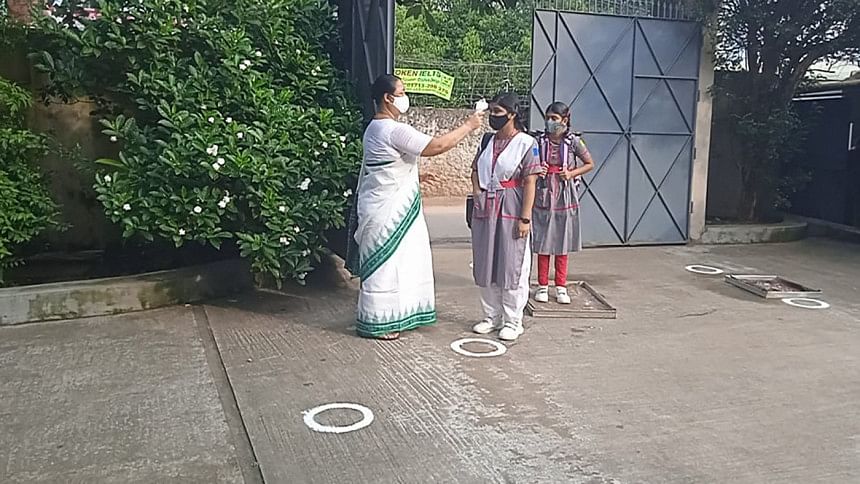 While talking to our reporter, Sohana Shaon, a teacher of the school, said, "Today is a happy day. Everyone is returning to school after so many days and to me, it feels like a festival. So, we decided to dress up for the occasion."
Nasrin Sultana, head teacher of the school, said, "We welcomed our students with little gift boxes. Students attending classes in the first week of reopening will get the gifts." "Attendance at the school is satisfactory," she told our reporter.
Swapna, a class 10 student, said, "I'm following health instructions like wearing mask and washing hands."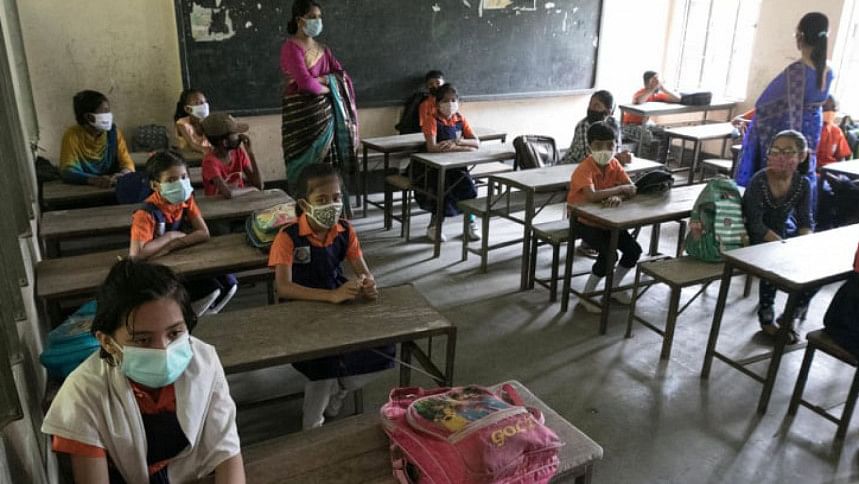 Our Dhaka University correspondent reports that students who are attending classes today received chocolates as gift at University Laboratory School and College.
Razia Sultana, guardian of class five student Tasnim Mridha, said, "Today, I am very happy. We were bored at home without in-person classes."
Her daughter Tasnim said, "I feel like today is the first day at my school."
Selina Akhter, acting principal of University Laboratory School and College, told The Daily Star, "We are welcoming our students with roses and chocolates. We will try to reduce concerns about coronavirus and we, teachers and employees, sat for meetings on this several times."
"Also, we are trying to maintain health guidelines set by the government to curb the Covid-19 spread," she added.
Syeda Atikun Nahar, a member of the governing body of Udayan Uchcha Madhyamik Bidyalaya, said, "We are trying to cheer up the students so that they are not afraid about the Covid-19 pandemic."
The scenario of students returning to their educational institutions throughout the country was the same.
Our correspondents from Kushtia, Khulna and Pabna reported that most students were wearing masks when entering their respective classrooms. Students were also seen maintaining physical distance in the classroom and in front of school gates, our correspondents said. School authorities made arrangements for washing hands on the premises.
However, attendance in classrooms was around 50 percent in several schools in Pabna, our correspondent said.
Following a significant fall in the Covid-19 daily positivity rate, the government on September 5 decided to resume in-person classes at schools in phases, from today (September 12).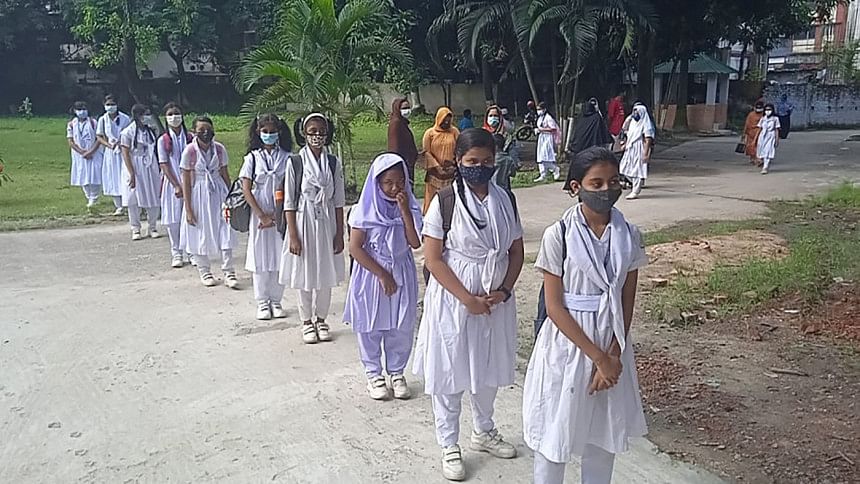 According to the decision, candidates of Higher Secondary Certificate, Secondary School Certificate exams of 2021 and 2022 and this year's Primary Education Completion Examination (PECE) and equivalent exams would attend classes every day after reopening of schools and colleges.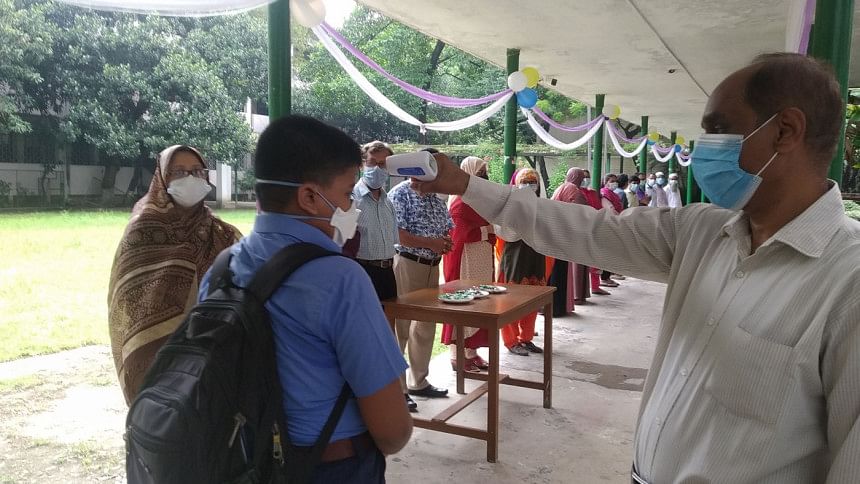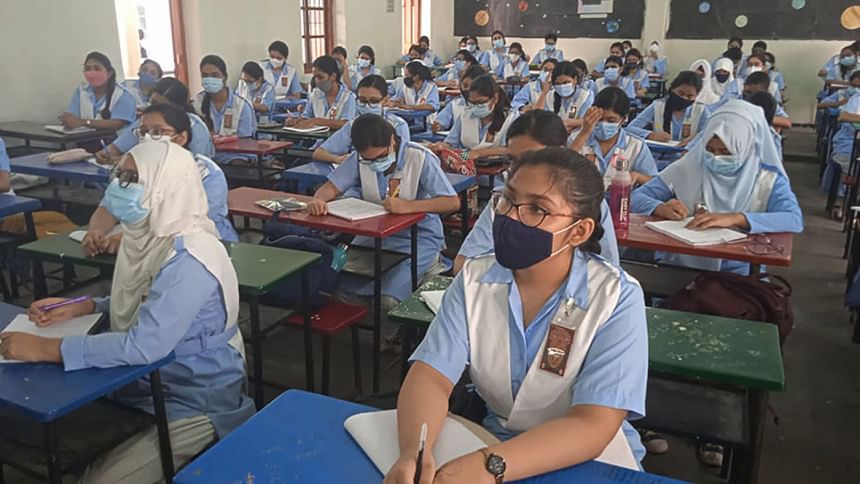 Students of classes 1 to 4 and 6 to 9 will have in-person classes once a week. Students of pre-primary sections like play group and nursery will not have to return to classrooms right now. Educational institutions were closed across the country on March 17 last year to curb the spread of Covid-19.
The closure led to cancellation of classes and examinations including last years HSC, JSC and PECE.