Schools, colleges to reopen soon
Directives already given, measures being taken, PM tells parliament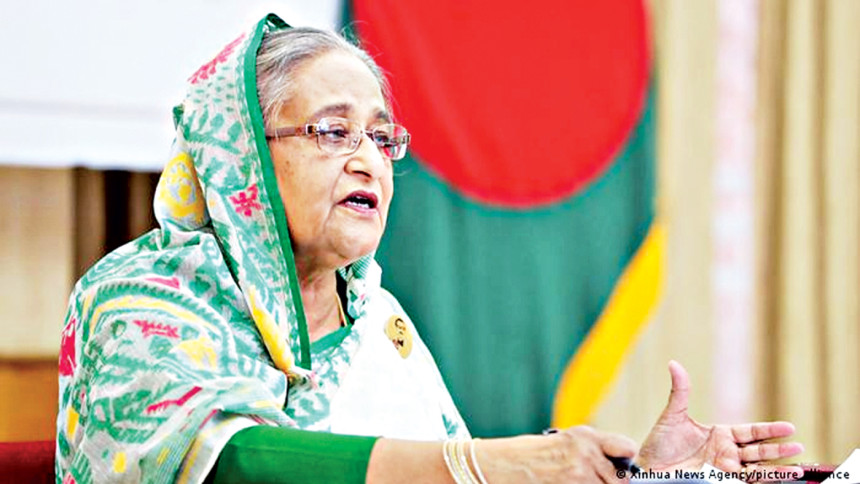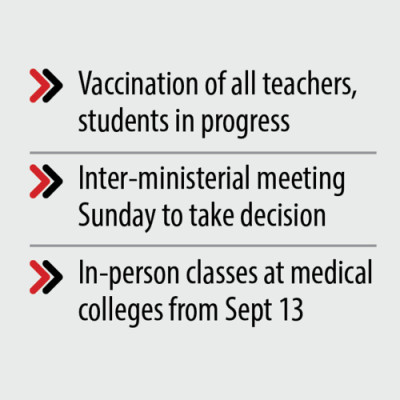 Prime Minister Sheikh Hasina yesterday in parliament said she directed the authorities concerned to reopen all schools and colleges soon and that they were taking measures in this regard.
In another development, Health Minister Zahid Maleque said in-person classes of first, second, and fifth-year medical students (interns) would resume on September 13.
All educational institutions have remained closed for over 17 months now. The government shut them in March last year to contain the spread of Covid-19 immediately after the virus was detected in the country. The closure led to cancellation of classes and examinations, throwing the academic life of millions of students in disarray.
Meanwhile, top officials of the education and the primary and mass education ministries said they would hold a joint meeting on Sunday to review whether the current situation was conducive to reopening the schools and colleges.
Speaking in parliament yesterday, Hasina said the government had been able to contain the Covid situation to a great extent. "I have already directed the authorities to reopen the schools and colleges soon and measures were being taken in this regard," she said.
The PM made the comment participating in a discussion on an obituary reference placed in the House to express grief at the demise of Hasibur Rahman Swapon, who was the ruling Awami League lawmaker in Sirajganj-6.
Hasina, president of the AL, said teachers had already been given the Covid-19 vaccine while the authorities took measures to inoculate school students against the virus in line with the protocols of the World Health Organization.
"There are some WHO guidelines on vaccinating school students, we're following them," she said.
She also said the government was procuring Pfizer vaccines and would bring more of them. "The government is also trying to procure Moderna vaccines…. Other vaccines are also coming."
Since August 20, students aged 18 and above are allowed to register for the vaccination on the government's Surokkha app. For others, the minimum age for the vaccination is 25.
According to data from the Directorate General of Health Services (DGHS), 14,19,291 students between 18 and 25 years registered for the vaccination till 8:30pm Wednesday. This is excluding the students of medical colleges.
Of them 2,25,097 received their first dose and 63,666 both the doses.
MEDICAL COLLEGES REOPEN ON SEP 13
Replying to a query, Health Minister Zahid Maleque yesterday said the government was considering that it would vaccinate students below 18 with Pfizer and Moderna vaccines.
Answering another question, he said in-person academic activities of first, second, and fifth year students of medical colleges would start from September 13. Those of other years would also resume soon, he said.
"Medical students have to go near patients. Otherwise, all their education will be incomplete. That is why we've decided to reopen in-person classes there," he told reporters after a meeting at the Secretariat.
He also said all teachers and students of the medical colleges had already been vaccinated.
There are around 1.5 lakh students in different medical and dental colleges and technical institutions across the country.
MEETING ON REOPENING
Secondary and Higher Education Secretary Mahbub Hossain told The Daily Star that they would take a decision on reopening schools and colleges jointly at the inter-ministerial meeting on Sunday and would inform all about it.
A top official of the education ministry said there was a strong possibility that the meeting would make a final decision on the reopening.
The official, wishing not to be named, also said schools and colleges are closed till September 11 as per the latest government announcement and that the closure might not be extended this time.
On August 26, a joint meeting of the education ministries decided to seek advice on the matter from the National Technical Advisory Committee on Covid-19.
Sunday's meeting is taking place after taking advice from the committee, the official said.
The meeting on August 26 decided that all students of public and private universities would be vaccinated by September and in-person classes at the universities would begin on October 15.
On August 24, both Education Minister Dipu Moni and Primary and Mass Education State Minister Zakir Hossen said necessary preparations had been made for reopening schools and resuming in-person classes in phases.
Officials said students of class-III, IV and V might get to attend schools twice a week after the reopening and students of class-I and II once a week. Students of classes VI to IX will also go to their schools once a week. The number of the class days will be increased depending on the Covid situation.
According to education ministry officials, the schools will be reopened in phases. The ministry plans to start classes of SSC and HSC examinees for 2021 first. There is a possibility that they will attend in-person classes twice a week.
Last week, the authorities asked primary and secondary schools to ensure that their campuses are clean and ready for reopening.