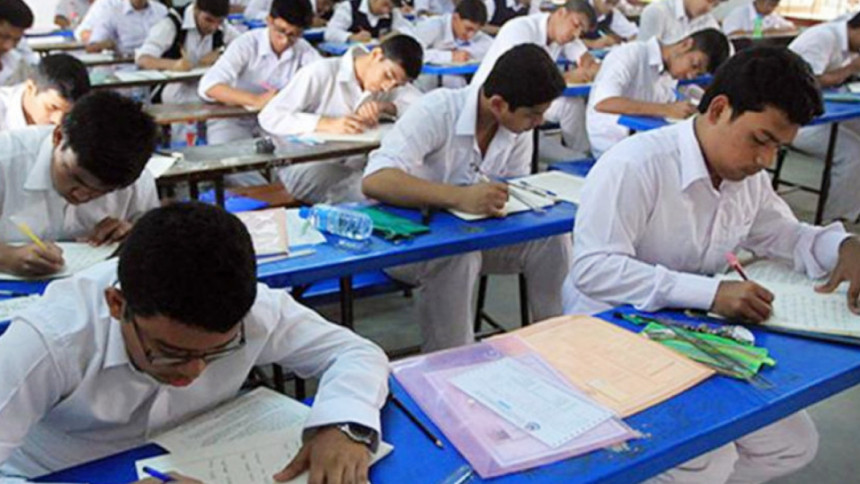 The Higher Secondary Certificate (HSC) and its equivalent exams start today after a break of a year due to the pandemic.
The exams for 2020 did not take place last year, with the results prepared based on the candidates' performance in previous public exams.
This year's exam, which will have fewer subjects and a shortened syllabus, is being held eight months later than the usual schedule as the government waited for the coronavirus transmission to come under control.
The examinees will have to take tests only in three optional subjects. They will not have to sit tests in compulsory subjects like Bangla and English. The exams will carry fewer marks.
The HSC exams will end on December 30.
Education Minister Dipu Moni urged all to maintain Covid-19 health protocols during the exam as the new highly transmissible Omicron variant is looming large.
The exams are very important for students as those will decide where they end up for higher education, she said at an event in Chandpur on Tuesday.
The number of examinees in this year's HSC and its equivalent exams has gone up by 33,901 from last year. About 14 lakh students are expected to sit this year's tests. Of them, 7.30 lakh are boys and 6.70 lakh are girls.
About 11.4 lakh students will participate in the exams under nine general education boards, 1.13 lakh under the madrasa education board and 1.48 lakh under the technical education board.
MARKS DISTRIBUTION
Science group students will have to take exams carrying 32 marks in each paper, while examinees from humanities and business groups will need to take exams carrying 45 marks in each paper, said education board officials.
According to a directive of education boards, science students will need to answer two out of eight questions and the total marks will be 20. They will have to answer 12 out of 25 multiple-choice questions (MCQs) and the total marks will be 12.
Humanities and business students will have to answer three out of 11 questions and the marks will be 30. They will need to answer 15 out of 30 MCQs and the marks will be 15.
The results of the three optional subjects and the Grade Point Average (GPA) of the students' SSC and JSC tests will be taken into consideration while preparing the HSC results for this year.