HSC Exams: 30,000 more examinees this year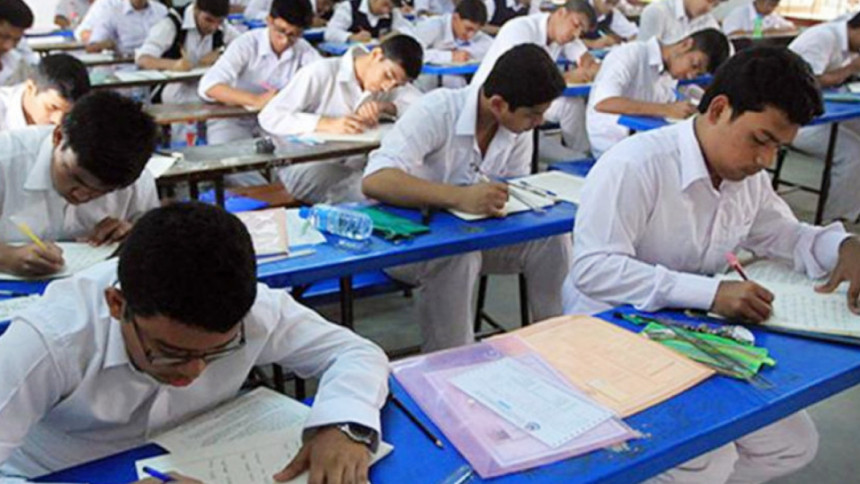 The number of examinees of this year's Higher Secondary Certificate (HSC) and its equivalent exams has gone up by 33,901 from last year.
The government is all set to hold the exams from December 2, over eight months after the usual scheduled time due to the pandemic. This year, the exams will take place with fewer subjects and under shortened syllabuses.
The examinees will have to take tests only in three optional subjects. They will not have to sit tests in compulsory subjects like Bangla and English. The exams will carry fewer marks.
The HSC exams did not take place last year due to the pandemic. Candidates were assessed based on their results in two previous public exams -- Secondary School Certificate (SSC) and Junior School Certificate (JSC) examinations.
Speaking at a press conference at the Secretariat yesterday, Education Minister Dipu Moni said Covid-19 health guidelines would be strictly followed during the exams.
She said all coaching centres across the country will remain closed from November 25 to January 3.
Exams for science, humanities, and business groups will be held on separate days, the minister added.
The government is considering changing the starting time of HSC exams, she said. "From next year, we are thinking of delaying the start of the exams of compulsory papers from the current starting time of 10:00am considering the traffic pattern of cities."
Dipu Moni said a total of 13,99,690 students are expected to take this year's HSC and equivalent exams. Of them, 7.30 lakh are boys and 6.70 lakh are girls.
Students from 9,183 colleges, madrasas, and technical institutions will take the tests at 2,621 centres across the country.
A total of 11,38,017 students will participate in the exams under nine general education boards, 1.13 lakh under the madrasa education board and 1.48 lakh under the technical education board.
For preparing HSC results, the results of the three optional subjects and the Grade Point Average (GPA) of the students' SSC and JSC tests will be taken into consideration.
The duration of the exams for each paper will be one and a half hours and there will be no break between the MCQ and written sections.
The HSC exams will end on December 30. Usually, the tests are held in April.
MARKS DISTRIBUTION
Science group students will have to take exams carrying 32 marks in each paper, while examinees from humanities and business groups will need to take exams carrying 45 marks in each paper, said education board officials.
The boards have uploaded the marks distribution of HSC exams on their websites and all educational institutions have already been informed about it, the officials added.
Students will get an hour and 15 minutes to answer questions in written section and 15 minutes to answer questions in MCQ part.
This time, the examinees will have more options about answering questions, shows the marks distribution.
According to a directive of education boards, science students will need to answer two out of eight questions and the total marks will be 20. They will have to answer 12 out of 25 MCQs and the total marks will be 12.
Humanities and business students will have to answer three out of 11 questions and the marks will be 30. They will need to answer 15 out of 30 MCQs and the marks will be 15.
Prof Nehal Ahmed, chairman of Dhaka education board and also the chief of Inter-education Board Coordination Sub-committee, said although the exams will be held with fewer marks, they would convert the candidates' scores into 100 marks.
This year's Secondary School Certificate (SSC) and its equivalent exams are now underway.