DU students reunite after 18 months
Dormitories open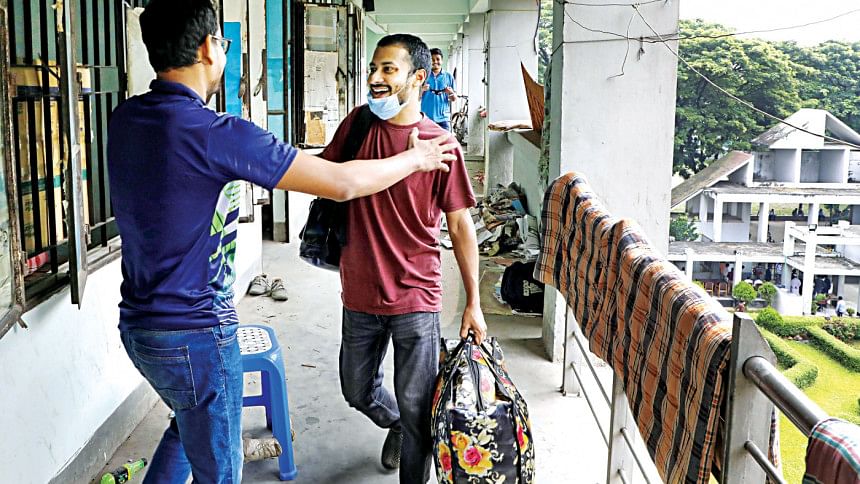 Saimun Islam, a student of Arabic at Dhaka University, was in the line to enter his dormitory -- Shaheed Sergeant Zahurul Haq Hall -- yesterday morning. Saimun, of Noakhali, was eagerly waiting for this day. He had left his dorm around 18 months ago.
Like Saimun, some students travelled all night to reach their dorms as DU reopened its halls on a limited scale yesterday.
"I didn't even think that I would come here after such a long time. I left all my books in the hall as I thought I was going on a vacation. But two-three months later, I realised that I left here all of my plans and dreams," he told The Daily Star.
He said after a few more months, he realised that he needed the hall for his study. He wanted to come back to Dhaka, but had no financial support from his family to stay outside the dorm.
"I was stuck there [in the village]. I wanted to study but failed every time. I was disconnected with my friends too. I felt so lonely there.
"I became traumatised after seeing economic hardship of a family of a neighbour friend whose all members were infected with Covid-19 and hearing suicide news of my university students during this pandemic," he said.
"I wanted to come to Dhaka almost every day. When I heard the university authorities decided to reopen the halls, I came early to enter my dorm. It will help me become normal," he added.
A good number of students gathered in front of hall gates yesterday morning. They met each other after a long time.
Students, who received at least one dose of Covid-19 vaccine, moved into their respective halls, showing their vaccination certificates and university ID cards around 8:00am. The authorities only allowed honours final year and master's students in the halls.
Students of other academic years can be back to their respective halls soon, hopes Abdul Bashir, convener of provost standing committee.
Ferdous Alam, a resident student of Bijoy Ekattor Hall, left Jhalakathi for Dhaka on Monday night in a launch after a long stay at home. After his arrival in the morning, he was waiting in the queue at the hall gate.
As the clock struck 8:00am and gates were opened, Ferdous entered his hall with others. Provost and resident teachers checked his temperature and greeted him with a mask, flowers and chocolates. He then walked towards his room with a smile on his face.
"I came from Cox's Bazar at night," said Faruqul Islam, another student of the hall. "It feels really good to be back in my hall after so long."
While visiting Kabi Jasimuddin, Bangabandhu Sheikh Mujibur Rahman, Masterda Surja Sen, Muktijoddha Ziaur Rahman and Ruqayyah halls, it was seen that the authorities were ready to welcome students maintaining Covid-19 rules.
The Jagannath Hall authorities welcomed students with music.
Banners, containing the health safety rules, were seen hung in front of the halls. Sinks were also installed with soaps for students to wash their hands before entering.
A day before reopening the dorms, the DU authorities started vaccinating students, teachers and employees.
In another development, the provost standing committee has recommended resuming in-person classes on October 16.
It also suggested allowing students from first to third years to their dormitories from October 10, said Pro-Vice Chancellor (Academic) Prof ASM Maksud Kamal. 
These recommendations came from yesterday evening's provost standing committee meeting chaired by Vice-Chancellor Prof Md Akhtaruzzaman. Pro-VCs and different hall provosts were present there.
Meanwhile, VC Prof Md Akhtaruzzaman has sought help from all student organisations to end the "gono room" culture at halls as "Prime Minister Sheikh Hasina does not like it".
He made the comments after visiting Bijoy Ekattor Hall as all DU halls reopened yesterday after an 18-month closure during the pandemic.
"Gono room" is the result of an accommodation crisis -- many students are crammed into one room.
"Prime Minister Sheikh Hasina does not like the "gono room" culture. She does not want the students' living standards compromised. She has advised me on several occasions to address the issue …. Now, we need help from everyone [to end this culture]," the VC said.
He said, "It feels like Eid today [yesterday] as students are returning to halls. All students were disciplined when they were entering the dorms … our next goal is to accommodate students of all sessions in the halls as soon as possible."