'That's for Paris' killings
Russia's message to IS as cruise missiles batter militants in Syria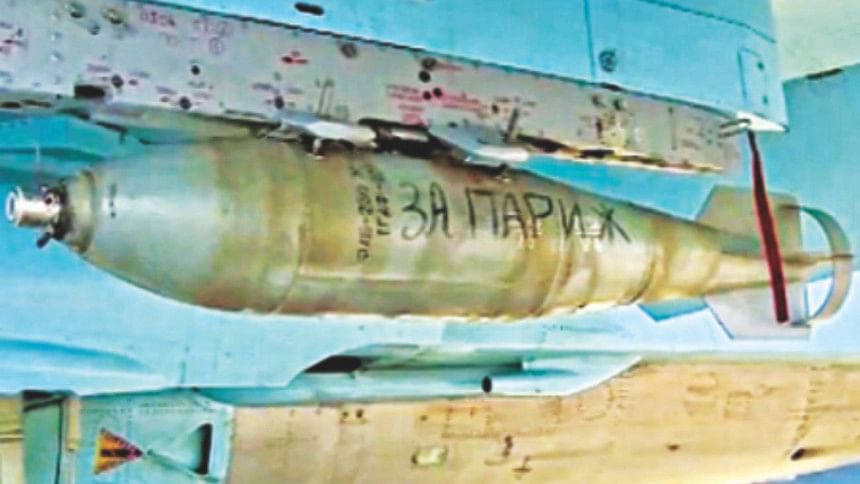 Russian airmen have inscribed 'That's for Paris' on the side of one of the bombs they plan to use against IS in Syria.
A picture of the bomb was shared from the official Twitter account of the Russian Embassy in the UK.
The report came as Russia yesterday unleashed cruise missiles from warships in the Caspian Sea at targets across Syria, the defence minister said, as Moscow kept up its intensified bombardments in the war-torn country.
Moscow fired 18 missiles from ships in its Caspian Sea fleet at seven targets in the Raqa, Idlib and Aleppo provinces, defence minister Sergei Shoigu was quoted as saying by Russian news agencies.
It was the second time that warships have been used since the start of the bombing campaign on September 30.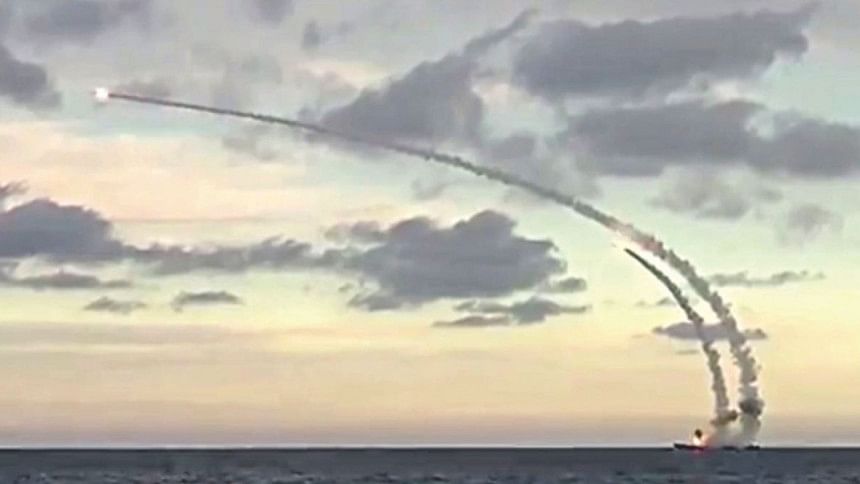 Shoigu told President Vladimir Putin in a briefing that cruise missile strikes against one target near the Islamic State-controlled city of Deir Ezzor had killed "more than 600 fighters", but did not specify when the strike had taken place.
At least eight people were killed in at least 50 air strikes in the eastern Deir Ezzor province yesterday, during which dozens of oil tankers were destroyed, the Syrian Observatory for Human Rights said.
Russia has also doubled the number of jets it has based in government-held territory in Syria to 69 over the past few days, Shoigu said.
More than 1,300 people, around two-thirds of them combatants, have been killed in Russian air strikes in Syria since Moscow's aerial campaign began on September 30, the Britain-based Observatory said yesterday. It said 381 IS fighters had been killed, along with 547 militants from al-Qaeda affiliate Al-Nusra Front and other rebel forces.
The strikes also killed 403 civilians, including 97 children, according to the monitor.
Putin praised the Russian operation in Syria but said it was "still not sufficient" to wipe out the jihadists in the country and that a "large volume of work" lay ahead.
Russia is bombing in Syria at the request of its longstanding ally President Bashar al-Assad, while a US-led coalition is conducting its own air campaign against IS.