Failing to act on climate 'morally criminal': Modi
India PM praises Merkel's 'vision', urges climate action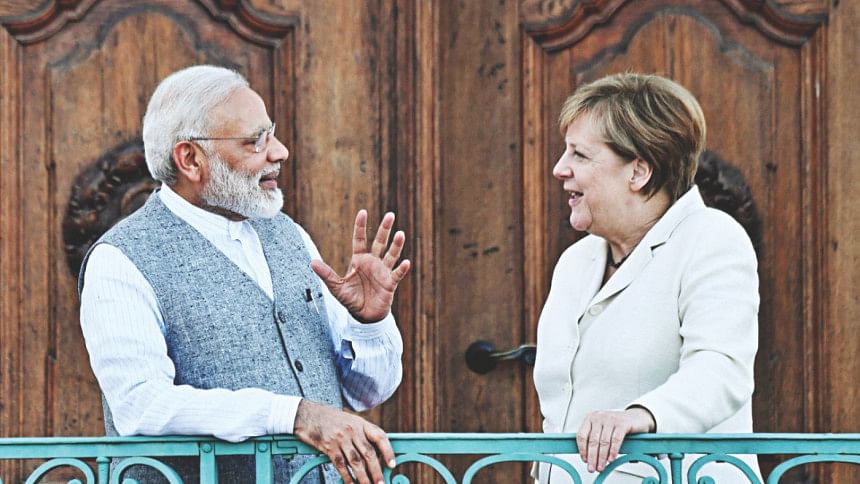 Indian Prime Minister Narendra Modi yesterday said that failing to act on climate change would be "morally criminal" and voiced strong support for the "vision" of German Chancellor Angela Merkel.
His comments came as Merkel is emerging as the world leader most openly at odds with US President Donald Trump, saying days ago that Europe could no longer completely rely on traditional ally the United States and needed to find its own way.
Modi, on a Berlin visit kicking off a four-nation Europe tour, pledged India's commitment to democracy and a strong European Union, and argued that failing to act against global warming would be "a morally criminal act".
"We do not have the right to despoil the environment for future generations," he said in Hindi, at a joint press conference with Merkel.
Many of Modi's comments contrasted sharply with positions of Trump, who has denied climate change, criticised the EU, predicted more countries will leave the EU and spoken out against free trade while pushing an "America First" policy.
He added that "the international community really needs the chancellor's vision ... in terms of the great challenges," also including terrorism.
Standing beside Modi, Merkel said "India with its 1.25 billion people is a partner ... and of highest importance" and that "to work together with such a diverse country" also offered opportunities for German businesses.
Modi's tour also leads him to Spain, France and Russia -- but not to former colonial power Britain.
Modi and Merkel led a joint cabinet meeting grouping foreign, economy, environment and other ministers in their fourth intergovernmental consultations -- a format Germany has only with a few countries, also including China, Israel and France.
Both sides signed agreements in fields from sustainable urban development to vocational jobs training, digital technology and railway safety and agreed on German development aid and investments worth around one billion euros ($1.1 billion) a year.
Germany is India's largest trading partner in the EU, and more than 1,600 German companies with over 400,000 employees operate on the subcontinent.