'Time for Europe to step up to the next level'
EU chief lays out plan to make bloc more independent, announces defence summit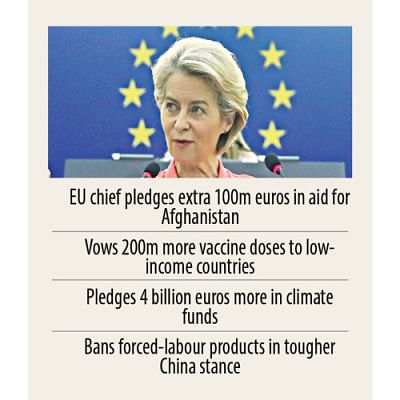 The European Union's chief executive yesterday set out plans to make the 27-nation bloc more independent in areas from defence to global trade, and urged other countries to join it in accelerating the fight against climate change.
Europe will seek to boost its own military capacity after the collapse of the US-backed government in Afghanistan, Ursula von der Leyen said yesterday, announcing a defence summit.
"It is time for Europe to step up to the next level," von der Leyen told the European Parliament, in her annual State of the European Union address.
France's President Emmanuel Macron will convene the "summit on European defence" during France's six-month presidency of the bloc, starting at the New Year, she said.
Paris has been leading the push for the 27-nation union to develop more autonomous military capacities alongside the Western alliance, which is traditionally led by the US.
One month after the Taliban took control in Afghanistan, von der Leyen called on EU states to build forces that can intervene militarily abroad without US support.
"What has held us back until now is not just shortfalls of capacity, it is a lack of political will," said the former German defence minister, whose country has been reluctant to deploy troops into combat around the world.
In the short term, the EU chief pledged an additional 100 million euros ($118 million) in humanitarian aid to Afghanistan as the bloc grapples with the immediate fall-out of the Taliban's takeover.
While US-led Nato has long shouldered the military burden in Europe, China's rise, a more aggressive Russia and U.S. calls for Europe to do more for its own security are pushing the EU to develop a more forceful foreign policy.
Echoing calls by predecessor Jean-Claude Juncker, von der Leyen said the EU needed a "defence union" that would cement joint military action, going beyond its traditional soft power as the world's largest trading bloc.
She proposed waiving value-added tax on weapons developed and sold in the bloc by EU governments, establishing a joint situational awareness centre to improve intelligence-sharing, and better defences against cyber attacks.
She also pledged to increase financial support to help poorer countries fight climate change and adapt to its impacts by an additional 4 billion euros ($4.73 billion) until 2027.
Warning against "a pandemic of the unvaccinated", she said the pace of Covid-19 vaccination must be quickened. She announced a donation of 200 million vaccine doses for third countries by mid-2022, on top of a previous commitment for 250 million shots.
Von der Leyen, during her speech, also said the EU is looking to impose an import ban on products made from forced labour, in a move seen aimed at China over its treatment of its Uyghur population.
The stance underlined a hardening Western approach to China, which has become an economic powerhouse that competes with the US and EU while eschewing their democratic and social values.
She also said the European Commission is to propose a law to fight violence against women before the end of the year after a rise in cases during the Covid-19 pandemic.
"Women must be able to live freely and self-determinedly again," she told the European Parliament in her annual State of the European Union address in Strasbourg.
"During the pandemic, too many women were deprived of this freedom" to express themselves, live their identity and to "love who you want," she said.