'Suicide belt' dumped on Paris street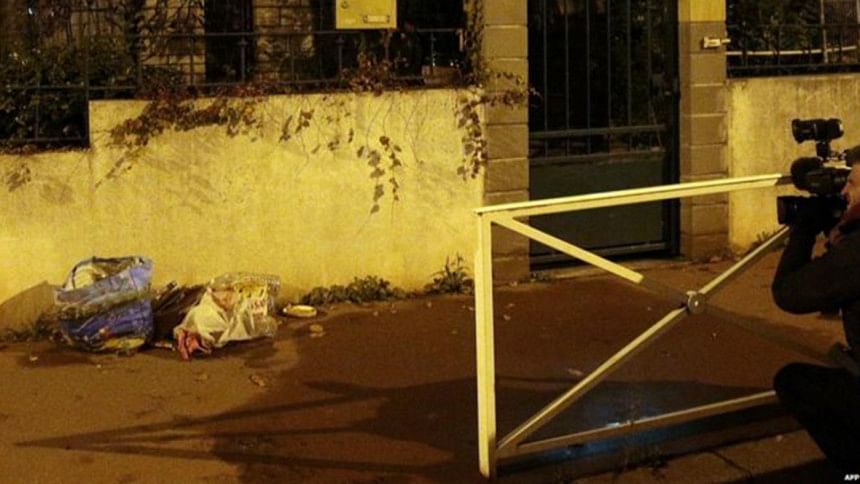 French police are examining what appears to be a suicide bomb belt dumped on a Paris street, 10 days after the attacks that killed 130 people.
It is said to resemble belts used by the attackers and was found in a suburb which a suspect is thought to have passed through after the attacks.
The US has issued a worldwide travel alert in response to the attacks.
The Belgian capital Brussels remains on high alert, and schools and the metro will stay closed on Tuesday.
They are due to reopen on Wednesday but the highest alert level will continue for at least another week.
Authorities fear Paris-style attacks may be carried out in the city, where at least one Paris attacker lived, with Prime Minister Charles Michel warning the threat remained "imminent".
'Detonator missing'
The suspected explosives belt was found in a dustbin on Monday by street cleaners in the Montrouge district, police say.
Police sources told news agencies it resembled those used in the 13 November attacks. According to AFP news agency, the device lacks a detonator.
Investigators say mobile phone data suggest that Salah Abdeslam - whose brother Brahim blew himself up during the attacks - was in the area on 13 November.
One theory is that Salah Abdeslam had planned to detonate the bomb belt but abandoned the plan.
"Maybe he had a technical problem with his explosive belt," a police source told Reuters news agency.
A massive manhunt for Salah Abdeslam is continuing in both France and Belgium.
Brussels on Monday saw a third day of unprecedented restrictions, with troops and armed police patrolling the streets.
Announcing that the state of alert would remain at level four, Mr Michel stressed "we must all progressively get back to a normal life".
The rest of Belgium remains on alert level three, meaning an attack is seen as possible and credible.
Belgian police have charged a fourth suspect with terrorism offences related to the Paris attacks, the federal prosecutor said.
The unnamed man was one of 21 people detained in raids on Sunday and Monday. Seventeen have been released without charge.
Mohammed Amri, 27, and Hamza Attou, 20, have already been charged with aiding Paris attacks suspect Salah Abdeslam, who remains at large. A third, unnamed suspect has also been charged.
Also on Monday, France carried out its first strikes against IS from its Charles de Gaulle aircraft carrier, newly deployed in the eastern Mediterranean.
French jets bombed IS targets in Iraq and Syria, including Raqqa, IS's key Syrian stronghold, the defence ministry said.