No place to call 'home'
Dhalpur's Telegu community evicted without financial assistance, resource allocation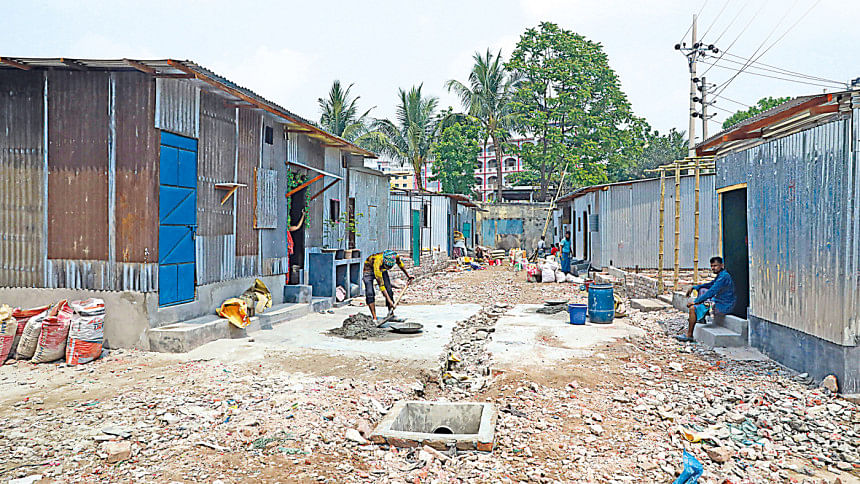 Prince, a 13-year-old was found playing with his friends amidst the ruins of the slum in a locality in Dhalpur. When asked where he was staying, his response was sombre as he and his family were now staying at a relative's house which was already crammed.
On February 12, Dhaka South City Corporation evicted Prince's family and 125 other Telugu families from their homes in the Telugu slum located in Jatrabari's Dhalpur area.
His mother said they were unable to take out a loan to build a house due to the high-interest rates.
The evicted families were given land next to the slum to build a house, but only those who could afford high-interest loans were able to do so.
DSCC claimed that the Telegu community occupied a portion of their 15-acre land, and the rest was occupied by a gang who built shops and slums for business.
Buildings in the Telegu community had become dilapidated and risky, and despite serving them several notices to vacate the area, they did not comply, leading to the eviction.
However, several organisations, including Bangladesh Hindu-Buddhist-Christian Oikya Parishad, National Human Rights Commission (NHRC), and Manusher Jonno Foundation expressed outrage over the eviction without any effort to rehabilitate the community.
They termed it "illegal, undemocratic, and whimsical".
NHRC Chairman Kamal Uddin Ahmed sent a letter to the DSCC CEO before the eviction, requesting that they not be evicted without rehabilitation.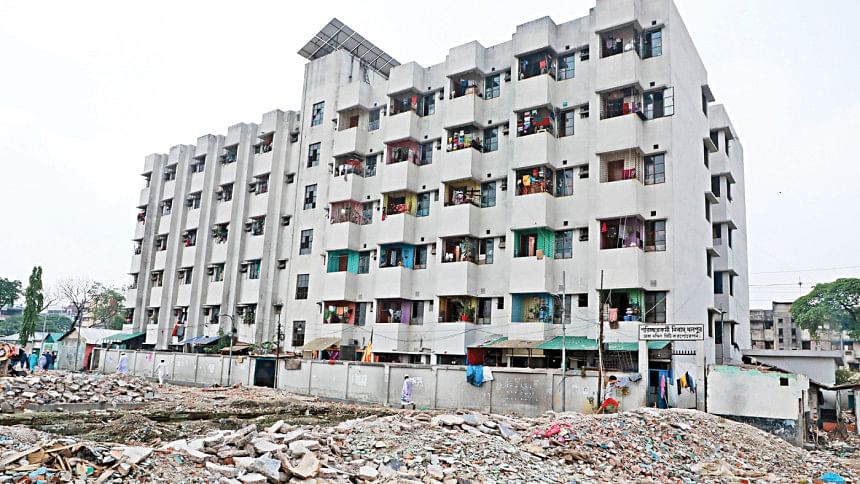 Despite this, 126 Telegu families were evicted and given a mere 150 square feet area where they would have to construct their homes. Some families are constructing houses by taking loans with hefty interest rates, while others are staying in overcrowded conditions with their relatives in different locations.
During a recent visit, this correspondent found that some workers were cleaning the bricks of the demolished slum. Only one NGO-run school, two churches, and a temple was seen standing in the ruins.
While visiting the new location which was given to construct new houses, this correspondent found that some Telugus were working to construct their homes while other areas remained empty.
Muraly Roy, a cleaner at Bangladesh Bidyut Unnayan Board, was busy constructing his house.
He shared that he had to take out a loan of Tk 70,000 from a local lender (Mahajan) with exorbitant interest rates.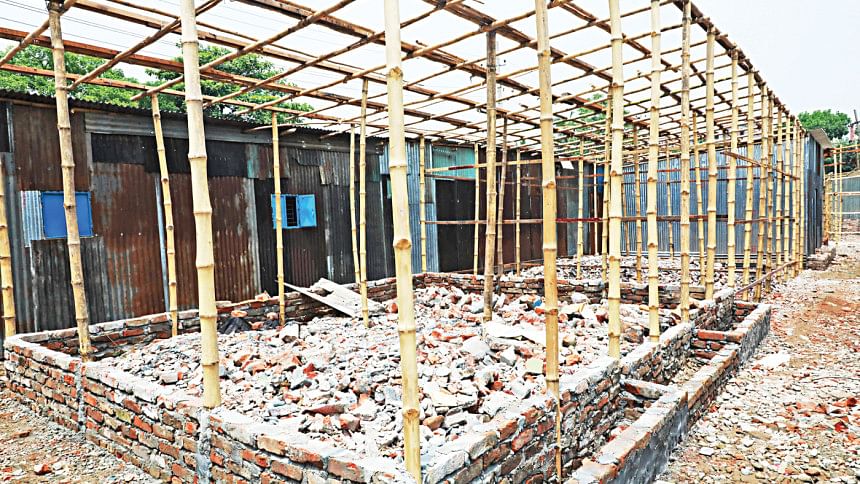 He had initially borrowed the money with the intention of building a proper home for his family. Unfortunately, due to financial constraints, all he has been able to construct so far is a small, one-room tin-shed structure that can barely accommodate his family of six.
When asked where his family was currently residing, he said they were staying at one of his colleague's houses despite the cramped conditions there.
"I had to pursue the Mahajan (lender) for 10 days to borrow money to build my house. After 10 days, I was finally able to borrow a loan of Tk 80,000 with an eight percent interest," shared Bhangari Nokraju, who has been left desperate after the eviction.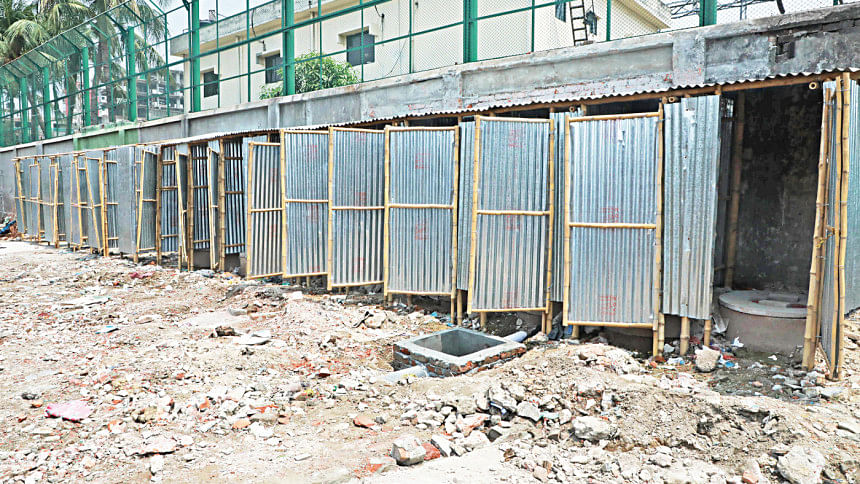 According to Nokraju, authorities evict them and demolish their homes whenever they deem it necessary.
"I was allotted a tiny place to build the house, but no financial support was provided," he stated. "How can we construct a house without any financial assistance?" he asked.
Sexagenarian Durga Shetty summed up the despair of these people: "When there was no one to work as sweepers here, the government brought us in. Now I don't even have the job of a sweeper. None of us have the funds to build a house. What do we have left? Where will we go?"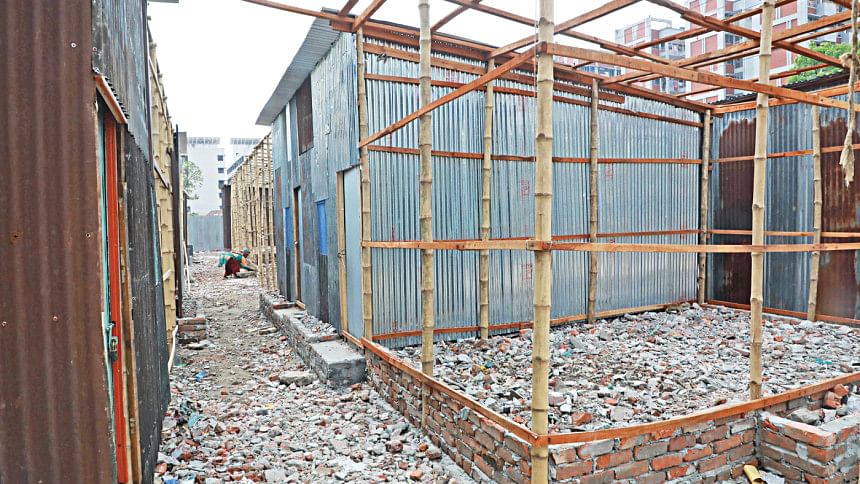 NO UTILITIES
The new location has left the community in a state of acute crisis as they have not been provided with any water, gas, or electricity. Furthermore, the dire situation was exacerbated by the fact that only 20 toilets were constructed, which are in such a deplorable condition that they are barely usable.
As this correspondent was preparing to leave, a woman named Orinika, 40, said, "Brother, I implore you to help us secure access to water, electricity, and gas connections here."
She went on to explain that her family had depleted their savings in order to construct their home, leaving them with insufficient funds to purchase drinking and cooking water.
Muktala Lashmi, another woman present there said, "While it may be possible to live without gas and electricity, one cannot survive without water."
When asked about their water source for drinking, cooking, and toilet use at present, they said that they collect water from a nearby building, which is difficult to attain.
What RIGHTS ACTIVISTS SAY
Advocate Rana Dasgupta, a leader of the Hindu-Buddhist-Christian Oikya Parishad, raised concerns over the eviction of the Telegu community and expressed dismay at the inhumane conditions they are currently facing.
He said, "When the eviction process started, I visited the spot and personally intervened with Mayor Sheikh Fazle Noor Taposh, requesting him not to evict the community without proper rehabilitation."
The mayor had promised to construct two six-storied buildings and provide permanent rehabilitation for the Telegu community.
They were also promised jobs as cleaners. However, Advocate Dasgupta later discovered that the community was left without basic necessities such as water, electricity, and shelter.
NHRC Chairman Kamal Uddin Ahmed has strongly emphasised that evicting people without proper rehabilitation is a violation of their basic human rights. In fact, the High Court has also stated in several verdicts that no community can be evicted without adequate rehabilitation measures in place.
"We have issued multiple letters cautioning against eviction without rehabilitation," Ahmed stated, adding, "Upon learning about their current state, we have sent a notice to city corporation directing that they provide the necessary water, electricity, and gas connections immediately, taking into account the humanitarian aspect."
Although the mayor has assured the NHRC chairman that he will solve the community's problems, the delay is due to the tender process, Ahmed said quoting the mayor.
According to him, the community is still lagging behind.
"They are an isolated community and have not been able to integrate with the rest of the country, despite providing essential services to the country's people for a long time," he added.
WHAT THE AUTHORITIES SAY
According to DSCC Spokesperson Abu Naser, 126 Telugu families have been allotted spaces for building houses.
He said, "Until the construction of new buildings, they will stay there temporarily by building houses."
He shared details of their plan for the slum, stating that they intend to construct two six-story buildings on a five-acre plot of land to rehabilitate the community.
Additionally, the remaining 10-acre area would be utilised for the development of a central motor garage.
He added that a total of 20 toilets have already been built for them there. Spaces for temples and churches had also been determined.
However, when asked about the absence of basic utilities in the area, he said they are currently working on it and the problem will be addressed as soon as possible.
HOW THE COMMUNITY GOT HERE
M Kamal, president of Telegu Samaj Unnayan Parishad, said the British government brought their ancestors from the Indian state of Telangana to the region to work as cleaners.
The British government assigned one group to work in the tea gardens while another group was tasked with cleaning the cities. However, their basic rights were not guaranteed and they were forced to work as cleaners for the city dwellers.
During his childhood, Kamal resided in the Tikatuli colony but later on, they were relocated to Sayedabad area during the Ershad regime. After spending 35 years there, the community was shifted to the Dhalpur area in 1990, which was subsequently renamed as the Telugu slum.