Grin and bear it: How economics won Kipchoge an Olympic gold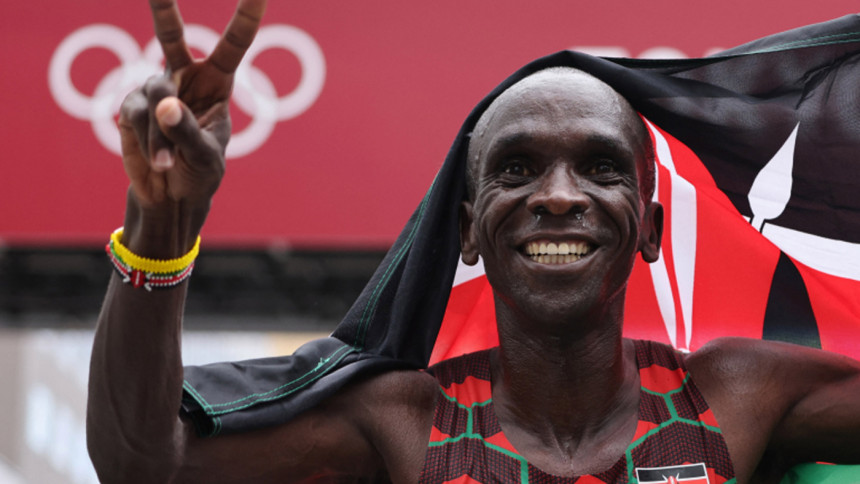 On Sunday August 8, like many running enthusiasts, I watched in awe as Eliud Kipchoge delivered a masterclass in marathoning to become the first man since 1980 to successfully defend an Olympic gold in that discipline. But as an economist, I was also enthralled to observe that Kipchoge was using insights from experimental economics to achieve this amazing feat. What is more, knowledge of these insights can help all of us to rise to challenging circumstances, just like Kipchoge.
Keen observers will have noticed a peculiar smile cross Kipchoge's face in the latter stages of the race. Peculiar, because it was clearly a conscious affectation rather than a spontaneous expression of joy as a smile usually is. Commentators such as Paula Radcliffe (herself a marathoning record-breaker) have observed that the smile has become something of a Kipchoge signature that usually emerges late in the marathon when he starts to fatigue and works especially hard. So why does the world's greatest marathoner pretend to smile when he is under pressure and is there a lesson there for the rest of us?
The answer lies in a force that Nobel Prize winning economist Daniel Kahneman describes in his book Thinking Fast and Slow. We all understand that our emotional state can affect our facial expressions: when we are sad we frown, and when we are happy we smile. But experiments have found that the reverse is also true: the facial expressions we adopt can alter our emotional, psychological and even physiological state. Stimulating the facial muscles associated with smiling such as by holding a pencil sideways in one's mouth can elevate measures of mood and subjective wellbeing. The opposite is also true so that simulating a frown by holding a pencil protruding from a pout can make people feel unhappy.
Athletes had many reasons to frown during the Tokyo men's marathon. It was far hotter than is optimal for marathoning. The course was very tight in parts with turns and twists that can break a runner's rhythm. The fierce competition led to overcrowded drink-stations with runners elbowing and running into one another. On three separate occasions, overcrowding prevented Kipchoge from getting the drinks that he needed to fuel his race. Expressing frustration might have been a natural reaction to these impediments, especially during a marathon which by its nature leaves athletes dehydrated with depleted blood sugar and so less in control of their emotions. Evidence from experimental economics suggests that allowing such negativity to take hold is likely to have adverse psychological and physiological consequences, to the detriment of athletic performance.
But Kipchoge's signature smile uses the same forces to trick his mind into feeling less of the strain from these stressors than it otherwise would. This makes it easier for him to exert the physical effort that is necessary to succeed at a distance as challenging as the marathon (students of Greek history will recall that the Athenian messenger Pheidippides who inspired the modern race died from exhaustion after running the distance). And just as the smile played a part in helping Kipchoge break the world record in Berlin in 2018 and the two-hour barrier in 2020, last weekend it also helped him retain his Olympic title.
But it is not just elite endurance athletes who can benefit from understanding and using these forces. Life, like marathoning, can be a long, arduous journey that is pitted with challenges and obstacles. Stressful situations can arise in professional, social, and personal settings. Feelings of anger, sadness, or frustration are normal in these circumstances. But allowing these emotions to take hold might prevent us from responding to these trials with the best of our physical or intellectual capabilities. We will only be able to perform to our full potential if we can remove ourselves from the grip of these powerful negative emotions. Admittedly, this is easier said than done. But something as simple as pretending to smile can set us on the right path. After all, if putting on a smile can help Kipchoge defend his gold medal, imagine what it could do for the rest of us!
Dr C Rashaad Shabab is a Senior Lecturer of Economics at the University of Sussex Business School. He has also run 63 official marathons with a personal best of 3 hours and 2 minutes.