Alleged respect for Mostaq in DU: A politico-legal post-mortem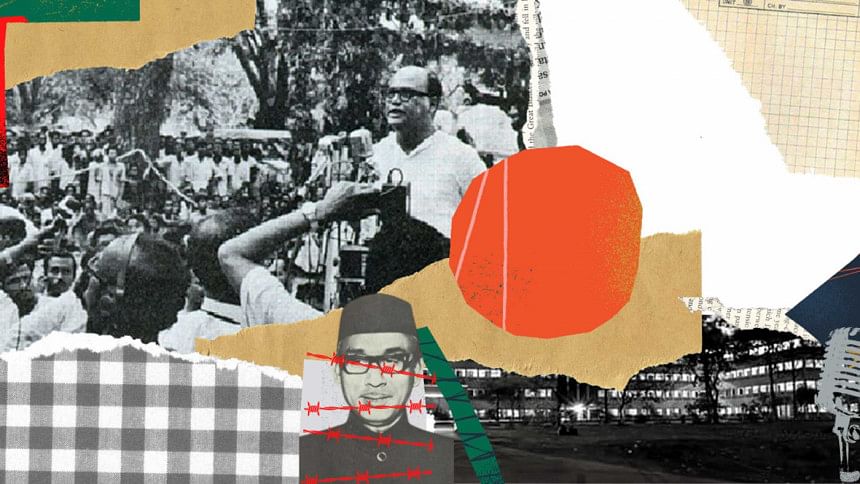 The conflict between political correctness and incorrectness is as old as the history of political discourse itself. Political correctness refers to statements/opinions that are made in a politically acceptable manner; it requires self-censorship to avoid offending a prevailing socio-political expectation. Political incorrectness, on the other hand, refers to statements/opinions that may be perceived as offensive or disrespectful because they are not in conformity with the prevailing socio-political expectation. Recently, such a politically incorrect expression has been made in Bangladesh which assaulted the conscience and sense of propriety of many.
It followed Dhaka University's celebration of the historic Mujibnagar Day on April 17, 2022, where Professor Dr Md Rahmat Ullah gave a speech on the history of the provisional government of Bangladesh. He paid respect to the government, which included Khondaker Mostaq Ahmad, who later came to be known as "Khuni Mostaq" for his heinous role in the killing of the Father of the Nation Bangabandhu Sheikh Mujibur Rahman along with his family members. The alleged tribute to Mostaq, understandably, outraged many including the DU authority, which suspended Rahmat Ullah as Dean of the Law Faculty and relieved him of all academic and administrative responsibilities. The backlash and consequence of his politically incorrect respect are ongoing. The purpose of this writing is to approach the issue from a politico-legal point of view to facilitate an informed discussion.
The political history of Bangladesh shows Mostaq as one of the leading Awami Leaguers which had earned him the post of the foreign minister in the provisional government. The fact remains that Bangabandhu himself rewarded him by appointing him as the minister of land revenue on January 12, 1972, and as the minister of commerce on March 16, 1973. Any historical account of the provisional government inevitably includes Mostaq, and any "respect" offered to the government would also go to Mostaq. Prior to mid-August 1975, no one knew for sure that Mostaq would be involved in the killing of Bangabandhu. He deserves our utmost aversion and antipathy for his role as a traitor in 1975, which cannot expunge him from the history of the provisional government, however. Rahmat Ullah mentioned Mostaq's name not individually but together with other ministers of that government (the DU VC also acknowledged it). He did not create or distort history; he merely presented an undeniable historical fact. After 50 years of our independence, we must nourish our political stamina and wisdom to tolerate politically incorrect expressions. 
However, any hint of respect for Mostaq after 1975 is certainly upsetting. Rahmat Ullah also acknowledged his mistake and apologised unconditionally. The VC, while talking to The Daily Star, also mentioned expunging the alleged segment. That, one can argue, should have been the end of the matter. But apologies and expunging have failed to prevent Professor Rahmat Ullah's plight from dragging on. This continuation is not to the wonderment of those who perceive an ulterior motive in a polarised political culture marked by conflicts between rival political groups of the ruling party.
Bangladesh has no law implicating anyone for making politically incorrect statements, which may be unpopular but not necessarily a wrongful act. Any law prohibiting political incorrectness would violate the right to freedom of speech as enshrined in the Constitution (Art. 39).
It should be mentioned that the positions of deanship are elected, and the DU authority cannot remove or suspend elected representatives unless they violate the university rules. The deanship is an important executive position under the Dhaka University Order 1973 (ss 9, 17). Being elected (s 27), the deanship is not subject to the approval/endorsement of the syndicate. This Order contains no specific provision for the suspension of deans. According to the Order's First Statute, the VC can appoint an acting dean for a period not exceeding 90 days only in the absence of the elected dean (s 17:2). The suspension of an elected dean while he is present and performing duties contradicts the Dhaka University Order. The Dhaka University Act 1973 provides that "the service conditions shall be determined without any prejudice to the freedom of the teacher or officer to hold any political views" (Art. 56:2). And "A teacher or officer of the University may be dismissed only on grounds of moral turpitude or inefficiency, but no such teacher or officer shall be dismissed unless an enquiry into the charges of moral turpitude or inefficiency is held by an Enquiry Committee on which the teacher or the officer may be represented by a person nominated by him[/her]" (Art. 56:3).
Did Rahmat Ullah's expression constitute "moral turpitude" or "inefficiency" under the DU Act? In the context of university teachers, moral turpitude must relate to academic misconduct and lack of professional integrity. However passionately and widely interpreted, political incorrectness goes beyond the ambit of moral turpitude. Rahmat Ullah's expression is totally unrelated to his academic responsibilities and the position he holds. No enquiry committee was commissioned before his suspension either. The syndicate, on April 20, 2022, established an enquiry committee which is yet to meet but punitive sanction was imposed without an adverse finding of the committee anyway—a gross procedural injustice. Suspending him from academic and administrative responsibilities beyond the DU Act-specified grounds thus appears as ultra vires and suffers from a legitimacy crisis. 
The original transcript of the speech would have helped understand his actual narratives and contextuality. Nowhere is this document to be found yet. Does it exist? If it does, it needs to be made available for an impartial reading of the underlying contesting accounts. If it does not, media versions of the event or the DU account are just hearsay. The syndicate does not mention that it has considered the original transcript in arriving at its suspension decision. Were the reporting journalists physically present at the venue to cover the event? If they were not, where did they derive the information from? If their reports are based on someone's personal account delivered to them, the probative value of such an account is questionable. Anyone suffering from promotional jealousy can purposefully engineer or exaggerate their own account to achieve vested interests.        
Persecuting a university academic for his politically incorrect expression is likely to have far-reaching implications. The opportunistic capitalisation of intra-party issues like this, if allowed to continue unabated, would maximise selfish interests and help sustain an environment in which people's freedom of expression are at risk. This is not how politically incorrect expressions should be dealt with in a democratic society.
M Rafiqul Islam is Emeritus Professor of Law at Macquarie University, Australia.