Russia's aggression must be stopped
But its security concerns cannot be ignored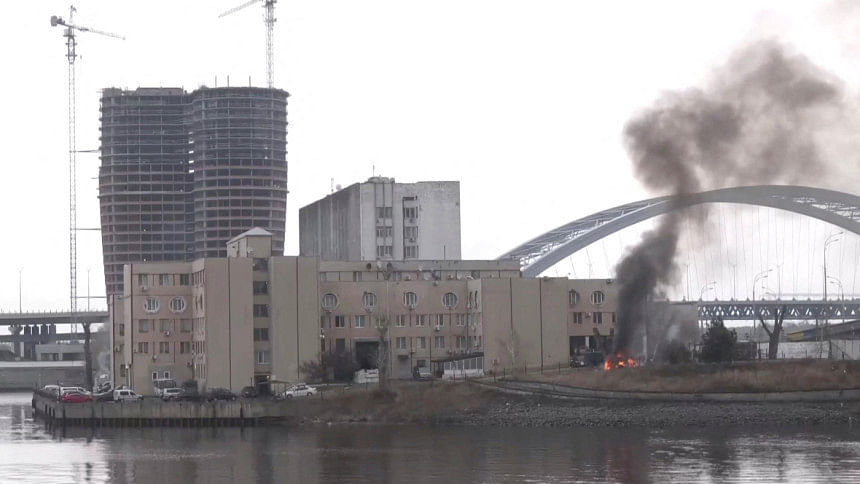 The one thing we have feared since the recent rise in tensions between Nato and Russia over Ukraine has unfortunately happened. Russian President Vladimir Putin declared war in a pre-dawn televised address, after which Moscow mounted an assault by land, sea and air on Ukraine. At the time of writing this editorial on Friday evening, Ukraine's President Volodymyr Zelensky reported 137 Ukrainians being killed on the first day of the Russian invasion, while Russian forces captured the former nuclear power plant in Chernobyl and the Hostomel airport in the Kyiv region. Meanwhile, gunfire is ringing through the streets of Kyiv as Russian tanks entered the capital on Friday. The International Criminal Court (ICC) prosecutor has hinted that his court may investigate the possibility of war crimes within Ukraine. We would like to firstly express our solidarity with the people of Ukraine and, as ever, condemn the war initiated by Russia. What the world is watching unfold—and which is being referred to as the worst since World War II—is an abrupt and unnecessary attack by Russia in the face of only a perceived threat from the West. It is the height of injustice and illogicality that Ukrainian lives should be lost owing to conflicts between Russia and the Nato members.
While President Putin has tried to justify his move by claiming he had no other options left, we cannot help but be doubtful of such a statement. Had all avenues of resolution through dialogue been exhausted? Had the existing dialogue between parties involved, including the West, truly reached a dead end? Even then, is hostile invasion of innocent people truly ever the only option left?
While we condemn Russia for its invasion of Ukraine, we cannot say that the West has no responsibility in bringing the situation to this state. The gradual expansion of Nato, first in 1999 and second in 2008, were swallowed by Russia, who unambiguously asserted that any attempt to incorporate Georgia and Ukraine into the alliance would be the last straw. The West obviously did not take Russia seriously. Just as the US has its own sensitivities about security issues—would it allow anti-Western military alliance to have members close to the US border?—so does Russia, and they cannot be ignored. 
Now that the situation has turned into a war, its effects will inevitably spill over to the rest of the world, including Bangladesh, as prices of essentials will rise further and the global supply chain will be dealt a blow. However, the first priority is to save the Ukrainians from the Russian invasion. While we call for an immediate end to hostilities in Ukraine, we also hope that dialogue and negotiations will win.
We do not want a war in Europe.